---
Jakob Chychrun
2015-16 Team: Sarnia Sting (#5)
Date of birth: March 31st, 1998
Place of birth: Boca Raton, Florida
Ht: 6'2″  Wt: 200 lbs
Shoots: Left
Position: Defence
NHL Draft Eligibility: 2016 1st year eligible
Twitter:@j_chychrun7
THW The Next Ones Ranking (June): 13
Other Rankings
***
Jakob Chychrun was a high-profile midget player, dominating opponents to the tune of well over a point per game and capturing the Kraft Cup as GTMMHL champion. The Sarnia Sting quickly snapped up the big defenseman first overall in the 2014 OHL Draft, and he went on to earn OHL First All-Rookie Team honours. Despite missing the 2015 OHL Playoffs with an injury and undergoing offseason shoulder surgery, Chychrun was expected to lead the young Sting team to another playoff berth in 2015-2016, solidifying his stock as one of the best prospects 2016 had to offer. He had another solid season, earning OHL Second All-Star team honours, but a sluggish start to his year and a surprise cut from Team Canada's entry at the World Junior Championships has some debating whether or not Chychrun deserves to be the top defenseman taken on draft day.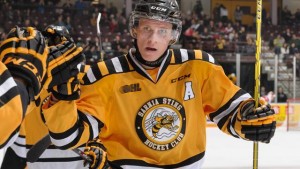 Chychrun began the year considered by some to be the second best prospect available in 2016, sitting only behind strapping young centre Auston Matthews. Despite his stock taking a small tumble from that lofty ranking, he is still held in high regard in the eyes of many. His physical attributes are among the best in his class, as his skating ability is elite, his strength is top-notch for a player of his age and stature, and his puck skills are bordering on elite as well.
His skating speed is among the best in the OHL for a defenseman, made more impressive by his large frame and powerful stride. His physical fitness was on full display throughout the year, as the Sting leaned on him in all situations and he logged well north of 30 minutes on a lot of nights. He is able to skate the puck out of his own end or make a quick and accurate breakout pass, making him a valuable contributor on both the power play and penalty kill. He uses his strength effectively in the defensive zone, pushing opponents off of the puck and easily clearing dangerous chances from in front of his own net.
Despite his obvious physical gifts, Chychrun has been usurped as the top draft-eligible defender in many eyes by Finnish sensation Olli Juolevi and OHL Defenseman of the Year Mikhail Sergachev. His hockey sense has been questioned by some, as he can skate himself into trouble with the puck and can subsequently be guilty of ill-advised giveaways. His durability is also a minor concern at this stage of his career, as he missed significant time in his rookie OHL season with an injury and then underwent major shoulder surgery last offseason.
Overall, Chychrun is the most physically dominant and complete defenseman available for the 2016 NHL Draft. As a result of being on the radar as a top prospect for so long, some developed a tendency to over analyze him and criticize minute aspects of his game, insignificant details on a player so talented. He's one of the most talented defenders to come out of the OHL in the past few seasons, and is primed to make an impact in the NHL sooner rather than later as a rare teenage professional blueliner.
NHL Draft Projection:
Chychrun was in the mix for the first overall pick before the season started, but due to a combination of injury and missing the World Junior Championships, Chychrun's draft stock is in somewhat of a free fall. He's not longer widely regarded as the top blueliner available, and isn't even a lock to go in the top 10. Still, with his impressive package of tools and polish for a young defender, don't expect him to slip out of the top 20.
Quotables:
 

Jakob Chychrun is an outstanding skater who uses his feet to his advantage defensively and offensively. The Sarnia Sting blueliner has really settled into being a very confident player who plays to his strengths and exhibits the on-ice poise required to excel.

Craig Button, TSN

An unyielding two-way defenceman, Jakob Chychrun is a rising star with a toolbox bursting at the seams. Consistently displays elite four-way skating ability and is not afraid to throw his weight around physically. Plays with poise and composure through high pressure situations and, with the puck on his stick, can direct the play up-ice. Exhibits a particularly potent shot that works its magic on the power play and on the forecheck. Excellent first pass and uses his vision and awareness to keep the puck moving in the direction of the opposition's tail or to a teammate with more time and space. Defensively adept at tracking the puck and staying a step ahead of the opposition. Proactive with his stick and body, exerting pressure on the opposition and forcing them to make hurried decisions.

Curtis Joe, Elite Prospects

Possesses explosive acceleration and is able to create separation from fore-checkers with either his acceleration or mobility…skates puck in transition up the ice and carries the puck in deep into offensive zone frequently…makes quick and hard passes that are difficult to intercept…does not get pulled out of position by chasing the puck in the defensive zone…plays a near flawless defensive game in his own end, being the first on loose pucks and consistently clearing pucks and relieving pressure…uses long stick effectively to poke check and block passing/shooting lanes…skates backwards very well for a big man, and has strong edges making him difficult to beat wide…shoots the puck hard and fast…franchise first pairing defenceman.

McKeen's Hockey
Statistics:

Strengths:
Elite skating ability
Passing ability
Hard, accurate shot
All-situations potential
Physical fitness
Under Construction (Improvements to Make):
Playmaking vision
Hockey sense
Cutting down turnovers
NHL Potential:
Chychrun's anticipated draft-day tumble is partly due to his perceived lack of elite hockey sense. However, his physical tools are among the best in his age group, and his skating abilities and fitness point to the ability to eat big minutes and play in all situations. Even if he doesn't develop into an elite, all-around number one defender, he still has the strength, skating, and puck skills to become a solid first pairing defenseman.
NHL Player(s) Comparison – Drew Doughty
Risk-Reward Analysis:
Risk = 2/5   Reward = 5/5
Fantasy Hockey Potential:
Offensive = 8/10   Defensive = 8.5/10
Awards/Achievements
2013-2014 OHL Cup Silver Medal
2014-2015 OHL First Rookie All-Star Team
2014-2015 OHL Third All-Star Team
2015-2016 OHL Second All-Star Team
Interview/Profile Links: 
Video(s):
Shots From the Slot (Interesting Notes):
Chychrun, whose father played over 250 NHL games, was born and raised in Boca Raton, Florida. Despite this, he moved to Toronto to play his minor midget hockey, and due to his father's Canadian nationality, now competes internationally for Canada (the World Under-18 Championships his first official tournament for the red and white).
THW's The Next Ones prospect profile template design architect: Chris Ralph