Auston Matthews
2015-16 Team: ZSC Lions (#34)
Date of birth: 9/17/1997
Place of birth: Scottsdale, Arizona
Ht: 6'2 Wt: 194
Shoots: Left
Position: C
NHL Draft Eligibility: 2016 1st year eligible
Twitter: @A_Matthews34
THW The Next Ones Ranking: 1
Other Rankings
Central Scouting EU skaters: 1
FutureConsiderations: 1
Hockeyprospect.com: 1
ISSHockey: 1
McKeen's Hockey: 2
***
A Season Like No Other
While Auston Matthews broke new ground with his decision to play the pre-draft season overseas, it definitely has to be said that it paid off well for him. He has been Swiss Cup champion with the ZSC Lions, was the team's second-best scorer, tied for the fourth best goal scored mark in the league, and had the second highest points per game number among all players with more than 11 games played. That is pretty impressive for an 18-year-old kid playing overseas for the first time.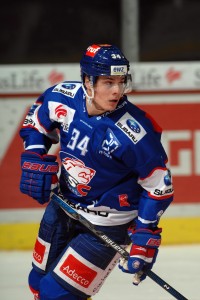 Furthermore, he had an 11-game point streak midway through the season and won the bronze medal at the U20 Worlds in Helsinki, being the fourth most productive player in the tournament. After an early first round playoff exit, Matthews joined the U.S. team to play at the Worlds in Russia where he, of course, was one of the best players of Team USA.
Matthews possesses an elite shot, probably one of best shots in the entire draft after Patrik Laine. He has scored many of his 24 regular season goals using his lightning quick release combined with accuracy and shot power. He is able to beat goalies up high and likes to fire the puck from the face-off dot. Matthews has also strong playmaking skills as he uses his outstanding vision and very accurate and hard pass to set up plays for team mates.
He is an exceptional puck carrier and has slick hands and puckhandling skills. He is very good in carrying the puck through the neutral zone using his powerful strides. He often even carries the puck out of his own zone up ice and entering the offensive zone within a few seconds and without losing puck control or getting knocked off the puck. Matthews likes to make quick turns in the corner when circling the puck in the offensive zone and can get rid of chasing defenders with one quick turn while distributing the puck to set up scoring chances in one motion. He is strong on the powerplay and can distribute pucks with efficiency from along the boards.
One area of his game where Matthews really improved during his stint in Switzerland is his defensive zone game. He does not shy away from blocking shots and got better and better in positioning himself in shooting lanes. He goes deep into the own zone to dig out pucks and is often the guy who carries the puck out of the own zone to start the counter attack.
#NHLDraft: C Auston Matthews (Ranked No. 1) returns to action May 6th when USA opens aganst Canada at the IIHF World Championship in Russia

— The Draft Analyst (@TheDraftAnalyst) April 22, 2016
Although he does not get involved into a lot of physical battles, he is quite hard to knock off the puck and is a solid puck protector because of his size and strength. Matthews is good around the net and is often in the right position to bury rebounds or deflect pucks.
I like his calmness when carrying the puck as he never panics, not even if he is heavily pressured. He is excellent in tight space and can make plays without having a lot of ice. He is a very active player on the ice and is always trying to create a scoring chance. He is the type of player his coach plays when in need of a goal or an offensive spark, he is always trying something and never takes a shift off offensively. Matthews is creating offence in almost all of his shifts.
NHL Draft Projection:
Auston Matthews has been projected as the 2016 NHL Draft's top pick through the whole season and his stint in the Swiss National League does not change his status at all. He proved he is ready to play dominant against men and also indicated that he would have had an impact  in the NHL already this season. Although Finland's Patrik Laine closed the gap on Matthews in the course of the season, Matthews stays the frontrunner and I would still be surprised if he is not going to be selected at first overall, even though Laine has been on fire since December.
Quotables:
He's a generational, franchise-changing prospect who nearly hit the 200-pound benchmark right around the time he turned 16. But size and strength do not define what Matthews brings to the ice every night. He is a ridiculous playmaker and puck possessor, shifting and twirling around defenders who at times will both be within inches of the puck. Matthews' decision making is off the charts; he can be used in different scenarios, but he's at his best when he's picking apart small gaps in passing and/or skating lanes below the opposing blue line. He's also a no-nonsense shooter with a quick release, but not at the risk of wasting a better opportunity. Matthews will hold onto the puck for an eternity, but in his case, it's a good thing thanks to exceptional balance, footwork and stickhandling. Clearly the best forward prospect among his draft-eligible peers, and is so for many reasons.
-Steve Kournianos, thedraftanalyst.com
He wants the puck and I say that in the sense that he'll battle and compete for every loose puck. He'll battle and compete to gain position on the play and get good position in front of the net and when he's got the puck he can protect the puck, cycle the puck and get it to the net so he's got the power forward element to his game but he's also got the slick hands and moves and the finish.
-Dan Marr, NHL Central Scouting director
Statistics:

Strengths:
Shot
Lightning-quick Shot release
Vision
Hockey Smarts
Puckhandling
Great hands
Distributing pucks
Carrying puck up ice
Play around the net
Goal scoring touch
Quick turns with puck
Under Construction (Improvements to Make):
Needs to simplify his game sometimes
Could use his size more effective in corner battles
NHL Potential:
Matthews has the potential to become a franchise player for whichever team picking him up. He brings all the tools to the table which are needed to become a generational talent. I often heard comparisons to Anze Kopitar, Jonathan Toews and John Tavares which are all valid, but actually I do also see a lot of Pittsburgh's number 87 in him. All of those comparisons indicate you how good Matthews is. He also shows leadership skills and the right mindset to become a future captain one day.
NHL comparison: Sidney Crosby
Risk-Reward Analysis:
Risk: 0/5   Reward: 5/5
Fantasy Hockey Potential:
Offensive = 10/10   Defensive = 7/10
Awards/Achievements:
2013/2014: U18 WJC Gold Medal
2014/2015: U18 WJC Gold Medal
2015/2016: U20 WJC Bronze Medal
2015/2016: Swiss Cup Winner
Interview/Profile Links:
The New York Times on Matthews
ESPN's Craig Custance with Matthews
Video(s):
Shots From the Slot (Interesting Notes):
Matthews broke new ground with his decision to spend the pre-draft year in Europe. It worked out well and therefore could become an attractive option also for future top prospects. Playing against men and getting a noticeable salary could definitely be an interesting option, but it is also clear that this option would only be available for generational talents such as Matthews.
NHL.com prospect writer Mike Morreale published an article with five little-known things about Matthews lately. One of those facts is that at one point Matthews was better in baseball than hockey…hard to believe this when seeing him play now.
***
THW's The Next Ones prospect profile template design architect: Chris Ralph