The 2016 NHL Entry Draft Class
The 2016 NHL entry draft class is a fascinating one. Even beyond the phenomenal future franchise centreman Auston Powers Matthews and the Fabulous Finns (Patrik Laine and Jesse Puljujarvi), this talent-laden draft has some potentially franchise-altering players available.
Is it 2003 good? That's definitely a stretch. Though no one can truly say they knew 2003 was going to be as good as it turned out to be. Otherwise, would Parise, Getzlaf, Perry, Bergeron, Weber and Backes have lasted as long as they did? It is tremendously difficult to compare draft years, but it is safe to say 2016 will be an impactful one.
The Thrilling Three
Auston Powers and the Fabulous Finns
Is Arizona native Matthews the American version of Jonathan Toews. It's too early to call Laine the next Finnish Flash, but the big, skilled winger is already a dangerous sniper. Is Puljujarvi a Finnish version of Mats Sundin?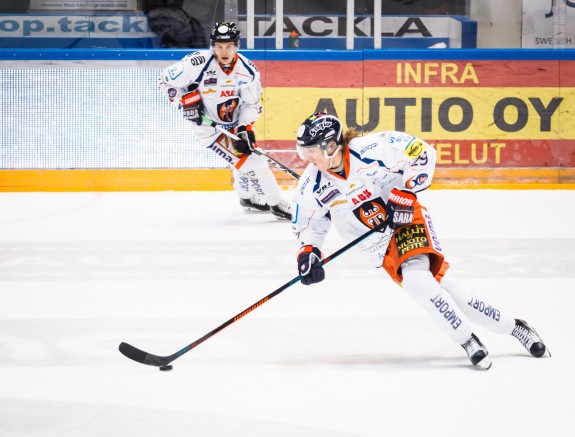 Beyond The Top
But what's beyond the big three? If you're looking for a forward, there's still the powerful and skilled Matthew Tkachuk, the dynamic Tyson Jost, the pro caliber Pierre-Luc Dubois, and offensive catalyst Alexander Nylander. If it's a defenseman you're after, the mature and sublimely skilled Mikhail Sergachev, the smooth and poised Olli Juolevi, and supreme skating Jakob Chychrun enter the equation. Throw out the Russian Factor with Sergachev, who is an incredibly poised two-way blueliner and potential disruptor come June 24th. The first time I ever saw Juolevi play, I'm not sure I blinked for about a period. He was such a key player for the World Junior gold medal winning Finland squad. Jakob Chychrun possesses limitless upside.
Two other potential disrupting defensemen are the super mobile blueliners Jake Bean and Dante Fabbro.
Size Matters?
For those who favour physical specimens, there are guys with size who can play. Cue Logan Brown, Riley Tufte, and Logan Stanley. Some will say forward Tage Thompson and defenseman Markus Niemelainen should be mentioned among this group.
Then there are the lads destined to overcome any size concerns. Alex DeBrinkat is a relentless sniper. Vitali Abramov is another example of a brilliantly gifted forward with questionable size, but gives the impression he can overcome. How scouts view Clayton Keller and the size factor will be interesting. It might keep him out of the top 10 but I would not count on it.
#2016NHlDraft prospect Vitali Abramov named rookie of the year in the #QMJHLhttps://t.co/6GJ4y9xD2K

— DobberProspects (@DobberProspects) April 7, 2016
Bloodlines
Hockey bloodlines also run rampant in this year's edition of the entry draft. Just to name a few: Matthew Tkachuk (Keith's son), Logan Brown (Jeff's son), Jakob Chychrun (Jeff's son), Keiffer Bellows (Brian's son), Lucas Johansen (Ryan's brother), and Jonathan Dahlen (Ulf's son).
The Next Ones Thought Process
Many feel a franchise should draft based on positional need. Given the length of time it can take a prospect to truly reach their full potential, I'd contest drafting the best player available makes the most sense, with position coming into play as a tie-breaker.
Having covered the draft in depth formally since 2009, what is the essence of what makes a desirable prospect in the eyes of THW's The Next Ones' prospect profilers?
The emphasis is placed on seeking out prospects who thrive with respect to hockey sense, puck skills and puck movement, as well as skating. Intangibles are key as well. The belief is that with the right coach and system of play, defense can be taught. Though size might use to decide between two similar prospects, it is not a focal point. If somehow The Next Ones team of prospect profilers were responsible for a professional hockey team's scouting and player development we would be gearing towards prospects who support the vision of a team with great puck possession capabilities, and a relentless, situational awareness puck pursuit mentality.
The Rankings, The Picks, The Draft Floor
We know now that both the Toronto Maple Leafs, Winnipeg Jets, and Columbus Blue Jackets will have made major strides in righting their respective ships with their top three picks. With a plethora of talent remaining after Auston 'Powers' Matthews and the Fab Finns go off the board, plenty of intrigue remains for the weekend of June 24–25th, 2016 as this extraordinary draft unfolds at the First Niagara Center in Buffalo, New York.
Prospects Ranked Lower Than Most
The Masked Men: No offense intended to any of the goalies ranked or unranked. In comparison to skaters,  gate-keepers present more of a risky proposition and thus many are ranked lower than what you might see elsewhere.
There are other prospects who are noticeably lower than other ranking services: Tage Thompson,  Logan Stanley, Julien Gauthier, and Max Jones, to name but a few. Stay tuned for my final mock draft where I think they will actually go in the draft. The following are my personal rankings.
Prospects Ranked Higher Than Most
There are a number of lads that fit in this category. I will simply list several players that I simply have a feeling will produce at the next level more than what the majority expect.
2016 NHL Draft Rankings: The Next Ones Final Top 120
1. Version featuring Prospect Profiler Notes*:
*Notes on the top 100. Feel free to ask about the other prospects.
Printable PDF Version
2. Version featuring stats, more player demographics
Printable PDF Version
Legend
About Chris's List – The Next Ones
A common query is how these particular rankings are formulated. There is now an abundance of sources of hockey prospect information. For instance, many hockey fansflock to TSN, which has Craig Button'sCraig's List, which is a "monthly rankings represent his individual assessment of where players are slotted in the NHL draft. They will be posted in addition to Bob McKenzie's consensus NHL rankings, which is compiled four times a year. Bob's rankings represent the consensus NHL team view of where players are slotted in the NHL draft."
In contrast, The Next Ones rankings take into account many influences. While I obviously cannot reveal all my trade secrets, the following are some of the considerations contemplated when compiling the rankings:
***
(Downloadable spreadsheet, PDF formats)
***
Check out THW's quintessential draft resource:
The Next Ones – Prospect Focus