In hockey, different organizations take a different tact when it comes to the philosophy of their respective AHL clubs.  Some put a strong emphasis on winning, others development.  There are those who attempt to weigh that balance and those who simply prefer to use the AHL team as a weigh station, calling up top prospects at the drop of a hat or a hat-trick.  Whichever your philosophy, there's no disputing that winning and development can go hand in hand and go a long way to building a winning attitude at the next level in the NHL.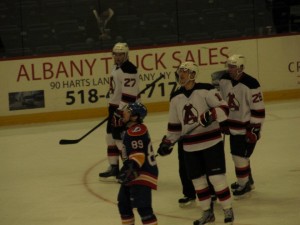 So after the Norfolk Admirals made their historic run to a Calder Cup Championship, how much will the Tampa Bay Lightning reap the benefits next season?  After all, the Ottawa Senators became one of last season's welcome surprises this past season, off the heels of their AHL affiliate Binghamton Senators putting together a special run of their own, to capture the Calder.
Another good question may be how awkward the banner raising will be on opening night in Norfolk, now that the Lightning have reached a new affiliation agreement with the Syracuse Crunch.  I'm going to be "bold" and deduce that means the Anaheim Ducks will be housing their top prospects with the Admirals in 2012-13.  But I digress.
Looking back first at that Binghamton team and the players who contributed to Ottawa this year, there was a fairly decent lot.  Center Colin Greening, was an iron man for Ottawa, playing 82 games and netting 17 goals, a year after posting 15 with the B-Sens.  Another center, Zack Smith, was practically an iron man in his own right.  Smith suited up in 81 games for Ottawa, scoring 14 goals and racking up 98 penalty minutes.  This coming off a post-season, where he notched 20 points in 23 games.  Erik Condra, an AHL All-Star, with 17 points in 23 playoff games for the B-Sens, netted eight markers for Ottawa and added one more for good measure against the New York Rangers in the Eastern Conference Quarter Finals.
Defenceman Jared Cowan, picked up four helpers in ten playoff games for Binghamton and collected 17 points in 82 contests for Ottawa on the blue line.  Another AHL All-Star Bobby Butler, scored 22 regular season goals and 13 in the playoffs for Binghamton and tallied six this season for Ottawa.  Left winger Kaspars Daugavins, who had 19 goals for Binghamton, along with ten goals and ten helpers in the playoffs, totaled five for Ottawa on the campaign.  Other contributors from that B-Sens squad include: Jim O'Brien, and goalie Robin Lehner, who backstopped the team with 14 wins in that Calder Cup run.
When one starts looking ahead to how the Admirals successes will translate to the Lightning, there's plenty of prime candidates to select from.  AHL MVP and Rookie of the Year, Cory Conacher, certainly has to headline the promising wave of prospects.  In 75 contests for Norfolk, Conacher amassed 80 points, with 39 goals and 41 assists, along with a rating of a plus 19.  There was Trevor Smith and his 26 goals, 43 assists and team leading plus 34 rating.  Tyler Johnson poured in 31 goals and added 37 assists.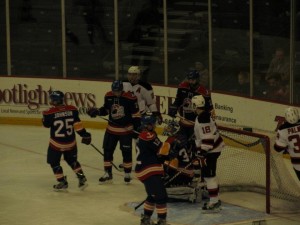 Mike Kostka had some big goals in the Calder Cup playoffs and had six overall in the post-season.  AHL vet and Captain Mike Angelidis, notched 14 goals during the regular season.  Mark Barberio paced the club with 48 helpers.  Richard Panik scored 19 goals, Pierre-Cedric Labrie had 14 goals and was a plus 33 and Michel Ouellet contributed 16 as well.  Jean-Philippe Cote was a plus 26, Radko Gudas a plus 19 with 195 penalty minutes and Philip-Michael Devos was a plus 16.
In net, Dustin Tokarski won 32 games and registered a 2.23 GAA, with a .913 save percentage.  Plus, Jaroslav Janus won 23 games with a 2.36 GAA and a .914 save percentage.
Of course that only begins to scratch the surface, with a group of players who have learned to win and develop together and make history together as well.  Much like Ottawa with Daniel Alfredsson and Jason Spezza, Tampa already has a foundation with Steven Stamkos, Martin St. Louis and Vincent Lecavalier.  So if recent history is any guide, one may just fancy the Lightning as a "surprise" playoff squad for the 2012-13 campaign.  That or they're getting a very stacked roster in Central New York.