We all know the famous phrase, "The rich get richer." But what about the poor getting poorer? The latter best describes the Flyers' blue line situation upon the latest news from Kimmo Timonen's camp. The 39-year-old's career is now likely over after suffering blood clots to his leg and lungs. And with an already lacking defensive core, the news gets worse for GM Ron Hextall as he scrambles to replace Timonen.
Who will it be? Take a seat. The pickings are slim as even the reckless gambler in the pack is certain to make a run for the hills.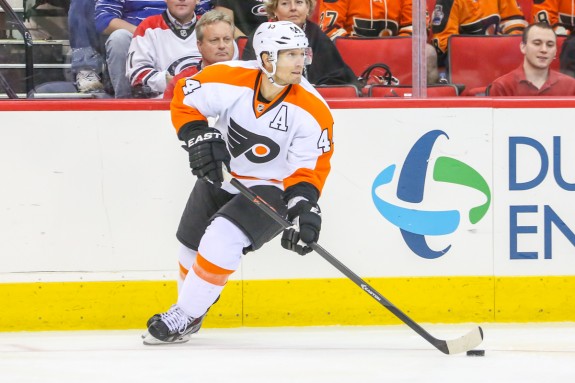 The Likelihood of Timonen Returning
The latest news on Timonen isn't his first bout with blood clotting. And since he was able to return after missing a chunk of playoff action in 2008 due to a blood clot in his foot, who's to say the veteran defenseman couldn't potentially return from this go round with clotting?
For starters, Timonen will be 40 come next season's playoff push; a far cry from being on the right side of 30. Second, Timonen's first encounter with the similar ailment resulted in taking a puck to the skate. And while there isn't much detail as to what caused the most recent clotting, Timonen's advanced age suggests that he'll not only be lost for the season, but that his career is likely now over too.
So where does that leave the Flyers and their reeling defense? To put it bluntly, between a rock and a hard place.
"There's no question, it's a setback; there's no other way to explain it," said Hextall. "We'll do what we can to make the team better. We've been looking at a few things for the last few weeks and this will probably expedite something.
"You can't take, not only the player, but the experience, the calm and the poise and the respect Kimmo has in the locker room and not say you didn't take a step back."
Best wishes to Kimmo Timonen. Blood clots are scary. A young NFL player is retiring because of them, a few NHL players missed most of season

— John Clark (@JClarkNBCS) August 5, 2014

Although Hextall refused to rule out a return of his assistant captain, the first-year GM acknowledged the fact that the team must replace Timonen, and soon.
"We believe it could be a long-term situation and will continue to evaluate what is out there," added Hextall. "If we feel we need to make a move we will and I would suspect there's a good chance we will."
But who worth adding to the roster is out there in regard to free agency? Could this be the push of the pendulum that creates the long awaited blockbuster trade? Would the Flyers consider pressing forward with one of their young defensive prospects? Let's evaluate.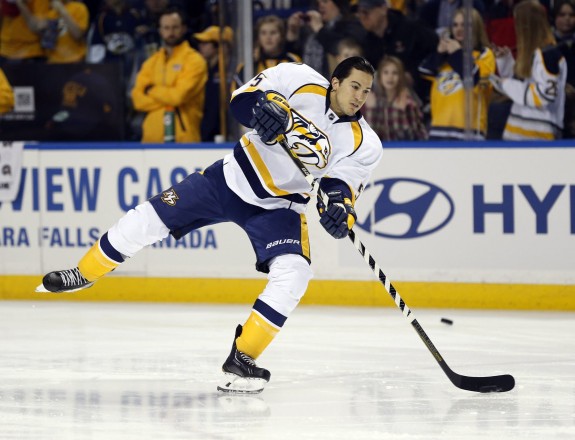 Free Agency
Should Hextall opt to do business via the free agent market, the good news is that a month and some change have elapsed since July 1st's race out of the gate. Why is that considered pertinent information? As Ted DiBiase would say, "Money, money, money, money, money, moneeeeeey."
The Flyers' cap issue is as well known as Hooked on Phonics, or even Rosetta Stone. With that being said, Hextall shouldn't have an issue inking a defenseman still looking for a home. The list wasn't packed with much allure to begin with, which illustrates how attractive it is in August. But that doesn't mean the Flyers can't find a bargain on the free agent market that now resembles a pawn shop.
Michael Del Zotto's name first comes to mind. After all, he was a 10-point scorer in the 2012 playoffs as a member of the New York Rangers.
"The free-agent defenseman is just 24 and not far removed from a 41-point season in 2011–12. So what gives? Well, for starters, Del Zotto struggled mightily in his own zone last year with Nashville and had only 16 points in 67 games. Everybody's entitled to one bad season, and provided last year was a one-off it might be a good time for somebody to buy low on a talented player." — Mark Beech, Sports Illustrated
Given Philadelphia's latest hand dealt, Del Zotto looks like a safe acquisition. Especially since he'll come at a much more reduced rate than his previous two-year, $5.1 million deal. Factor in Del Zotto's plus-1.2 percent Corsi differential to moving between New York and Nashville and he doesn't look all that bad.
https://twitter.com/DStrehleTFP/status/496770124888932352
Another possibility for Hextall is 28-year-old Raphael Diaz. Like Del Zotto, Diaz was forced to find his bearings at mid-season due to being traded. Unlike Del Zotto, however, Diaz was sent packing out of multiple cities. After spending a little over half the season with Montreal Canadiens, Diaz was shipped to the Canucks. Before the three-year veteran could unpack his bags in Vancouver, he was off to the Big Apple, where he would total a pair of points in 11 games.
"Diaz was an offensive defenseman for the New York Ranger with good vision and an above average shot which helps on the power play. In limited time on the man advantage, he generated 2.5 points per 60 minutes and had 18 shot attempts in just under 100 minutes of power-play time." — Neil Greenberg, The Washington Post
Diaz may have been underutilized in New York, however, but he certainly wasn't in Montreal. In 128 games over the span of three seasons with the Habs, Diaz racked up only 41 points. Of those 41 points, only three were goals. Not only was Diaz held without a single goal last season, he's also completely scoreless in nine playoff games between time with the Habs and Rangers. Whatever the excuse may be, that's not the showing of an offensive defenseman.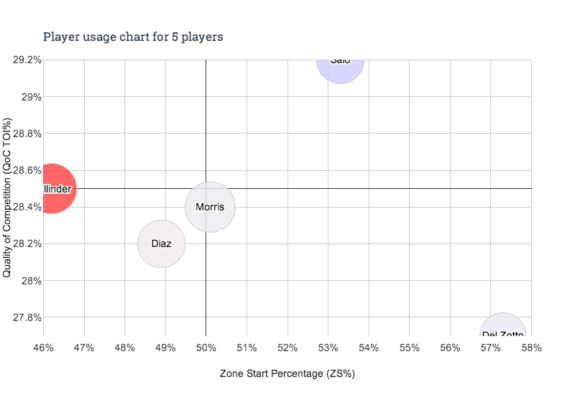 Other names on the list of available are Sami Salo, Derek Morris, and Henrik Tallinder. As you can see, most of the remaining free agent defensemen are either nothing more than depth options, or battling injuries at their elevated age. And since the Flyers are looking to replace Timonen, a 39-year-old himself, free agency appears to be bleak.
The Trade Route
If the Flyers decide to trade for their choice to replace Timonen, the asking price will certainly be more than the price tag of the players listed above. There's no need to make a minor trade for depth since Hextall signed Nick Schultz to a one-year deal, worth $1.25 million back in July. Furthermore, mere depth is available on the free agent market, which would keep the Flyers from having to give anyone, or any draft pick up in return.
That leads to the conclusion that if Hextall pulls the trigger on a trade, it'll be one worth talking about for some time. The list is headlined once again by Keith Yandle, with Johnny Boychuk and Johnny Oduya as other possibilities. The two Johnny's resemble the most logic on the surface since both the Bruins and Blackhawks are almost as cash-strapped as the Flyers are. But when taking the salary cap into consideration, which team would be compliant after a potential deal?
"I keep hearing Johnny Oduya's name," said John Shannon of Sportsnet. "I keep hearing they're going to find a way to move Johnny Oduya and get rid of the dollars he makes, and do it with minimum dollars on that five, six, seven defenseman position."
Sure, the two teams could hammer out a deal to make it work. But it wouldn't be without the Flyers getting bent over a barrel since they'd be forced to give up young stars like, Sean Couturier and/or Brayden Schenn. A scenario depicting that kind of trade makes as much sense as amputating a hand to replace an already missing foot.
For the Flyers to pull off a trade, they'd almost definitely have to give up too much to receive something worth value in return. No one claimed this process would be easy, or pretty for that matter. Which brings us to our next possibility.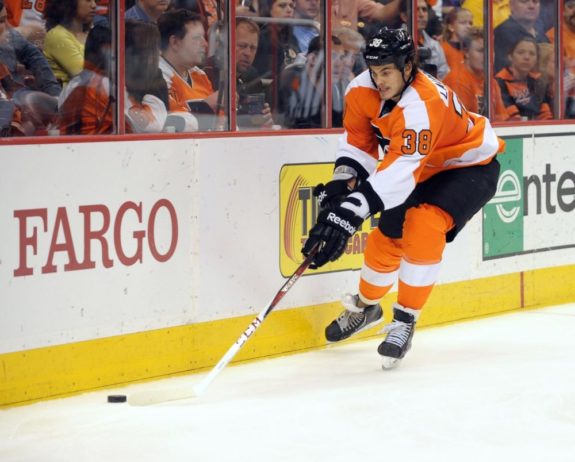 A Prospect To Replace Timonen?
The Flyers are as stocked at defensemen as a conspiracy theorist is with guns. But even though Philadelphia is building in anticipation to see Shayne Gostisbehere, Sam Morin, and Robert Hagg, it's the option that least aligns with reality.
"Hagg, Shayne Gostisbehere and Samuel Morin are in the top tier of drafted players closest to transitioning to the NHL level, but as general manager Ron Hextall points out, none of these prospects will be rushed, even if it means the Flyers' blue line suffers a while longer for lack of youth and more speed." — Tim Panaccio, CSN Philly
It's a good thing too. Outside of gaining the irreplaceable experience of skating in the NHL, nothing good can come of it. The Flyers are not only paying over $1 million to Nick Schultz, who was signed for depth, but it's widely known that the top three defensive prospects still require development at the AHL level.
"If I had my choice, yes, I don't want to throw a kid into a situation he's not ready for," said Hextall. "The way to protect yourself is to add a veteran, if possible."
Since Gostisbehere, Morin, and Hagg are not options, perhaps Hextall will re-sign restricted free agent Brandon Manning.
"With the departure of Ben Holmstrom, Manning is a candidate to become the Phantoms next captain as they move operations from Glens Falls to the Lehigh Valley. He is a young veteran leader on a team that will have an influx of rookie defensemen (Shayne Gostisbehere, Robert Hägg and Jesper Pettersson) joining second-year pro Mark Alt. 

"If Philly elects to carry eight defensemen at the NHL level again next season, Manning is a candidate for one of the reserve roles. As of now, it seems like the Flyers may go with seven defenseman." — Bill Meltzer, Hockey Buzz
With Timonen out, Manning is nearly a lock to be re-signed. And if the number of defensemen the big club carries had any affect on his chances of making the team, the latest events with Timonen increases his chances significantly; that is, if they choose not to bring aboard a new face.
Oliver Lauridsen is another candidate that could (technically) fill the void. At 6-6, 220 pounds, the Great Dane has the size to belong in the league. In addition to his towering build, Lauridsen appeared in 15 games for the Flyers in the 2012-13 season. During that span, Lauridsen scored two goals and added an assist. But in 63 games last season for Adirondack, the 25-year-old racked up 167 penalty minutes, a trait the Flyers are looking to change moving forward.
The loss of Kimmo Timonen is a devastating blow that is now magnified with the options left. Barring any mega-deal that rocks the foundation of the league, the Flyers will be left filling a gushing hole in the ship with duct tape. But hey, at least the boredom of an uneventful offseason appears to be over.