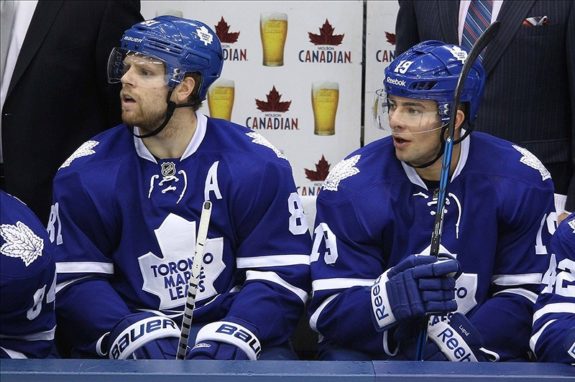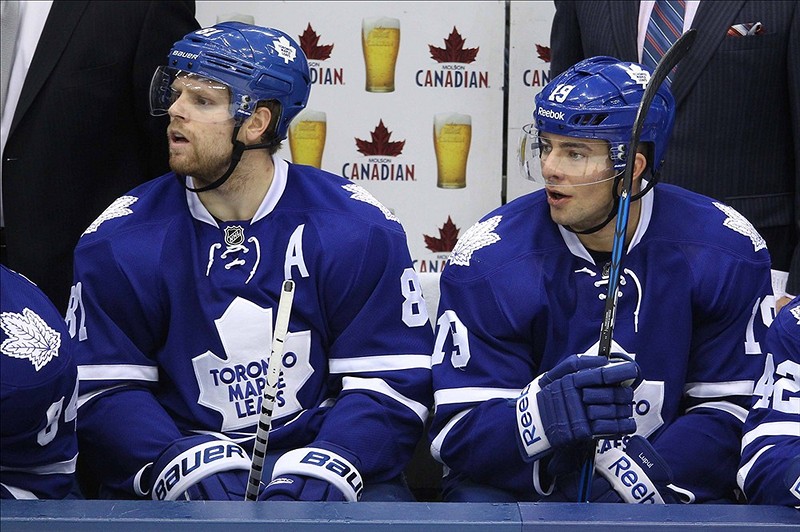 Recently, The Hockey News magazine released their top 20 list by position. To the surprise of many, three members of the Toronto Maple Leafs were on the list, including Phil Kessel, Dion Phaneuf and Joffrey Lupul. Given that Kessel finished the 2011-12 season ranked sixth in both goals scored and points his inclusion on the top 20 list was hardly a surprise; but the additions of Phaneuf and Lupul has some of the  so-called "experts" wondering if The Hockey News got their list right.
While Kessel (who also made The Hockey News' Top 50 Players list at number 32) takes his fair share of criticism for his poor defensive play, his offensive creativity and finish have never been better. Picked as an All-Star last season, Kessel enjoyed a tremendous year, posting career highs in goals (37), assists (45), points (82) and tying his career high with six game winning goals. He finished behind Rick Nash, Marian Hossa, Corey Perry and Jason Pominville in The Hockey News' top 20 right wingers, putting him in elite company and serving notice to his doubters that Kessel has arrived as an NHL star.
Like Kessel, Phaneuf played in the All-Star Game last season. If not for a rather average second half of the season, Phaneuf would have finished higher than 20th on the list, which included Drew Doughty (1), Ryan Suter (5), Kris Letang (10) and Dan Boyle at number 15. Phaneuf finished the 2011-12 season ranked 12th in scoring amongst defensemen with 44 points in 82 games played. Meanwhile, Phaneuf's physical side was on an uptick last season as he slowly regained some of the fire that lit his belly when he was a member of the Calgary Flames. The likely cause of his slide in the rankings was his plus/minus rating, which stood out for all the wrong reasons at minus-10 on the season.
Joffrey Lupul spent most of the first half of the 2011-12 season amongst the top ten scorers in the league. Lupul's season ended on March 6th when he separated his shoulder against the Boston Bruins. And just like that, any hope of Kessel and Lupul finishing in the top ten in scoring ended. Up to that point, Lupul (who also played in the All-Star Game) had not missed a game, scoring 67 points (25 goals, 42 assists) in 66 games played, putting him on pace for a point-a-game season. If not for his injury Lupul might have been ranked higher than the 18th slot amongst left wingers. Lupul finished behind Zach Parise (1), Dustin Brown (5), Gabriel Landeskog (10), Matt Moulson (15) and ahead of Evander Kane (19) and Chris Kunitz (20).
The New York Rangers led the way with a total of eight players making the lists (Ryan McDonagh, Dan Girardi, Michael Del Zotto, Marian Gaborik, Rick Nash, Brad Richards, Henrik Lundqvist) with the Pittsburgh Penguins, Chicago Blackhawks and Vancouver Canucks finishing tied for second with six players apiece. Meanwhile, the Stanley Cup Champion Los Angeles Kings had a total of five players listed and in what I would call a bit of a shocker.  the Dallas Stars also had a total of five players make the lists.
The bottom feeder from the collective lists was the Florida Panthers who had only one player listed (Brian Campbell) while (surprise, surprise) the Columbus Blue Jackets were the only team not to have a single player on the lists.
Want to know which players from your favorite team made the lists? Sorry, I was unable to locate a link, so you'll have to purchase the September edition of The Hockey News magazine.