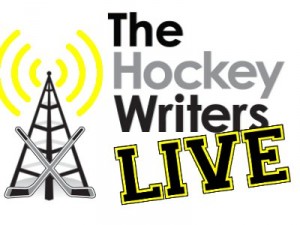 It is nearly that time again. In just a few short days, episode two of  THW Live will be airing. Expect an appearance from a few of The Hockey Writers of course. With more and more of the preseason being canceled, we remain undeterred. The show itself is about putting the best "hockey foot out there". The first episode went so well that we hope the second one is just as enjoyable for the hockey fans.
The goal as always is to get this out a couple days in advance of the show so that everyone has an idea about what is going on for the show Sunday Night. It also as always allows people to get their two cents in and more. Again as always the action starts at 8pm ET but that is not all.
Furthermore, I will be opening up a mailbag of sorts in the next few weeks. The only reason why we did not do this sooner was because we want to get a few shows under our belt first. This week with several leagues starting and now ongoing, there is enough of a body of work to at least start recapping what has been going on. We will then mix that with our "Head To Head" THW Live Keeper League Draft. It will be a fun, fast paced sixty minutes as always.
Let's get to that outline…….
===========================================
THW Episode 2:
Let's say hello again.
What is going on with the OHL, KHL, etc. Play on hockey!
And now the THW Live Fantasy Hockey Draft
Analyzing draft strategy with our experts
Roundtable on when we expect to see hockey again and what may happen
Why the Winter Classic really is in jeopardy now!
What to do in case of hockey withdrawal?
Closing thoughts, comments, and last Slap Shot!

===========================================
For those asking, we are bringing a fantasy hockey
expert
that literally is on ESPN's Top 50 list of best fantasy players period. On top of that, we may just have a couple "fantasy experts" from
The Hockey Writers
. Furthermore, we will be taking phone calls throughout the show at 
1-347-826-7358
. If you have questions that you want asked via Twitter, just send it to us via 
@ChrisWasselTHW
.
 It plans to be a very entertaining show and hopefully we can provide some solid hockey debate for the fan who is starving for just about anything at the moment.
In the meantime, please remember that there are other hockey alternatives (OHL, WHL, KHL, etc.) and right now the bottom line is THW Live will bring it all to you. Until then, we will see you on Sunday Night.