Taking the NHL world by storm last season, Tampa Bay Lighting's triplets line of Tyler Johnson, Nikita Kucherov and Ondrej Palat was the most productive line during regular season play. No easy task for any trio but notable because the triplets consisted of two 24 year olds and a 21-year-old.
They weren't even a line at the beginning of last season, but as fate and injuries are wont to do, Coach Jon Cooper was kind of forced to put the three together early last season and they jelled immediately. Much to his credit, Cooper kept the three youngsters together, increasing their ice time with each passing game.
Showing Tenacity
As the playoffs approached, the triplets played like cagey post-season veterans rather than the two-year players each one of the three were. Johnson broke his wrist in Game 1 of the Stanley Cup Final yet led the NHL with 13 playoff goals.
Kucherov was bearing down on Johnson's stranglehold for most goals as he ended the playoffs with 10 goals. To remove any doubt that the regular season success was no fluke, Palat, with eight goals was just two goals short of Kucherov.
Is it possible that this young NHL line coming off the amazing regular and post-season we just witnessed should continue to become even better? Why not? Based on most metrics, this troika is still a year or three from what should be their peak performance portion of their careers. What can this triplets line do for encore? As we approach the upcoming season, it is clear that these three amigos have set a pretty high standard individually and collectively thus far.
Conventional wisdom dictated that last season should have been difficult for at least two-thirds of the line. As finalists for the Calder Award in their rookie year in the season before last, Johnson and Palat along with Nathan McKinnon were the cream of the rookie crop. Not much harvesting required.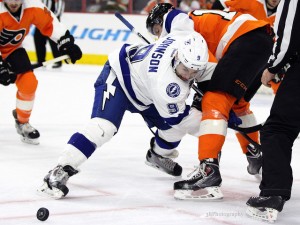 Last year there were no sophomore slumps for the Calder twins. Despite the honor of being Calder finalists, Palat and Johnson both improved their point totals during their second season.  For good measure, Kucherov's offensive improvements exceeded his two pals. Kucherov played in 30 more games, scoring almost 20 more goals and almost 30 more assists than in his rookie season.
The maturity level displayed by this line was evidenced by the confidence shown by their coach to play both sides of the special teams on top of their regular second line minutes. The regular season plus/minus numbers put up by the triplets was impressive. The three line mates were numbers one, three and four in the NHL. Max Pacioretty of the Montreal Canadiens was tied with Kucherov with a plus 38 for the league lead.
As they are about to begin their third NHL campaign, with two consecutive playoff appearances on their resume, the Lightning fan base has palpable excitement to go along with tremendously high expectations. Will their third year at the NHL level be the charm?
Marked Men
It would not be that hard to imagine these guys as a group, continue to up their game. Should this occur, the triplets will again score more goals and more points combined than any other NHL line. Even if they have the same kind of year as last year in plus/minus that will probably lead the league again.
The major challenge for them will be their success. They are entering this season as marked men. No longer will they take opposing coaches by surprise. There will be bulls eyes on their chests along with the pressure of lofty forecasts. Based on last year's performances, they should see more of the other team's top shutdown players. Without a doubt, the triplets must become fighters.
If they are to rise to the occasion, they must be prepared to fight the compete level opposing teams will bring. Now that Tampa is at or near the top of most experts lists of elite teams, the pre-season predictions have sealed this fate for the entire Lightning team and the triplets will be a focal point.
Fight or Flight
For this reason, I suggest the triplets line get the mindset to play like the TKO line. The triplets were new, exciting and fast. They befuddled opposing defenders with their no look passes. Cooper coined the triplets name because he claimed this threesome played like the Sedin twins. They passed the puck to where the other was going to be, not where the defense were playing them. The instinctual bonded brand of playing that takes other lines years to formulate.
For the good of the team, the triplets need to deliver the knockout punch to their opponents. The TKO (Tyler-Kucherov-Ondrej) line needs to come of age. The fellas from this triad must provide the difference for the Lightning during the grind of the 82 regular season games.
At center, Johnson should break the 30 goal barrier with relative ease after netting 29 last year and 24 the season before that. His goal output increases have been staples of his pre-NHL career. Prior to joining Tampa, Johnson played two years with the team's AHL affiliate. In his initial year in Norfolk, he scored 31 goals followed by 37 goals for Syracuse a year later. Johnson also played four years in the WHL for Spokane and his goal production went from 13 to 26 to 36 to 53. Did I say 30 goals this year? He will probably end up closer to 40.
If there is one aspect of Johnson's game that must see improvement, it is in his faceoff percentage. Winning only 48.7 percent simply isn't good enough. Sure this line is good enough defensively to get the puck back but even three percentage points better and that puck possession will translate to more goals.
Kucherov, who tied Johnson last year with 29 goals after scoring only nine a season ago, should also blow by 30 this year. The Russian Rifle has an explosive snap shot. Ask Henrik Lundqvist. He saw it or I should say heard it whistle by him during the Eastern Conference Finals last May. As his minutes jump from just under 15 per game to let's say, 18 or even 19 minutes a game and that will equate to more biscuits in the basket. Wouldn't take much then to go from 29 to 35 or 36.
The bruiser of the line who could lay down the hammer both literally and figuratively is Palat. He plays five inches and 50 pounds heavier than his six-foot, 180 pound frame. He is the lunch pail guy on this line. He'll dig out the puck in the corners, he'll remind folks of Marian Hossa of the Blackhawks. Good offensive skills, very good defensive skills and amazing checking skills. While his goal production was down a bit from his rookie season, he tallied seven less goals but added eleven more assists.
…7, 8, 9, 10
It is time for the triplets to grow up and earn a more mature line nickname. For this season they will become the TKO line. Deliver the knockout punches to their opponents to secure the decisions. To weather the hits that is surely coming their way. Johnson, Kucherov and Palat must step up a level.
Johnson was selected as an all-star last year but now it is the other two that must be in the running for that in addition to Johnson. Palat, along with Johnson were Calder Trophy finalists. Who knows, if the Cup Final outcome was different, would Kucherov and Johnson be considered for the Conn Smythe?
The triplets arrived and to a certain extent conquered last season. This season the TKO line must take over and take on all comers to help get the Lighting to the championship. After finishing as the runner-up, only step up is the Stanley Cup.
Born in Chicago, Illinois. Grew up playing and loving sports. Spent most of my formative years playing, debating, arguing and talking sports. for the last couple of years I have written about hockey. I am currently a Tampa Bay Lightning contributor for The Hockey Writers. I know that I may not always be right, but I am passionate about hockey and it is damn hard to hide that passion in my writing.