By Mike Miccoli
The Boston Bruins' 5-0 win over the Ottawa Senators on Friday night meant a little something more than just another tally in the win column.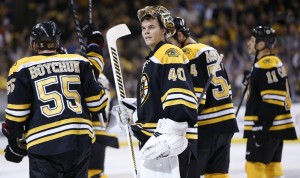 For Reilly Smith, who scored twice in the third period, it was the game where he gained the lead in goals scored for the Bruins with his 14 tallies. For the team itself, thanks to Smith's two scores, it was the first time since December of 1929 that a Bruin has scored at least two or more goals in seven straight games. For Tuukka Rask, the 33-save shutout was enough to earn him his 20th win of the season, a milestone he has only hit once before in his NHL career.
"You always want to win more games than lose, obviously," said Rask. "You look at the way that you're playing and try to keep that consistency, so it's a challenge for the next half of the season coming up."
Rask's all-time career-high in wins came in his rookie season of 2009-10 where he won 22 of his 45 games played. Because he served time as a backup to Tim Thomas in 2010-11 and 2011-12, along with the truncated 2013 NHL season, Rask has the opportunity to set career highs in wins this season.
With the way the Bruins have been playing in front of him, that could be very soon.
"He's going to stand on his head for us," said Smith of Rask's 15-save first period. "The thing is, sometimes we expect that too much, but he did a great job tonight and he kept us in it the first period, no doubt."
Rask's shutout in the game was his fourth of the season, putting him as the active leader in the stat amongst all NHL goaltenders. His 20 wins is second to Marc-Andre Fleury. In comparable games-started, he's second only to Josh Harding in both save percentage and goals-against-average with a .938 and 1.81.
The most important part of Rask's apparently positive trajectory is keeping him fresh. The Bruins recalled goaltender Niklas Svedberg from Providence on Friday morning after a 34-save shutout on Thursday night. It's an attempt for Svedberg, who was second in the AHL with 37 wins for Providence last season, to see action in Boston.
Svedberg has yet to play in an NHL game and after dressing as the backup goaltender in place of a scratched Chad Johnson on Friday, it's a safe bet to assume that he will start the second of back-to-back, home-and-home games against Ottawa on Saturday night.
"It's experience," said Julien on Svedberg's call-up. "He's played a preseason game and I thought he played really well. He's coming off a shutout last night as well so he's earned his opportunity and like I said, we told him we'd give him that. So it gives us an idea of where he is in development and at the same time he's certainly earned that opportunity by his play."
Still, a strong showing from Svedberg could be important for Rask, who had come out earlier in the season and spoke of fatigue. If Svedberg is able to show that he can handle the backup duties for Rask, something that Johnson has been a bit erratic with, it would mean more rest for the Bruins' starter, keeping him fresh and avoiding burnout once the postseason hits.
If Rask is able to keep pace and continue to put up strong showings, he should be a shoe-in for a Vezina nominee.
With his competitive nature, it's likely he has his eyes on the prize that eluded him by 17 seconds last season. After all, that's the milestone that counts most.