Day two of the 2014 World Junior Championship featured just two games. Slovakia dominated in a win over Germany, while Finland as expected easily handled Norway.
Slovakia Opens Tournament with Statement Win
Unlike Canada's slow start, the Slovaks brought it to the Germans right away. They dictated the pace of the opening 20 minutes and went into the first intermission with a 3-0 lead. However, the most telling stat may very well be the fact Germany only managed a single shot on goal in the opening frame.
From there, they never looked back or loosened their strangle hold on the game. The Slovaks were opportunistic, converting on nearly all of their chances. That in turn made it difficult for Germany to generate opportunities of their own, as they seldom possessed the puck.
The Slovaks were lead by their captain Milan Kolena who had two goals and an assist through the first half of the game. Martin Reway and David Griger also played well each scoring a goal and three assists.
Slovakia would go on to win by a final of 9-2. Just based on their opening games against a common opponent, an argument could be made that Slovakia has outperformed Canada to this point in the tournament. Canada only managed a 7-2 win, after getting off to slow start in the first period. However, the real story will be told when Canada and Slovakia square off on December 30th, but until then the Slovaks have earned themselves a bit of bragging rights.
Finland Holds Serve Against Norway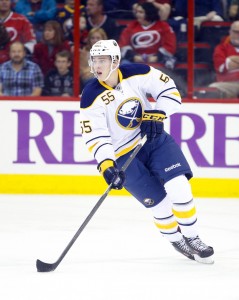 After getting off to a bit of a slow start, the Finns handily took care of Norway by a final score of 5-1. Suomi finally jumpstarted themselves with a late first period power play goal by Artturi Lehkonen.
Once able to break the seal, Finland never faltered. They struck for three more in the second period, including two goals less than a minute apart. The team was lead by forward Saku Maenalanen who had two goals and one assist.
"The first period was maybe a little slow. We moved the puck well, but we have to shoot more," said Finland defenseman Rasmus Ristolainen. "Every one trusts how we play and we knew goals were coming. We got the win that's all that matters."
One area where Finland may look to improve is in their discipline. They committed seven penalties in total. Better competition will make them pay for such mistakes, so they'll look to play a cleaner game against the likes of Sweden and Russia.
When Norway scored with just over three minutes remaining, they ended a scoring drought that lasted nearly two games. It looks as if Norway and Germany are on a collision course for the relegation game. As for Finland, they'll hope to continue to improve as they try to erase the failures of World Juniors' recent past.
"We have a good, hardworking team and try to get better game by game," said Ristolainen. "I can be way better. I haven't played in awhile, but I know I'm going to be better tomorrow."
Finland takes on arch-rival Sweden, while Russia takes on Switzerland in the other Group B matchup tomorrow. In Group A, USA takes on Slovakia and Canada faces off against the Czech Republic.
Stayed tuned here and follow me on Twitter to stay up to date. I'll be on the ground in Malmö for the duration of the tournament providing all of the latest news and analysis.