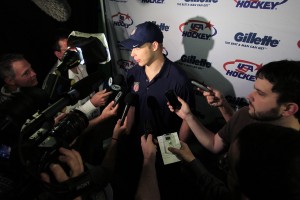 Per the criteria cited on NHL.com, the NHL's Foundation Award is given annually to the NHL player who "who applies the core values of (ice) hockey — commitment, perseverance and teamwork — to enrich the lives of people in his community." In the opinion of former NHL defenseman and current HNIC analyst Garry Galley, 2011 winner Dustin Brown's on-ice core values include being a 'predator' — and that he and the rest of his 'Crazy Eight' brethren should be taught lessons with long suspensions.
Garry Galley goes off on the 'Crazy Eight' on XM Radio
In an interview back in October, Rob Pizzo and Kelly Hrudy invited Galley on to discuss a variety of topics, including some of the hard hits seen in the NHL this year. After warming up over the Patrick Kaleta hit on Jack Johnson and his resulting ten game suspension, he ramped up the intensity with pointed opinions about some of the league's fiercest hitters
"Guys, there's like a Crazy Eight group in the league right now," he said. "It's not even a Dirty Dozen, it's a Crazy Eight." He then proceeded to call them out by name. "You got Ott, you got Rinaldo, you got Carcillo, you got guys like Torres, Kaleta, Lapierre and you gotta throw a guy like Clutterbuck in there who will take advantage of a player."
Galley zeros in on Dustin Brown as a member of the 'Crazy Eight'
After listing players he believed repeatedly cross the line (Matt Cooke was also mentioned later on), the HNIC analyst set his sights on the Los Angeles Kings power forward, only the second American-born captain to lead his team to the Stanley Cup.
"Dustin Brown is on the edge there, guys. He throws some questionable hits. You look at the one on Roszival. The one on Pominville in the playoffs."
For those who may not recall the white-hot controversy it caused, below is Brown's hit on Michal Rozsival, which led to the series-clinching goal against the Phoenix Coyotes seconds later.
As for the Pominville hit, it didn't occur during the playoffs, but Brown was nevertheless suspended for the final two games of last year's regular season.
Galley summed up his opinions by stating that the aforementioned 'Crazy Eight' players were 'predators' and that suspensions needed to be in the 'stupid' range of 25-30 games to stop what he believed was unwarranted, reckless behavior.
Is there a 'Crazy Eight', and should Dustin Brown be included in the conversation?
Two years ago, Sports Illustrated polled 193 NHL players with respect to whom they considered the league's most physical hitters. Three of the so-called 'Crazy Eight' — Cal Clutterbuck (3), Dustin Brown (6) and Patrick Kaleta (11) made the top fifteen. By definition, the list represented some of the hardest-hitting players in the NHL. Do these and the other named players cross the line?
With respect to Brown, Nashville Predators forward Rich Clune doesn't think so. Reacting to Galley's remarks, Clune said the following:
"Dustin Brown is a rugged guy. If I'm that guy's producer (Galley), I would really question his knowledge of the players. I would fire him on the spot." He continued: "Dustin Brown won the Kings a Cup. He was the captain of a Stanley Cup Champion team, where he had an unbelievable playoff run. Yeah, he's caught guys in vulnerable positions, but that's the way Brownie plays. He's the kind of guy. He hit me last year and he said 'sorry' after, because he kind of hit me too hard. You know what I mean? He's not a predator, whatsoever. He's a good dude."
Neither does venerable winger Ray Whitney, now with the Dallas Stars.
"He finishes his checks. To be honest with you, I don't go around looking to see who's a dirty player. I don't really put much thought or stock into it. If he hasn't been suspended a whole lot, I suppose he's not a dirty player. I think that pretty much sums it up."
The line between aggressive and 'Crazy Eight' is in the eye of the beholder
No argument between long-time hockey pundits sums up the debate over Brown's play better than the following heated exchange between Mike Milbury and Jeremy Roenick. Amusingly, Milbury apparently believed Brown could have swerved to avoid the hit in the two-tenths of a second between the whistle and contact. If you haven't seen this, it's a must-watch:
In the end, there is no doubt Dustin Brown has been a polarizing figure during his NHL career. He's a hard-hitter, has a nose for the net, seems to have balance issues occasionally while on the ice, and as Captain led the Kings to their first-ever Stanley Cup in 2012. He also selflessly helps others in need, as evidenced by his 2011 Foundation Award.
Should he be a charter member of Galley's 'Crazy Eight'? Feel free to render your opinion in the comments section below, or shoot a tweet to @McLaughlinWalt.
Walter McLaughlin is a Los Angeles Kings correspondent for The Hockey Writers. He is an avid sports fan, having followed the Kings since living in L.A. in the mid-1970's, as well as suffering through Seattle sports teams' general futility. He has a Bachelor's degree in Finance and has worked in community banking for over 25 years, specializing in SBA loans. He is married and has two daughters.