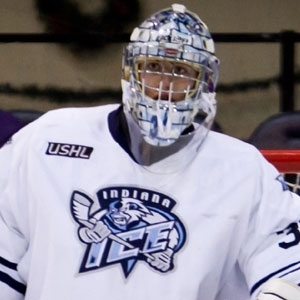 In his first ever start in net at the IIHF World Junior Championships, Jon Gillies made 23 saves, and Team USA defeated the Czech Republic 5-1 as the tournament's preliminary round commenced Thursday in Malmo, Sweden.  It was the first major test for the 19 year old netminder, a southpaw who played backup goaltender in Team USA's gold medal run during last year's tournament in Ufa, Russia.
After the game, team captain Riley Barber told USA Today that Gillies is a "special goalie" and needs to be "our best player" if the Americans hope to repeat as tournament champions.  Team USA's remaining preliminary round games in Malmo are a Saturday contest versus Slovakia, a Sunday match against Germany, and finally a Tuesday showdown with Team Canada.
At 6'5″ and 216 pounds, Gillies possesses a crucial size advantage at the goaltender position.  This advantage not only yields a more formidable presence at the net, but also affords Gillies a better view of approaching traffic on the ice.  Instead of waiting in his crease, Gillies will often step out to directly challenge an oncoming shooter.  The NHL's Calgary Flames took notice and selected Gillies, who grew up in South Portland, Maine, as their third round pick in the 2012 NHL entry draft.
On their team website, the Flames organization notes that Gillies "is an athletic goaltender who moves very well for a player of his stature. He is quite aggressive when challenging shooters and has good positioning in the crease. He also has a quick glove hand and covers the top corners of the net commendably."
Meanwhile, hockeysfuture.com currently gives Gillies a prospect talent score of 7.o, meaning that although perceived a notch below all star-potential, he nonetheless possesses the ability to successfully defend his net for long amounts of time.  However, a stellar showing in Malmo could substantially increase Gillies's potential and plant him firmly on the radar as perhaps the NHL's top goaltending prospect.
No Stranger to Success
Gillies previously played for the USHL's Indiana Ice and earned the highest save percentage in team history during the 2011-12 campaign, despite facing more shot attempts than any other goaltender in the league. He is currently a sophomore at Providence College, where he earned Hockey East Conference Rookie of the Year honors his freshman season.  He has already shattered the school record with eight shutouts and boats a myriad of other accolades in his collegiate career thus far, including an impressive .945 save percentage this season to complement a 10-1-2 record and 1.81 GAA.
Learning the Ropes In Russia
Despite earning a roster spot last year, Gillies saw only limited action on the ice in Ufa, only one period the entire tournament to be exact.  He spent the balance of his time in starting goaltender John Gibson's shadow, and Gibson was eventually named tournament MVP after leading Team USA to the gold.  In a recent interview, Gillies asserted that watching Gibson mind the net helped him immensely improve his own game.
"On the ice he's an extremely hard worker, battles every shot and doesn't care if it looks pretty or not," Gillies said.  "Seeing a superstar like [Gibson] do it night-in and night-out, where pure athleticism took over, was a nice thing for me to see and it helped me to understand what I needed to do."
If Gillies's opening performance versus the Czechs on Thursday is a foreshadowing of things to come in Malmo, the time spent under Gibson's tutelage is already starting to pay dividends.  NHL network analyst Dave Starman noted after the game that Gillies displayed great composure, and that by making big saves and controlling rebounds, he shifted the game's overall momentum back to Team USA just about every time the Czech team started to get something going on the offensive end.
Gillies himself praised the team's overall defensive effort and noted that it made his job much easier.
"The team was really good in front of me," Gillies said.  "They kept the shots and chances down, and it was a good win . . . They were moving the puck really well."
Head coach Don Lucia attributes much of Team USA's prior success at the World Juniors to good goaltending, and this was certainly the case last year with Gibson's phenomenal performance.  If Jon Gillies maintains this trend, Team USA stands a strong chance of bringing home the gold once again.
I live in Arizona and cover the Phoenix Coyotes. I also run a blog covering all Phoenix professional sports teams as well as ASU Sun Devil athletics. I have a graduate degree in Education and taught K-12 public school for several years before pursuing free lance sports writing full time. Follow me on Twitter @CaseyPSH