In the midst of a home stand the Carolina Hurricanes find themselves on the cusp of two possibilities. They will get through it adding significant points to their total, or they will remain stagnant and find themselves making golf plans for next May as they enjoy their Thanksgiving turkey. The unofficial line in the sand for playoff probabilities is Thanksgiving, and the 'Canes control this part of their playoff destiny. They have a slate of games at home that they conceivably can win.
My colleague at The Hockey Writers, Dustin Nelson recently wrote a great piece about November and the playoffs. Titled "4 Teams That Won't Make the Playoffs" Nelson wrote, "Since the 2005-06 season only five of 44 teams who were at least five points out of the playoffs on November 1 have rallied to clinch a postseason berth. That's just 11.4% of the teams in that position finding a way to step on the gas for the next five and a half months."
Nelson acknowledges in his article that most NHL general managers point to Thanksgiving as the significant date, but makes the point that statistics show that teams' playoff fates can be decided even earlier. (The Hurricanes were not one of Nelson's four teams). During this home stand Carolina will face two of the four teams on Nelson's list, the Toronto Maple Leafs and the Anaheim Ducks.
The 'Canes lost Saturday night to the Philadelphia Flyers 3-2 in OT, a game not unlike the previous overtime home loss to the Minnesota Wild. They at least got a point in each game, but should have won both and gotten two in both games.
With That in Mind
Knowing that the 'Canes must win and accrue points I see at least two "must make" moves that they should make to make their chances improve. Certainly there are a number of things the team needs in order to make the playoffs, but there are two that stand out to me at this point.
First of all I think that finding consistency in line combinations is important. I know that the tendency for coaches is to tinker and tweak, riding the hottest hands at the moment in the various team configurations. This is especially true when a team is losing, the need to find answers being urgent. There are for Carolina a couple of line combinations that I think they should ride for at least the immediate future.
Joakim Nordstrom, Andrej Nestrasil and Jay McClement playing together on the fourth line is a solid group. Before you discount this as a "must make" move, it is my belief that a strong work ethic up and down the lineup is essential. The 'Canes fourth line has that and more, they have a hunger to prove that they belong.
Nordstrom broke into the NHL in 2010 with the Chicago Blackhawks and has not played a lot at this level. At 23 he fits the bill for my group of "young guns" that are crucial to the team's rebuild. He got his first goal of the season against the Minnesota Wild last Thursday night, and coach Bill Peters had good things to say about this line:
"It looks like we might have a fourth line now. That line was outstanding. They got us on the power play early, they dominated a shift early, they scored a goal. They did their job. That, to me, is very encouraging."
I was encouraged to hear Peters seeing the potential to keep a fourth line together and possibly not feel that this is a group that he needs to tweak.
Also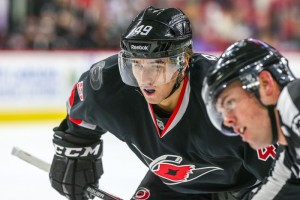 I would also like to see Peters keep Victor Rask at center on the second line. With Kris Versteeg and Jeff Skinner this is a viable second line. One has to believe (hope) that Skinner will dial in any time now after the run of hitting posts that he has had of late. Like I said, I get the whole tweaking lines thing and the reasons for doing it. I just feel that this team needs a measure of consistency.
The Second Must-Make Move
The Hurricanes' power play has been abysmal this season. As of Monday, they were ranked 27th in the league with only eight power play goals in 58 opportunities. Compare that to the league-leading Boston Bruins' 17 power play goals in 51 opportunities. On paper a first unit of the two Staals, Versteeg, Rask and Faulk looks formidable. So does switching out Jordan Staal with Elias Lindholm on the first unit. However the power play has not been formidable at all.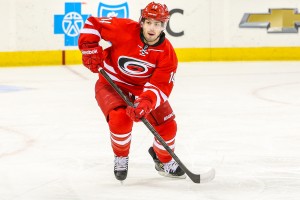 Why not switch things up and put the younger, hungry guys on the power play. Sure you're saying, "Wow, Mark. That's dumb." But, remember the definition of insanity? Doing the same thing over and over and getting the same result. I bet if you saw McClement, Nestrasil, Nordstrom, Gerbe and Hanifin out there as the first power play unit one thing would be certain: They wouldn't do any worse than what has been out there as the first unit so far this season. Maybe they'd even shoot the puck at the net more often.
In a word, shake this team up. Peters said when he came here that he controls the ice time. It's time that he wielded that hammer and maybe used it to wake up the "stars" that are simply not producing on the power play.
What I'm saying is that the team has to work to attain consistency on its lines, and do something to get the power play going. Even if it means sitting the "first string" a bit.
By the way, Hanifin just scored his first NHL goal. On a power play.