For Erie Otters' forward Alex DeBrincat and Mississauga Steelheads' defenceman Sean Day, the NHL Draft is a unique day.
DeBrincat and Day are two highly-touted, highly-talented OHL players. If you look at them strictly on the surface, you'll see a couple of young men who are on the verge of something special as they enter the world of NHL prospect life. Dig a little deeper, though, and you'll realize their paths to get to this point have been essentially complete opposites.
New Day in Mississauga
The 98-born Day is an interesting prospect. He came into the OHL after being granted "exceptional status" as a 15-year-old out of Compuware U16 Midgets, where he scored 35 points in 63 games and showed tremendous potential as an all-around defenceman. The "Exceptional Status" title has been handed to only a few under-age players over time, including former OHL greats John Tavares, Aaron Ekblad, and Connor McDavid. Normally, it's automatic that a player like Day would be selected first overall in the OHL Priority Selection. However, this time, Ottawa, who had the first pick, went a different route, taking forward Travis Konecny.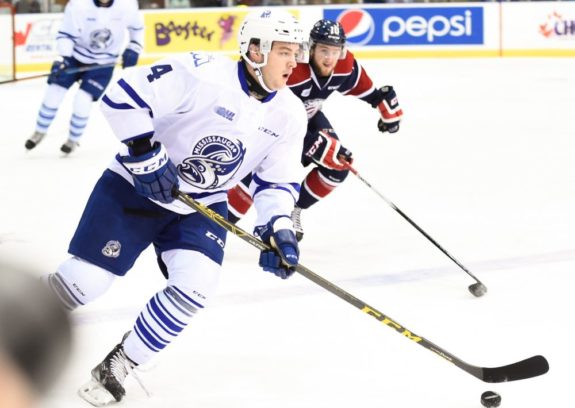 Day fell to fourth spot, landing with the Mississauga Steelheads. After arriving in the OHL, he tried putting all of the tools together, but hasn't been able to quite work it out. He scored a career-high 36 points for Mississauga in 2014-15, but was a minus-27. One would expect him to improve this past season, but he regressed offensively with 22 points in 57 games. He did improve to a minus-13, though.
Physically, Day is an imposing figure, standing 6'2" 229lbs, but there's a passiveness to his game that few can figure out. Everything is there; the offence, the defensive potential, and the smarts, but something has been missing.
While originally a top NHL prospect, Day fell to the third round of the draft this year, being taken 81st by the New York Rangers. Day could certainly find his way from here-on-out, and, if he does, the Rangers have a potential steal.
DeBrincat Proves Size Does Not Matter
A player with the opposite path is Erie's DeBrincat. Listed at 5'7" 165lbs, he has become a player who is constantly proving everyone wrong. After being un-drafted twice by the OHL, the 97-born DeBrincat played for Lake Forest Academy (USHS) in Illinois. He contemplated going the USHL route, but ultimately decided to sign with Erie. He was immediately put on a line with McDavid, where they brought each other's game to the next level. After scoring 111 points in 50 games for Lake Forest, DeBrincat scored 104 points in 68 games for the Otters. However, that was his only year with McDavid. Could he handle the pressure during the 2015-16 season on his own? Absolutely.
He put home another 101 points in 60 games for the Otters and quickly made a name for himself among the NHL Top Prospects discussions. By seasons end, he was rated 21st among North American Skaters by NHL Central Scouting. It didn't take long after the first round, either, as he was taken in the second round of the draft, 39th overall, by the Chicago Blackhawks.
DeBrincat brings all of the tools you look for in a sniper. He has the hands, the vision, and the deadly shot. He has shown chemistry with anyone put on his line and even shows some grit, as he dropped the gloves with former Windsor defenceman Graeme Brown in 2014-15. This could be a potential golden pick for the Blackhawks.
Some players take the traditional, drafted route to the OHL, while others take the unconventional, but still quality free-agent route. Regardless, both players are going to have a chance to prove their mettle in the NHL. Chicago and New York could have a couple of exceptional players in a few years.