Over the past few weeks, we've talked about a couple of prospects in the Edmonton Oilers' pipeline. It's now time to turn our attention to a guy who's had a lot of struggles with injuries during his development, Tyler Benson. It's been the biggest concern since he was drafted 32nd overall in 2016. It's easy to quickly get the "injury-riddled" tag as a prospect when you've been limited to just 63 games over the course of two seasons.
That's what happened with the former first overall pick of the 2013 WHL Bantam Draft. The 19-year-old underwent double sports hernia surgery during the last off-season. As a result, Edmonton was very touch-and-go with him throughout the summer. Benson didn't skate at prospects camp with the rest of the group. He was held off the ice with the main group during Oilers training camp and limited to one-on-one sessions. He also didn't play for Team Canada at the Summer Showcase either.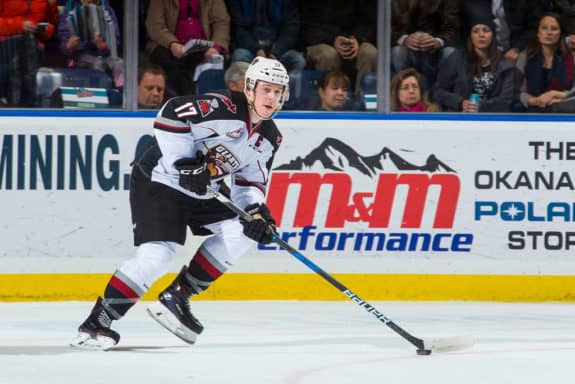 Benson would miss the first 12 games of the WHL season, and didn't get into the Vancouver Giants lineup until Oct. 27. Since then, he's started to regain some of the form that made him such a highly touted prospect in 2016. People began to see why so many had Benson pegged as a surefire first rounder before injuries derailed his 2015-16 season.
Benson Has Put Injury Problems in the Past
It was tough, we just wanted to be sure I was healthy for when I did start the season. We didn't want to rush it, it's something we had done in the past and it didn't help me. So we were just taking a slow process, that was the way to go with it and we feel that it's worked so far.
It looks like those injury problems are a thing of the past. Benson's played in 42 of 43 games for the Giants since Oct. 27. The Oilers pick has already amassed 19 goals and 51 points in 42 games. Only Kailer Yamamoto (1.69), and Kirill Maksimov (1.23) have a higher points-per-game than Benson's 1.21 when it comes to Edmonton prospects.
The Giants have to be thrilled because, with a healthy captain, they've already exceeded last year's point total (46). Vancouver looks to return to the WHL playoffs for the first time since 2013-14, and a lot of that has to do with Benson's strong play. He has 17 multi-point games this season, highlighted by a season-high four points on December 30th against the Prince George Cougars.
Related: Oilers Prospect Kailer Yamamoto Is Tearing Apart the WHL
Benson's found some chemistry with 2018 NHL Draft eligible prospect James Malm who should be a later round selection. If it's any indication of his success, Benson's points-per-game this year translates to 87 points over a full WHL season. Another judge of point production is the NHL-Equivalent (NHLE), which calculates what a players success translates to at the NHL level. Benson's NHLE is 29 points based off this year's totals thus far.
Tyler Benson Scouting Report
Benson possesses an attractive package of skill and physical play that NHL teams covet, and should make him a solid bet to have decent NHL career. In part due to injuries, questions will remain as to whether he projects to be an above average, physical second-line winger or a bottom-six grinder.
For comparison's sake, Benson's NHLE is higher than what Jesse Puljujarvi is on pace for (25 points). It's more than what Jujhar Khaira (26), Zack Kassian (22), and Drake Caggiula (21) are on pace for as well. That's not saying Benson is ready to step into an NHL job, but just that he might be closer to NHL-ready than some might anticipate.
(Disclaimer: No, that is not saying Benson will play for the Oilers next season.)
Related: Kirill Maksimov: A Thrilling Oilers Prospect
If Benson can stay healthy (the big question mark), he should be able to find some success as a first-line forward for the Bakersfield Condors next season. He turns pro in 2018-19 along with goaltender Dylan Wells. The rest of that crop (aside from Puljujarvi), is either committed to a college or staying in Europe. Benson will be at the forefront of a complete retooling of Edmonton's farm system.
He'll join Ethan Bear, and Caleb Jones as the stockpiling down in Bakersfield begins to progress. The following year we should see Maksimov (RW), Stuart Skinner (G), Ostap Safin (RW), and Dmitri Samorukov (D) make the jump. With Benson, the Oilers have, if he can work on his footspeed, a guy that can be a top-six left winger for years to come.
Related: Tyler Benson & the 2016 Oilers Draft Picks
He protects the puck well, is an adept playmaker, and always seems to find lanes through traffic. Benson was white-hot from November to December with 29 points in 19 games. Night in, and night out, Benson has been arguably the Giants best forward along with Malm, and Ty Ronning. He's shown versatility in his junior career to play different roles. He can get physical, he can grind it and play strong along the boards, and he wins a fair share of puck battles.
One thing he has been working on is trusting his shot more. He has 164 shots on goal this season which is an average of 3.9 per game. When he turns pro, he's going to have to trust his shot, because quite frankly it's a good shot that's underutilized. If you're looking for a numbers prognostication, here's one. A fair assessment might be that Benson could become a 20-goal, 30-assist guy in the NHL. Anything more is a bonus.
Most importantly, Edmonton just needs to hope these injury woes are in the past and that Benson is finally healthy. It would be a shame if he ended up floundering on the injured-reserve similar to what happened to Tyler Pitlick who, like Benson, was a second-round pick in 2010. He's had a great season, and if healthy he could be the catalyst in helping a young Giants team to a deep playoff run in the WHL's Western Conference.