Bad memories are hard to shake. When it comes to the Boston Bruins, some of those bad memories are far more recent than some would like, especially as it pertains to the salary cap. It wasn't that long ago that Peter Chiarelli was fired from his post as the Bruins' general manager and replaced by Don Sweeney. A big part of that decision came down to Chiarelli's inability to manage the salary cap – something that is on display once again in Edmonton.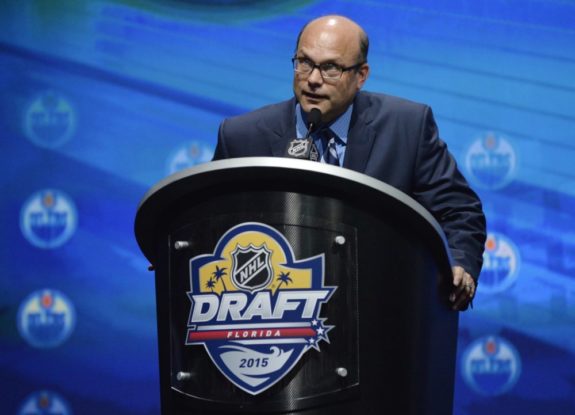 While it's important to consider the long-term salary cap implications of every move, it's also important for a general manager to realize when he needs to be aggressive and make a push for a championship. After all, championships are all that matter in the world of professional sports. Only one team can win the championship each year, however, and with 31 teams vying for the Stanley Cup each season, it's important to take a leap of faith when the opportunity presents itself.
There is a strong reason to believe this Bruins team is good enough with their current roster to make a deep playoff push. All the while they'd still be set up for the future with arguably the deepest prospect pool in the NHL. At the same time, it would be tragic to see this Bruins team fall short of their ultimate goal because they failed to add a piece or two to their roster. The future should always be considered and assets should never be thrown aside for the sake of doing so. At the same time, sometimes an asset or young player is expendable if the outcome is a championship.
Bruins Prospect Pool is Deep
If the Bruins decide to make a trade to acquire Ryan McDonagh or fellow Rangers' player Rick Nash, they shouldn't be second-guessed at this point. Sweeney has done his part to build this team around its core while adding key young pieces to the mix in the process. At the same time, he's built a prospect pool that many general managers are likely salivating over, especially given the fact that the Bruins may be the NHL's best team right now already.
Because the prospect pool is so deep, the Bruins can effectively figure out a trade to acquire help without hurting their future. Even if that trade involves a young roster player on top of the prospects in the system.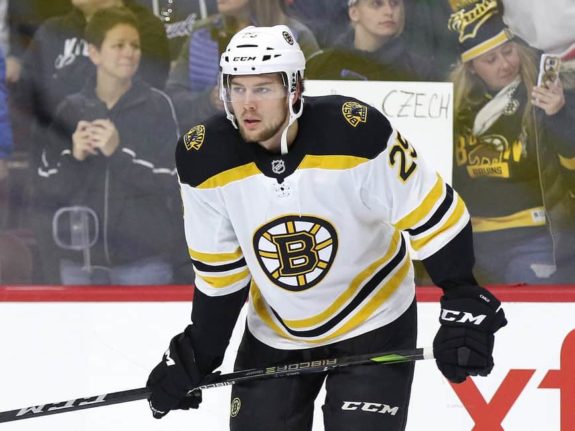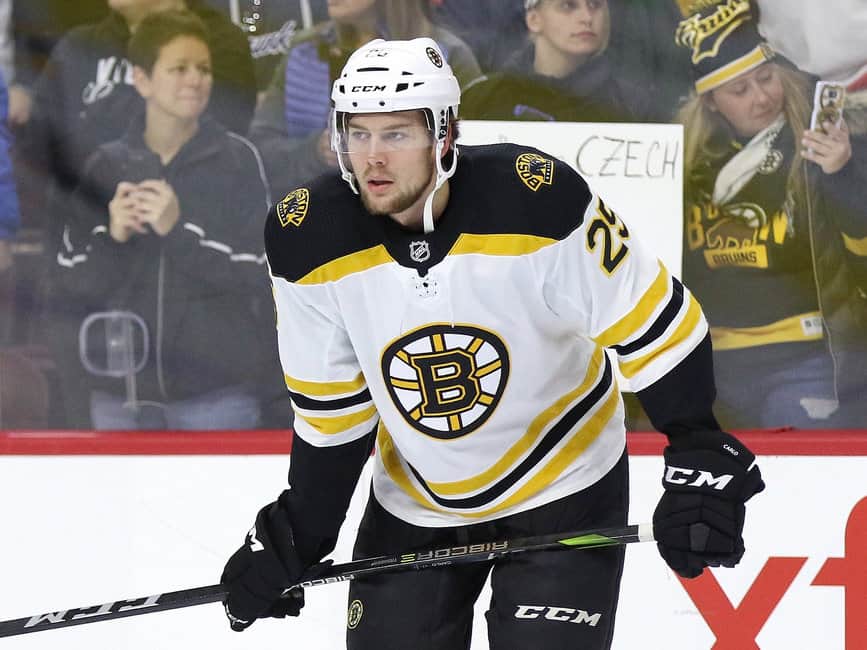 If a player like Brandon Carlo becomes a casualty of a trade as a result, it's simply the cost of business. If the Bruins do include Carlo in a deal, however, they shouldn't also include a top prospect and another first-round pick. A mid-level prospect and a pick would make a lot more sense. In a perfect world, Carlo spends his entire career as a Bruin, becomes a legitimate top-tier shutdown defender and plays for multiple Cup-winning teams in Boston. In reality, the cost of business is often a player of Carlo's caliber. It isn't ideal, but it also isn't the end of the world given the depth the Bruins have in terms of defenders in their prospect pool.
Defense Runs Deep
While Ryan Lindgren, Jeremy Lauzon, Jakub Zboril and Urho Vaakanainen are all left-shot defenders, the Bruins could realistically try any number of them out on the right side in the future to try and fill the hole created by trading Carlo. A need for the future in Boston is right-shot defense prospects (simply because Carlo and Charlie McAvoy panned out so quickly) and that need will only increase if Carlo is moved.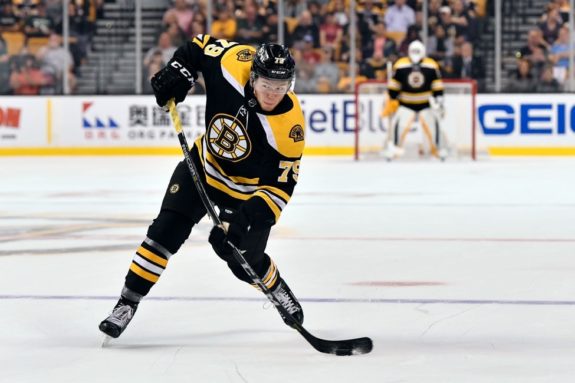 If that need can be filled internally by a defender who is close to making their NHL debut who can comfortably make the transition to their off-wing, then that's what the Bruins will do. If not, then the Bruins will be tasked with finding another top-four caliber defender who can play on the right side. Given their track record in recent drafts under Sweeney, there's no reason to doubt them.
As it stands, there are is a surplus of prospects in the system anyway given the number of roster spots available. It's been seen this year with Austin Czarnik, Forsbacka Karlsson, Lauzon and others playing at the AHL level given this team's deep roster. Making a trade to diminish some of that depth isn't a bad thing if the return is a star player who can help now and in the future. Fortunately for the Bruins, their prospect depth stretches behind the blue-line.
Forward Depth Not an Issue
If the Bruins decide to make a trade involving some of their many talented forward prospects, that's also okay. While the team should be careful in deciding which players they move, the reality of the situation is that this forward group has been and will remain stacked regardless of what trade occurs.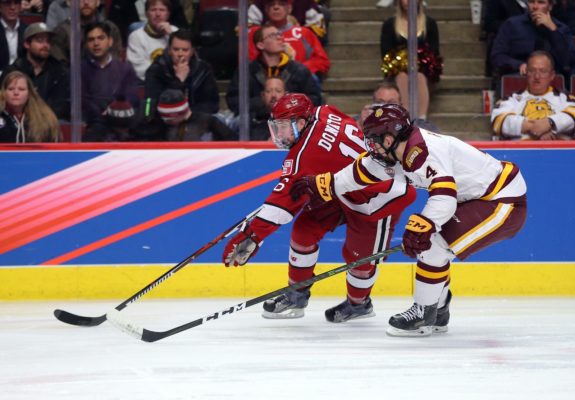 United States Olympian Ryan Donato, Jakob Forsbacka Karlsson, Trent Frederic, Jack Studnicka and Czarnik. Those five centers all have the potential to be good NHL players one day. Peter Cehlarik, Danton Heinen, Anders Bjork, Jake DeBrusk, Zach Senyshyn. Those wingers all have the potential to be good NHL players one day, some of whom have already displayed that this season. The list extends far beyond just those players named as well, and the Bruins should feel comfortable in knowing that a trade involving a combination of prospects and potentially a roster player won't be the end of the world.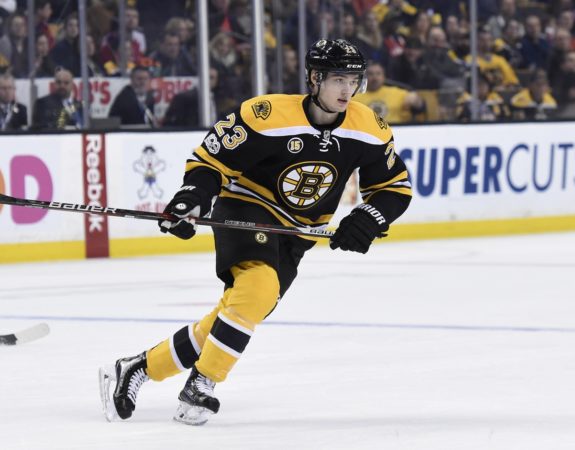 It's scary to think about a team making a deal that sends away a number of very talented prospects in exchange for a shot at winning a championship. That thought becomes even scarier when considering there are no guarantees that a player acquired in a trade will be a good fit, or that a championship will be won just because a trade was made. Still, when the opportunity presents itself, the great teams separate themselves by making the right decisions when they need to be made.
For Sweeney, this trade deadline is three seasons in the making after collecting multiple assets in an attempt to rebuild this roster. He won't be gutting this prospect pool the way Dave Dobrowski has gutted the Red Sox roster. He could, however, use assets in the way that Danny Ainge has with the Celtics. No matter what Sweeney and his team decide, they should have the support of the entire city of Boston behind them. They've earned that much.
Brandon Share-Cohen has covered the NHL and various professional sports for seven years. Working with The Hockey Writers, Brandon works extensively on covering the Boston Bruins in addition to his role as the News Team Lead.