While the Boston Bruins won't have a current player under contract at the 2018 Olympic Games in PyeongChang, South Korea, they will have one of their top prospects representing their team and the United States in the form of 21-year-old Ryan Donato.
Introducing the 2018 U.S. Olympic Men's, Women's & Paralympic Sled rosters! #TeamUSA 🇺🇸

Details → https://t.co/JcdKE6nLsz pic.twitter.com/Kl774zltCX

— USA Hockey (@usahockey) January 1, 2018
With the NHL deciding not to send their players to the Olympics in 2018, the rosters that each country will field will look significantly different than fans have grown accustomed to in recent years. Countries like Canada and the United States were often represented entirely of NHL players while countries like Russia, Sweden, Finland, the Czech Republic and others often featured a hybrid of players from the NHL and leagues across Europe. This year, however, Canada and the United States will look drastically different as their rosters will be made up entirely of non-NHL talent.
While a player like Donato would not have gotten the opportunity to play at the Olympics this year otherwise, it's undoubtedly an opportunity he will run with now that it's been granted to him. There is no greater honor in professional sports than to represent one's own country on the international scale in a tournament such as the Olympics. For Donato, the pressure is one – but as he's proven this season in college, he shines when he's tasked with being one of the best players on a roster looking to compete for a championship.
Donato is Shining in the NCAA
NCAA seasons don't get much better than the one Donato is having in 2017-18 (unless your name is Jack Eichel). The second-round pick of the Boston Bruins in 2014 has played at Harvard for the last three seasons and has gotten better with each and every year. From his goal and point-totals to his decision making and immense skill, Donato has proven to be the real deal at the collegiate level and his skill-set should translate to the NHL as a result.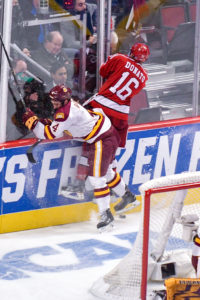 To get an idea of the improvements Donato has made in his three seasons at Harvard, at least from a statistical category, the 21-year-old center scored a respectable 13 goals and 21 points in 32 games as a rookie. In his second year at Harvard, Donato blew those totals out of the water, scoring 21 goals and 40 points in 36 games.
This season, however, Donato has really found his stride and is simply playing at an unreal level. Scoring 12 goals and 20 points in 12 games, Donato is playing the best hockey of his life under his father Ted Donato, the coach of the Harvard Crimson. Pro-rating Donato's totals for a 36-game season would give the star forward 36 goals and 60 points.
To put that in perspective, the best season Danton Heinen had in college came in 2015-16 when he scored 20 goals and 48 points in 41 games (though he also scored 16 goals and 45 points in 40 games in his freshman year the season prior). Anders Bjork, another current-Bruins' forward, scored 21 goals and 52 points in 39 games in his best year at Notre Dame. Taking a step away from Boston and looking at current Calder Trophy-favorite Brock Boeser of the Vancouver Canucks, his best season in the NCAA came in his freshman year when he scored 27 goals and 60 points in 42 games before scoring 16 goals and 34 points in 32 games in his sophomore season.
A Year to Remember
Donato's season is one to take note of, and it's for that reason that he's earned this opportunity at the Olympics in 2018. With a roster full of players that are either past their prime or have simply never been good enough to compete at the Olympic level, Donato represents one of the few players selected who could one day play in the Olympics again if the NHL should choose to send its players.
Even before Donato's season began, there was a whisper that the Boston Bruins could be looking at bringing Donato in as early as 2018 following the Olympics; a testament to how talented he is at such a young age. Those whispers, however, should be taken with a grain of salt. It would be in the best interest of both Donato and the Bruins to wait until after his season is over at Harvard before even considering signing him to his entry-level contract.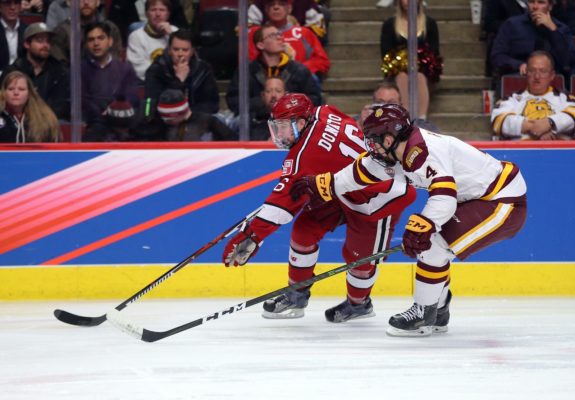 For starters, the Bruins simply don't have a spot for Donato this season and signing him wouldn't benefit them in any way for the 2017-18 year. Similarly for Donato, signing after the Olympics and leaving his family (both his brother and father) at Harvard as well as the brotherhood of players he's made on his team would be a hard decision to justify to his teammates. Donato also won't ever get a chance to compete for an NCAA title again if he leaves Harvard prior to the conclusion of this season, and he'd be best suited to finish this season before jumping to the NHL.
Regardless of the path Donato takes, 2018 could serve to be one of the greatest years of his life. An excellent NCAA season with the possibility of a title to cap the year off, a run in the Olympics representing the United States and a possible entry-level deal at the NHL – few 21-year-olds can claim a better year than that. Fortunately for Donato, the year is just getting started.