With the Leafs' recent disaster at the center position, I want to discuss an issue that many have talked about in the past few years – is Tyler Bozak a suitable center for Phil Kessel on the first line? There's a lot of arguments for both sides, and both have merits. With Bozak set to return tonight against Mikhail Grabovski and the Capitals, it's hard not to ask – did Toronto let the wrong center go this offseason?
The Stats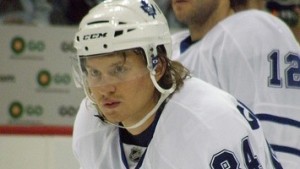 If you look at pure scoring, Grabovski blows Bozak out of the water.
Before the buyout season, Grabo had seasons of 58 and 51 points. This year, he is on pace for 68 points in a pro-rated 82 game season. What's more impressive about this is that he has done this primarily playing third-line minutes with Joel Ward and Jason Chimera, and that he is not on the top power-play.
Bozak has done alright for himself, but not to the level that Grabovski has. Bozak's career high was 47 points in '11-'12, though he probably would have gotten more if he wasn't limited to just 73 games. In the lockout-shortened season last year, the one where he landed his fat new contract, Bozak accumulated 28 points, which would have been 50 points over an 82-game season.
In terms of offensive numbers, Grabo clearly has an advantage.
Winner: Grabovski
The Special Teams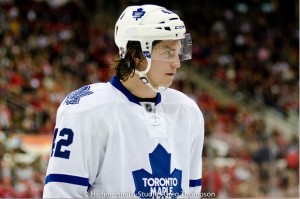 Both players have a lot of experience on the power-play.
Grabo netted a hat-trick in his first game for the Caps, primarily due to his play in front of the net on the power-play. He has a very active stick in that role, constantly looking for the screen or deflection. He has, however, been demoted to the second unit since.
Bozak also gets significant time on the power-play, though he could be challenged for time by Nazem Kadri. Toronto has plenty of offensive-minded forwards that could fill in time on the top power-play unit.
Overall, it's safe to consider both players as secondary power-play options.
That leaves penalty kill, which definitively favors Bozak. He's fantastic while shorthanded and can even chip in some offense while in that role. It's why many have labelled Bozak as more of a "third line center", kind of like Jarett Stoll of the LA King's.
Winner: Bozak
The Shooting Percentage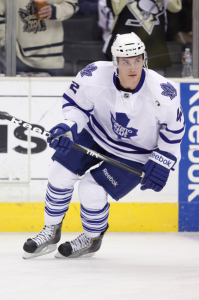 I wanted to talk about this stat specifically because it's very strange when talking about Bozak.
First off, Grabovski. His shooting percentage is more or less like the majority of the players in this league. His career 12.8% is significantly lower than this season's 21.2%, so logic shows that Grabo may slow down by the end of the season from his current career-high pace.
Bozak is the oddity – what is with this guy's shooting percentage? His career is 15.9%, which is already quite high. And this season, he's shooting at 25%. All but one of his seasons had him shooting at 15.7% or higher.
Logic would point to Bozak regressing over his career, but that seems not to apply to the center. He just keeps taking good shots that somehow find the back of the net. It kind of makes sense when you think about it – his job is to dish it to Kessel, so Bozak will only take a shot when its a good opportunity. That would explain in part why his shooting percentage is the way it is.
Still, I have to agree with the stats proponents on this one – Bozak cannot sustain 25% this season, and it's highly unlikely his career stays even close to 15.9% given a full career.
What's more troubling is that if you compare Bozak's huge shooting percentage and his moderate point production. Bozak simply just does not get enough shots on net to put him over Grabo.
Winner: Grabovski
The Locker Room
This one will come as no surprise. Grabovski is simply not the best teammate.
He ripped into his former coach upon his buyout. And he certainly has no love for his first team, the Canadiens.
Perhaps hes just misunderstood – his new captain, Alex Ovechkin, has described him more as a quiet guy who just goes about his own business.
Bozak, on the other hand, is personable and is well liked on the team. He's Phil Kessel's roommate and best friend. And he's more than happy to be a media darling while his counterpart tends to shy away from the press.
Winner: Bozak
The Cap Hit
Finally, we get to the dollars, and this may be the real reason why Grabovski was bought out.
Grabo's contract ran until '16-'17, and the cap hit of $5.5M was just simply ridiculous. That's good first-line forward money, and that's just simply not what Grabo is worth. The  contract was signed by Brian Burke, so we can't really blame Dave Nonis for it. Still….$5.5 million for Grabovski? Get out of here.
Bozak's contract isn't that pretty either. $4.2 million until '17-'18…it's not perfect, but it is much lower than Bozak was initially asking for. Credit Nonis for helping Bozak get back down to earth after his ridiculous 8-year, $40M asking price.
Either way, Bozak obviously has the cheaper contract, so the question becomes which man brings more bang for the buck? Considering the tight cap situation the Leafs are in, I have to give it to…
Winner: Bozak
So, as you can see, it's not such a cut and dry issue. The only thing we know is that both players bring something to the table as solid NHL players. But it's likely not a question that will be resolved any time soon.
For now, keeping Tyler Bozak seems to have been the right choice. And tonight's game will certainly be interesting.