Before the season, I had highlighted seven of the Sharks that had been invited to Olympic training camps.  With a over a quarter of the season gone, the chances of some making their respective squads has risen.  Others have seen their stocks take a tumble.  Predicting which Sharks in Sochi that will make an impact is one thing, but making the squad at all is going to be tough.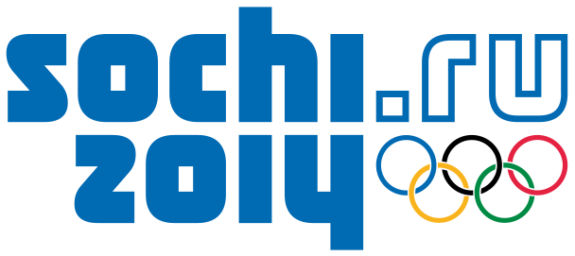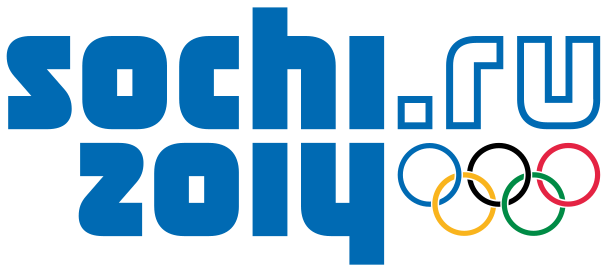 Sharks in Sochi: Who Earned Their Invite?
Team Canada
Team Canada invited four Sharks to their summer training camp.  They were Thornton, Couture, Boyle, and Vlasic.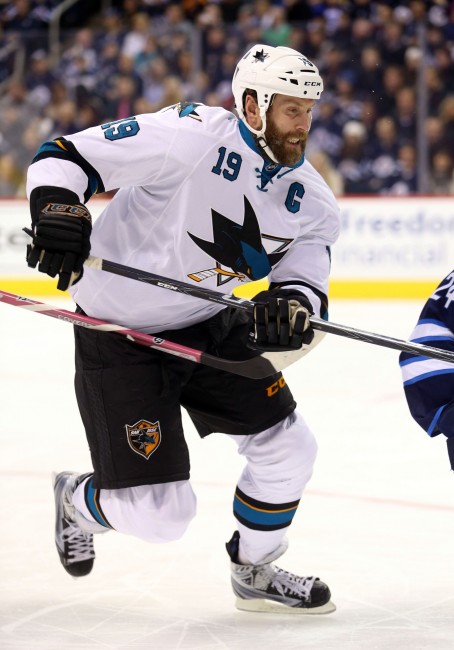 Joe Thornton has taken his role as a playmaker very seriously.  With 21 assists (the league lead), he has proven that while he has lost a step or two, his hockey IQ and precision passing are invaluable.  More importantly, his CV now sports one of the greatest leadership projects of his career: the molding of Tomas Hertl.  I will admit that I was worried Jumbo was over the hill and the season would only hurt his chances at Team Canada, but he has proven me wrong.  A pleasant surprise, Jumbo's stock is up.
Logan Couture, on the other hand, has not exploded onto headlines as many had expected.  He is still producing at a high level with 23 total points (tied for the team lead).  He also sports a +10 plus/minus and has centered the Sharks top line with Patrick Marleau.  Don't get me wrong, he is playing very well, but he is playing as expected.  Couture is working all three zones, thriving at the faceoff dot and scoring at more than a point per game.  Couture will likely make the Canadian squad, but with so many centers in the running, he may be relegated to the wings.  As far as Sharks in Sochi goes, Couture's stock is the same.
Dan Boyle.  Oh Boyler.  The veteran old man on Team Teal has had a rough season.  Taking a vicious hit from Maxim Lapierre in October, Dan has not fully returned to his vintage self, and he will be the first to tell you that.  While he has scored a few goals since his return, his defensive abilities have tumbled.  The frustration is showing on his face in game as well.  Even in games the Sharks win, i.e. the most recent game against the Canucks when he fanned on a shot that went right to Hertl.  The kid buried the puck in the net to tie the game late in the third.  But Boyle threw his head back in what seemed to be disappointment.  Boyle is a perfectionist, and he has been far from that.  Dan Boyle's stock is down.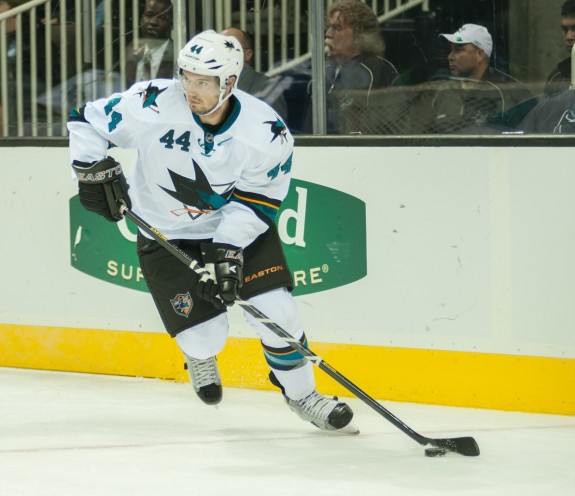 Marc-Eduoard Vlasic is the real deal.  He will never get press because he doesn't make a lot of noise.  Great defenders shouldn't make a lot of noise.  This season, he has added a little scoring touch to his game.  11 points is by far his best  this early in the season.  More impressive are his advanced stats.  While facing the toughest competition for the Sharks, he still sports 10.8 Corsi Relative (a 15.65 Corsi On).  His positioning and smart play will be invaluable on the larger international rinks.  Team Canada has an embarrassment of riches in skaters, but Vlasic deserves a shot, his stock is up.
Team USA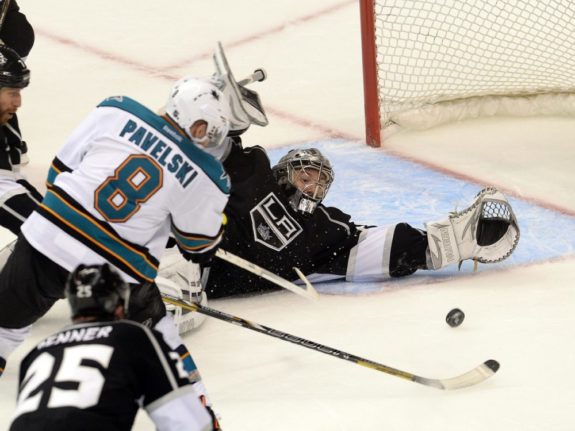 Joe Pavelski was the only Shark invited to America's camps.  He was a key member of the Vancouver team that won silver, and he is still a virtual lock for the red, white, and blue this year.  He is arguably the best third-line center in the NHL.  He could be a top center on many teams.  Pavelski's 22 points on a third line is very impressive.  But he also excels at the faceoff dot.  His 57.8% is the best among "first-choice" centers at the dot.  Little Joe has been his usual productive, hard-working self this year.  His stock is up.
Team Czech Republic
Marty Havlat.  Oh, Marty Marty Marty.  Even injured, he earned an invite to the eastern European camp.  He's come back from injury (again) but hasn't quite regained his form.  If he wants to be one of the Sharks in Sochi, he's going to need to turn things around in a hurry.  In his nine games this season, he has only mustered two measly points.  He has been bounced around multiple lines.  His best moments have come when playing with talents like Marleau and Couture, but he has yet to catch fire.  With old and young talent from eastern Europe (see Jaromir Jagr and Tomas Hertl) thriving, Havlat may be hard-pressed to find a spot.  His stock is down.
Team Finland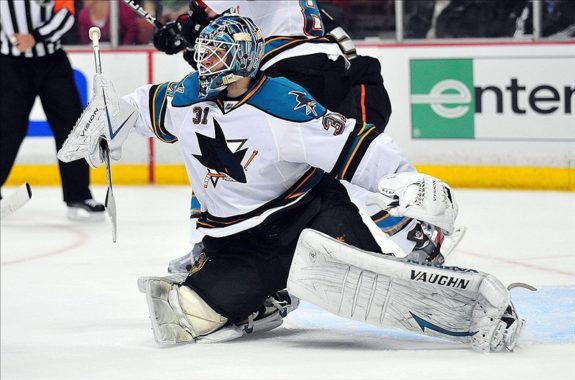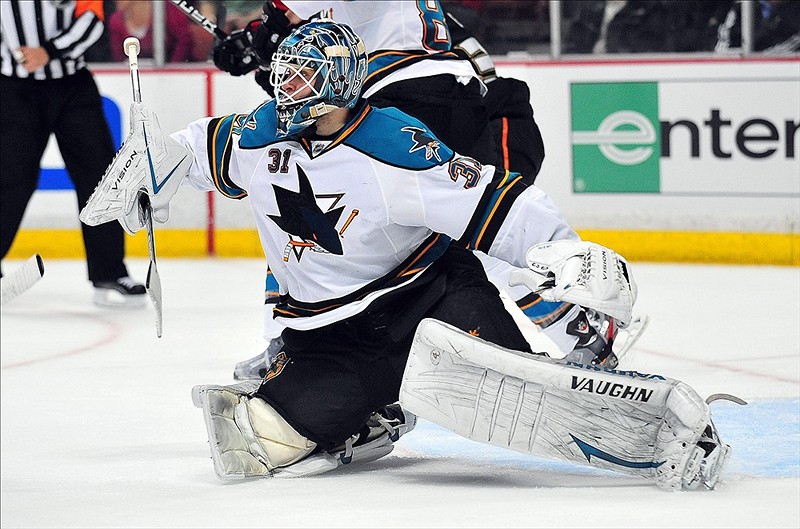 The one and only Fin on the Fins earned a coveted invite to Finland's summer camps.  The Sharks netminder faces stiff competition for the starting job, but his stock has been helped on two fronts.  His main competition lies in Boston and Nashville with some arguing Dallas has a say as well.  An injury to the Predators' Pekka Rinne has slimmed the field down.  Nemo started the year on fire.  He was the third star of the month of October.  A 2.22 GAA and a .916 save percentage is impressive enough for a spot.  While Tuukka Rask has been phenomenal, Nemo has definitely earned at the least his backup role.  His stock is up.
Sharks in Sochi: Playing Their Way In?
If there is one thing that has shocked the hockey world, it has been the depth of the San Jose Sharks.  A team that relied heavily on three players to score a season before has suddenly spread the wealth up and down four lines.  Four players have impressed their national scouts through the NHL season so far.
Patrick Marleau
Ah yes, the snub heard round the world.  And it seems that whenever we lose faith in Patty, it just makes him try harder and reclaim our approval.  Marleau has been dynamite.  Benefiting from the stellar play of his young center, Logan Couture, Patty has scored 11 goals and grabbed 12 assists.  His line has been deadly even when playing against the best of the league.  Team Canada has plenty of talent, but experience?  Patty's experience is invaluable and his stock has never been higher.
Tommy Wingels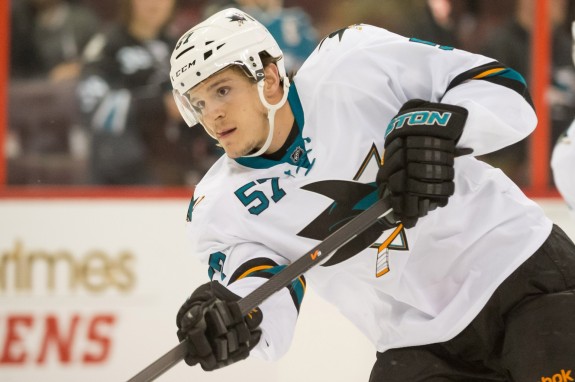 Yes, I said it.  Someone on this planet pay attention to Tommy Wingels!!  Among the Sharks in Sochi will be plenty of superstars.  Tommy Wingels is far from a superstar, but he has exploded onto the scene with his gritty goals.  He dives into the crease, he swats at rebounds, and he gets dirty often.  Wingels is the type of guy that would put in another rebound goal with 24 seconds left against Canada.  He is in the right place at the right time and his high energy can pull a team out of a slump.  Wingels' breakout season has his stock up.
Justin Braun
Who?  Braun?  Yeah, I'm pushing it a little.  But hear me out.  On a team where Dan Boyle and Marc-Edouard Vlasic steal all the defensive press, Justin Braun has steadily become a rock in the back.  The American defender is usually paired with Pickles, but a lineup shuffle has moved him over to play with Jason Demers.  He has a +16 plus/minus (tied for the best in the league).  He has shown that he is capable of playing with anyone and against anyone.  Team USA could use some strong stay-at-home defensemen and that is what Braun brings.
Tomas Hertl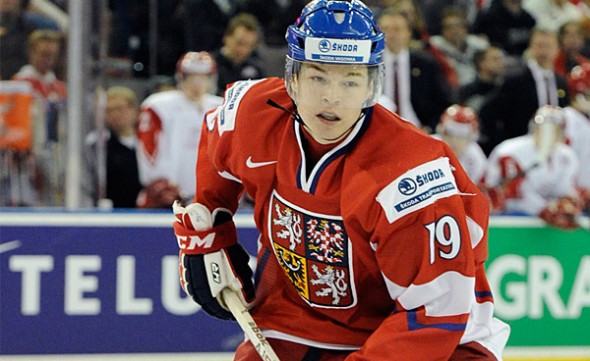 Oh come on, you had to see this coming.  Imagine it, Jagr and Hertl together on the ice, 21 years between them playing for their country.  The Czech Republic will likely not play for a medal, but Hertl and his electrifying start would make it exciting.  While the old and cranky critics despised Hertl's "antics," the open and exciting Olympics would make a great platform for the youngster to create some more highlights.  Do I even need to tell you how is stock is looking?
Kenneth is a graduate of the University of San Francisco in Politics and Chemistry. But his passion in life has always been hockey. He has played since he was four and even coached a few teams. Kenneth writes for the San Jose Sharks at thehockeywriters.com