By Mike Miccoli
It's not always pretty, but this one was.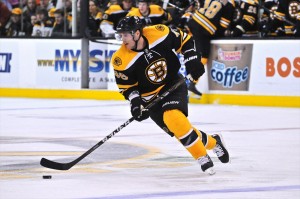 With a little less than three and half minutes left in overtime, Jarome Iginla hustled the puck into Carolina's zone, splitting the Hurricanes' top defensive pairing of Andrej Sekera and Ryan Murphy, before finding a wide open David Krejci in the slot.
Instead of firing the shot, Krejci stickhandled the puck once and moved to the right of Cam Ward who was sliding back into position after overcommitting to Iginla's side. After holding onto the puck for a little less than three seconds all within the 8 x 20 dimension in the slot, Krejci lifted the puck past Ward and into the net.
Game over. Bruins win.
"It was basically all Iggy," said Krejci, crediting his game-winning-goal to his linemate that helped the Bruins win 3-2 over the Hurricanes. "It was like one against two, he split the D. I didn't think he saw me but he did. I kind of had an easy job to do, just put it in the kind of half open net."
With the goal, Krejci snapped a five-game scoreless drought and stays tied with Milan Lucic, who added an assist on Zdeno Chara's power-play goal, for the team lead in points.
"It just happened that I was there and the puck found me," said Krejci. "I kind of had a sense that the goalie was going to slide over because he didn't know what I was going to do, so I held onto it a little extra second. After that, it looked like the net was almost all empty so it was kind of easy for me to put it in."
Bruins coach Claude Julien agreed that he'd like to see the patience from Krejci, just so as long as he knows when to use it.
"He didn't panic with it," said Julien. "Sometimes you wish that he'd have less patience and make things happen a little quicker. But he slows the game down to his pace a lot of times and when he's on top of his game it really throws the other team off. I thought he made the right play there on that winning goal; was really good. Took the time to handle the puck well and by the time the goalie was out of position he knew exactly where he wanted to put it."
Even after allowing three goals, Ward was strong in net for the Hurricanes, stopping 38 of the Bruins' 41 shots. Ward was able to survive a peppering to start the game too, saving all seven of Boston's shots in the first four minutes of the game.
On the other end, Bruins' goalie Chad Johnson continued to be a viable backup option to Tuukka Rask. Now 3-1 in four games, Johnson made 22 saves, though none too spectacular, to keep the Bruins in the game. Carolina went almost a full-20 minutes before firing a shot on net.
"I think it's just that exact mentality there – knowing that the next shot is very important," said Johnson. "They haven't had a lot of shots in a period and to make sure that I'm ready, because you know a situation like that again it's like you get a bad bounce or their on a breakaway or deflection it comes on me.
"So, for me, I know that I have to be ready. It doesn't matter if you have 20 shots a period or two shots, you always have to be ready and that's sort of my focus every period."
Since their loss to the New York Islanders to begin the month, the Bruins have a 7-1-2 record in their last 10 games, accumulating 16 out of possible 20 points.