It's no secret the Detroit Red Wings have been in the market for a top-four defenseman since prior to last season's trade deadline, but have balked at the hefty asking prices across the league thus far. This year Buffalo Sabres' defenseman Tyler Myers has dominated early season NHL trade rumors and been heavily and repeatedly linked to the Red Wings. But the Wings would be wise to instead look to their vast supply of NHL ready prospects before hastily dipping into that system to make a move for Myers.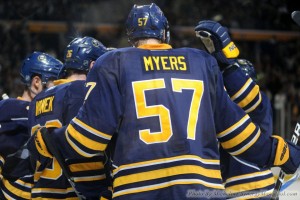 Tyler Myers the Mirage
The biggest issue with Myers is that he just isn't as good as many people think. NHL executives (apparently Ken Holland included) drool over his age (24), his massive frame (6-8, 227 lbs.), and whatever potential remains that he might regain the form he displayed in his 48 point ( 11 G, 37 A) 2009-10 rookie season. Spoiler: the latter's probably not going to happen.
Myers has never been the player he appeared to be that season, as evidenced by a myriad of both basic and advanced statistics. His shooting percentage that year was 10.6%, which is over a full point higher than any season since. Myers' team on-ice shooting percentage was also a bloated 9.5%, another figure he has never come close to replicating. In his second season his S% and oiSH% deteriorated to more sustainable levels of 8.2 and 8.5 respectively, while his points per 60 predictably fell by .3. In Myers' third year his S% jumped back to 9.5 and his oiSH% ticked up to 8.7, yet his PTS/60 remained at 1.0. How is this possible? You might think it could have to do to his increase in defensive zone starts, but then-head coach Lindy Ruff actually dropped Myers from the Sabres' top defensive pairing that year.  As a result, his level of competition (and, for that matter, the quality of his teammates) dropped dramatically. That season Myers also felt the sting of injuries for the first time in his NHL career, while seeing his relative Corsi plummet from 4.5 the previous season to -3.8 that season.
Corsi (EV)
Fenwick (EV)
PDO (EV)
Zone Starts (EV)
Season
Age
Tm
Lg
GP
TOI
CF
CA
CF%
CF% rel
FF
FA
FF%
FF% rel
oiSH%
oiSV%
PDO
oZS%
dZS%
2009-10
19
BUF
NHL
82
1409.1
1262
1296
49.3
-1.6
986
1011
49.4
-1.1
9.5
92.3
101.8
51.8
48.2
2010-11
20
BUF
NHL
80
1334.7
1303
1137
53.4
4.5
981
879
52.7
3.0
8.5
90.7
99.2
52.7
47.3
2011-12
21
BUF
NHL
55
974.4
834
972
46.2
-3.8
628
747
45.7
-3.3
8.7
93.7
102.4
51.0
49.0
2012-13
22
BUF
NHL
39
647.6
529
632
45.6
0.0
414
481
46.3
0.9
7.0
91.5
98.5
51.5
48.5
2013-14
23
BUF
NHL
62
1027.0
785
1007
43.8
1.1
581
781
42.7
-0.1
6.0
91.4
97.4
40.8
59.2
2014-15
24
BUF
NHL
21
317.6
233
436
34.8
-3.4
178
316
36.0
-0.7
8.3
92.1
100.4
35.1
64.9
Career
NHL
339
5710.3
4946
5480
47.4
0.0
3768
4215
47.2
-0.1
8.2
92.0
100.2
48.7
51.3
In just one season's time, Myers' team went from significantly better to significantly worse with him on the ice. Just a bad year, right? Yes and no. While 2011-12 was by far the worst season of his career, prior to last season (when the Sabres were truly awful), 2010-11 was the only campaign in which Myers managed to produce a positive relative Corsi – this despite four seasons of relatively favorable zone deployment. And perhaps most damning of all is Myers inability to make an impact thus far in the current campaign. The Sabres are so bad this year that they needed their current three game winning streak to drag their record up to 6-13-2, yet Myers is sporting the second-worst relative Corsi and PTS/60 of his career. Granted, this season is only 21 games old and while the usual small sample size caveats apply, we are supplementing it with years of data that point to Myers being an overvalued commodity. This is especially true when considering the bounty Buffalo is looking for in return. But for better, and often for worse, considerable price tags are something Detroit hasn't shied away from in the past.
Kyle Quincey 2.0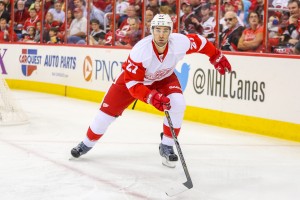 Kyle Quincey is a notable example of a player who the Red Wings surrendered significant value (2012 round 1, 19th pick overall) to acquire. One of Detroit fans' favorite punching bags, Quincey looked to be on his way out the door this offseason before the Red Wings struck out in free agency. He somehow parlayed their desperation into a two-year, $4,250,000 AAV contract constituting a rather remarkable raise of nearly $500,000 per year. The ensuing fan outrage over the move was predictable, but here's the thing: Tyler Myers is a rich man's Kyle Quincey.
Given Quincey's reputation, a relative similarity in the trajectory of their respective careers was obviously a startling discovery. A fair critique of this similarity would be to say that Myers adds value on the power play, something Quincey (a total offensive liability) clearly does not. Well, I did say Myers was the richer version and his superior offensive ability is what makes him such. That said, he hasn't scored more than nine points on the PP since 2010-11, so he's not exactly Niklas Kronwall, either. Thus, Myers' purported ability to provide the Red Wings help on the power play is at worst overstated, and at best would remain to be seen.
The flip side of the coin is defensive prowess. If Myers' offensive game leaves you underwhelmed, then you aren't going to find relief here: Quincey is better at defense than Myers. When averaged over the course of 82 games, the two are nearly even in traditional counting statistics such as career blocks, hits, and takeaways. That said, two catch-all defensive statistics, Defensive Point Shares (DPS) and Defensive Goals Versus Threshold (DGVT), prefer Quincey to Myers (downloadable spreadsheets can be found here, courtesy of Rob Vollman).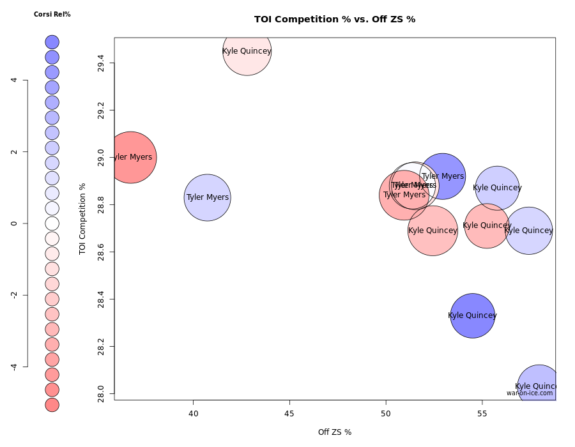 On top of all of this, Myers carries the onus of an outrageous price tag. In addition to a draft pick Buffalo is reportedly seeking a highly regarded prospect they can keep in the minors this year in order to maximize their lottery chances of securing Connor McDavid in next year's draft. The Red Wings have reportedly already turned down an offer from the Sabres for top prospect, forward Anthony Mantha. However, no such reports have surfaced regarding 2014 first round forward Dylan Larkin, nor have there been reports on the availability of Detroit's defensive prospects.
Detroit's Defensive Prospects
The Red Wings have a bevy of prospects with top-four  potential on defense, most notably Xavier Ouellet (21), who appeared in one playoff game last season and was called up last week to fill in while Brendan Smith recovers from a hand infection. Ouellet narrowly missed NHL.com's list of top 60 prospects, and ranked at 59 in ESPN Insider and Hockey Prospectus prospect analyst Corey Pronman's own top 100 list. Pronman and online prospects resource Hockey's Future view Ouellet as the Red Wings' best defensive prospect and suggest that he is ready to contribute in the NHL. Ouellet unfortunately shoots left, as does every other current Red Wings defenseman, but his talent is such that Babcock voiced public displeasure with management's decision to send him to the minors at the conclusion of training camp. General manager Ken Holland's decision to do so clearly had more to do with "asset management" than putting the best players on the roster. In only three games with the big club Ouellet has shown he is clearly superior to both Jakub Kindl and Brian Lashoff, and that he deserves to remain on the roster going forward.
Aside from Ouellet, Detroit has four other defensive prospects viewed by many as ready or near ready to make an NHL impact this season:
Ryan Sproul, 21
Hockey's Future: "Ryan Sproul finished his junior career a highly decorated player, being named both the CHL Defenseman of the Year and winning the Max Kaminsky Trophy for Defenseman of the Year in 2012-13. Despite the accolades Sproul moved up to the AHL in 2013-14 with concerns lingering about the defensive side of his game.
The aforementioned concerns made it seem like Sproul would need a few season to develop in the AHL, but he exceeded expectations in 2013-14. His defensive zone play has improved significantly. Sproul's offensive game translated well to professional hockey, as he posted 32 points in 72 games. Sproul willl be ready for a shot at an NHL roster spot in the next one to two seasons."
Corey Pronman: "Ryan Sproul had some ups and downs in his first pro season, but on his best shift, there's a lot to like about a 6-foot-3 defenseman with great skill and skating as well as a big shot. His defense continues to be a work in progress, which kept him from being deployed in tough minutes situations at times in the AHL."
Alexey Marchenko, 22
HF: "Alexey Marchenko has spent one season playing professionally and has already made a name for himself as a defender capable of shutting down opposing forwards. He plays a steady game, is responsible in all zones, and uses good stick work to break up rushes. Marchenko was rewarded with a spot in the 2013-14 AHL All Star Game and will return to Grand Rapids in 2014-15. If he continues to develop at the rate he has been he should be ready for the NHL in the very near future."
Pronman: "Alexey Marchenko has finally got a solid footing under him in terms of health and playing time, and he turned in an AHL All-Star season. He's an average or better player at most areas of the game and could be an NHLer in the near future."
Mattias Backman, 22
HF: "Mattias Backman has a bit of offensive upside, but his true calling card is in his defensive play. He is excellent at getting himself into the proper position to disrupt opposing players, and he has a good first pass that helps start breakouts. Backman proved himself ready for the AHL during the 2013-14 playoffs, playing 10 games and notching six points. He will play for Grand Rapids again in 2014-15."
Pronman: "Mattias Backman isn't an overly flashy player, but he's continued to rise due to impressive play at the pro level in Sweden. He's an average or better skater and puck mover who has become a solid defender. He could be in the NHL as soon as this season."
Nick Jensen, 24
The last player on the Red Wings' radar was considered more of a bottom pairing or even fringe NHLer coming into the season, but impressed everyone who saw him play at training camp and in the preseason.
HF: "A shoulder injury delayed the start of Nick Jensen's 2013-14 season until December, but he had a very good second half of the season. In his first AHL season Jensen only notched nine points, but he displayed physicality and intelligent defensive play. Though not known for his offense, he did see time on the power play during the 2013-14 season. Jensen will return to the Griffins in 2014-15."
Jensen did not make Pronman's organizational top ten list, but I was able to speak with him via email:
Pronman: "(Nick Jensen)'s a good not great prospect. Skilled puck mover, really stood out in college. May not be elite enough offensively or defensively to be an NHLer, but he can play. May be a victim of numbers in that (Detroit) system though."
Just Say No, Kenny
There is mounting statistical evidence that, despite his age, Myers' best playing days may in fact already be behind him. This evidence, along with the stable of defensive prospects in the Detroit system, suggests that making a move for Myers (especially at his severely inflated price tag) would be a mistake. But we've been here before, Red Wings fans. Of the long list of fantastic things general manager Ken Holland has done during his tenure with the team, making in-season trades has not always been one of them. In the last three years alone, Holland has surrendered a first round pick for Quincey and shipped a great prospect in Calle Jarnkrok to Nashville for two months of David Legwand. Both trades were questioned when they took place, and look even worse in the short amount of time that has since passed. With multiple prospects ready for NHL ice time at defense Holland has a chance to make take a measured, though not flashy, approach to continue building this team. The question is: has he learned from his prior transgressions?
Author's Note: An unfinished version of this article was mistakenly published briefly on 11/25/14.