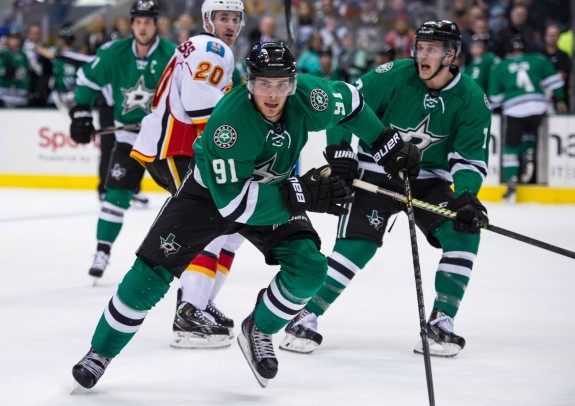 Towards the end of his run with the Boston Bruins, Tyler Seguin had fallen out of favor with the team. His alleged partying and lack of professionalism came into question and general manager Peter Chiarelli openly criticized him. It was a foregone conclusion that the Bruins were going to cut their losses with Seguin.
When the Bruins dealt Seguin to the Dallas Stars, it had some mixed reviews. Some people thought that the Bruins gave up on Seguin much too early and others thought that the Bruins received great compensation of Seguin. It was a good trade for both sides, the Bruins received some good players and Seguin gets a fresh start in a new city.
Fourteen games into his first season in Dallas and Seguin is playing like the Bruins had envisioned him to when they drafted him second overall in 2010. Through his first fourteen games Seguin has scored six goals and recorded eight assists. With the Bruins offense struggling right now, Boston could use Seguin this season, but would he have had a good season with the Bruins this season?
In my opinion, no.
Seguin needed a humbling experience to help him finally focus and play like a pro. Being traded so early on in your career after being drafted so high is pretty humbling. Seguin was supposed to be the future of the Boston Bruins, but instead due to his immaturity he flamed out in Boston and was dealt. Seguin needed a kick in the pants and this trade was it. Perhaps Seguin finally understood that he needs to straighten up and fly right as he is having a great season thus far in the Lone Star State.
Had Seguin not been traded, he would have never learned his lesson and would still be underachieving in Boston. We'd still be talking about his partying and his antics off of the ice. I truly believe that the trade to Dallas has saved his career. Chiarelli perhaps may have given up on Seguin a bit too early, but he had to do it.
Chiarelli made a great point in October on his reasoning for trading Seguin, saying,
"First, don't judge a performance by points…Second…he's an offensive player. When you make a trade, the return you get has to be compatible and help improve your team…that's how we look at a trade."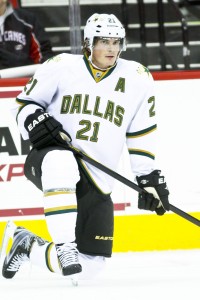 You can score all the goals and record all the assists in the world, but if you aren't compatible with your team, then you will fail every time. Chiarelli traded Seguin for a crop of players that more fits Claude Julien's defense first scheme. Another reason why Seguin would have never had this great start had he still remained with Boston.
Reilly Smith has been a welcome surprise for the Bruins and he has found his way into the second line. Loui Eriksson was having a solid start before suffering a concussion on a cheap shot by John Scott, so, I'm not exactly saying that the Stars got away with robbery on this trade. The Bruins got some good players, those who better fit Boston's scheme and Seguin gets to start anew. Everybody wins.
The Bruins have some problems on offense right now, but Tyler Seguin wouldn't have been able to solve their woes, in fact, he may have added to the problem.
Do you think Tyler Seguin would have played this well if he stayed in Boston? Comment below or send me a Tweet, @MarkWGraham
The NHL regular season schedule was released on Friday. Check out our partners at TiqIQ for the best deals on Boston Bruins tickets for all 2013-14 games.
Mark Wallace Graham has been a writer for TheHockeyWriters.com since March 2013. Growing up in New England, Boston Bruins hockey was in my blood. Follow me on Twitter, @MarkWGraham