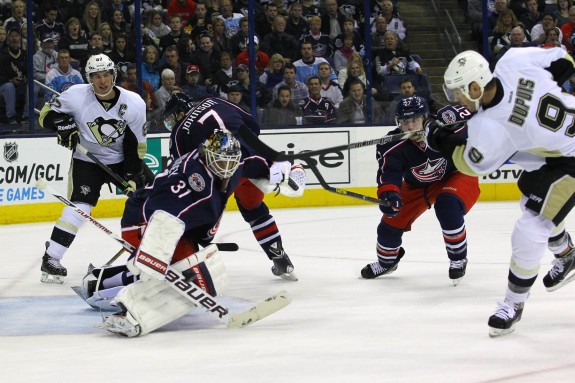 The first two games of the newest "vaunted" rivalry in the NHL–between the Pittsburgh Penguins and Columbus Blue Jackets–have come and gone, and to say the least, the teams left a lot to be desired.
Media personalities and the spin doctors associated with the league were quick to jump on the notion of a "rivalry" between the Penguins and Blue Jackets. And there is some reason to expect that: the two teams do have some vague historical precedence and the notion that the two teams are geographically close were good enough for people to embrace the notion of a rivalry.
But after what should have been a passionate home-and-home series marked by spectacular skating, hitting, and goaltending ended in two conflict-less victories for the Pittsburgh Penguins, it has to be asked, what went wrong? To begin we need to understand exactly what a "rivalry" even is.
A Social-Scientific Definition of "Rivalry"
As conceptualized as a component of the Disposition Theory of Sport Spectatorship (which I will describe below) a real rivalry can be described as games that are viewed as "must-win" regardless of implications for standings, rankings, and playoff positioning. At it's most basic level, a rivalry game carries with it bragging rights. In other sports contexts (college football is probably the best), a rivalry is actually turned into a physical process through the use of trophies and mementos to serve a "friendly" reminder of which team was better than the other and when. Rivalries are personal, and as such they are typically viewed as more violent than other games that a "hometown" team is involved in.
To understand how we come to form rivalries, we need to understand the disposition theory of sport spectatorship. The very general disposition theory establishes that we either like or dislike characters (or athletes, or whole teams) and that based on our like or dislike of those individuals, we either want good or bad things to happen to them. When that happens: good things happen to good people and bad things happen to bad people, we experience enjoyment, when we experience the opposite, we are dissatisfied.
The disposition theory of sport spectatorship applies directly to sporting events–we form special relationship with teams, in many cases that is a relationship based on geography (our "hometown" team), or it can be related to other factors which are too numerous to name here (just think about why you like your favorite team). For as positively as you view your favorite team, you will also hold the same level of disdain for another team, the rival team, again, very often based on geography, or simply because they stand for the things that you do not identify within your own team. Effectively a rivalry game is when a fan's most positively valued team faces their most negatively valued team.
In general, for true fans, rivalry games are perceived of as both more violent and more suspenseful, regardless of the position of the two teams, and in general this is reinforced by underlying language choices in the commentary that surrounds such games. These games are unique, in numerous communication studies related to sport spectatorship, rivalry games repeatedly elicit demonstrably different kinds of fan involvement, and technically, the term "rivalry" should not be used as regularly as it is. Now that we know what a rivalry really is, we must examine the constructs of the Penguins-Jackets rivalry.
Penguins-Jackets, a History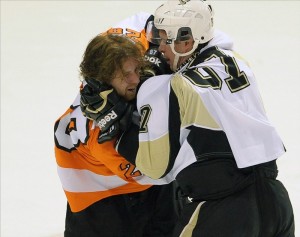 In light of our definition from above, there are some elements of the history between the Pens and Jackets that support the notion of a rivalry.
Geography. The Blue Jackets and Penguins are close, approximately 2.5 hours apart, via car, from one another, or closer than pretty much every pair of NHL teams except for the Buffalo Sabres and Toronto Maple Leafs and the combination of the Flyers, Rangers, Islanders, and Devils. Despite the closeness in the post 2004-05 lockout the teams were relegated to playing each other only once a year. In that time the two teams grew in different directions: the Penguins grew into perennial Stanley Cup contenders while the Blue Jackets ruminated at the bottom of the standings as a result of horrible management, both on and off the ice. As such, despite the physical closeness the teams never had the opportunity to grow to dislike one another. They did not play one another enough to build any rivalry, and even when they did the games were not meaningful enough to be marked by much concern from either side.
Despite the proximity, there is no bad blood between the cities of Pittsburgh and Columbus. These are not cities that are dissimilar from one another: they are both relatively small market cities with fairly prosperous, growing economies based largely on new technology and healthcare. These are not cities that compete against each other in anything other than hockey. They don't compete for state funded resources, they don't compete for citizens (at least not head to head), and they don't compete in other professional or collegiate sports. This is not a rivalry based on oppressor and oppressed–as Philadelphia-Pittsburgh, or New York-New Jersey rivalries tend to go.
The only thing that emerged from games between the Penguins and Blue Jackets was the concept of "Invasion," by which Pens fans would swarm the seats of Nationwide Arena. For some contrast, the Penguins are less than a handful of games away from their 300th consecutive sellout, Saturday's game at Nationwide Arena was the first sellout of the season for the Jackets, and as has become custom, those seats were dominated by fans in black and gold.
Violence. This is not a website that condones violence in hockey and I am not an individual that revels in violence. Nonetheless, a hallmark of any true rivalry is that of violence. Players are expected to give more in rivalry games, to turn up the intensity dial, to hit with more passion, to skate with more ferocity, and to get chippy in an attempt to undermine the best players on the opponent's team.
At one time, that did define the Penguins and Jackets, who can forget the Rick Nash-Evgeni Malkin fight in the 2010 PRESEASON?
And there was quite a bit of backlash following the Invasion game, with the Blue Jackets going so far as to propose to change their ticket resale policy and even threatening to try to ban Penguins fans from buying tickets. Those are indicators of rivalry.
The games on Friday and Saturday night featured none of that. In fact, both teams took fewer penalties than they have averaged for the season, and the Penguins in particular were far less physical (averaging 8 fewer hits per game) than they have been over much of the season. There were no tempers that flared, and outside of one middleweight fight (Matt Niskanen and Blake Comeau), and one unintentionally violent hit (Jack Johnson on Tanner Glass) there is little to believe that the players involved in these contests viewed the games as more than regular season games: no bragging rights to be gained here.
This would not be quite as big of a problem if the teams had been covering the full 200 feet of ice with the obvious skating ability that characterizes both teams. The Penguins utilized their new left wing lock to the fullest degree while the Blue Jackets seemed to respect the Penguins talent a little too much, playing an almost embarrassingly passive 1-2-2 which allowed the Penguins to kill minutes at a time passing the puck in their own defensive zone without fear of causing a turnover
Do the Fans Dislike Each Other?
Perhaps the biggest question left to be answered, is, do Penguins fans hate the Blue Jackets and do Blue Jackets fans dislike the Penguins? Well not really, Pens fans seem to appreciate their role as the elder siblings, providing chiding, but true, advice and commentary to their younger compatriots (Blue Jackets fans), who seem willing to grant the Penguins free reign of the division they now share so long as Pens fans agree not to make it personal.
Whether that is the right behavior from either side remains questionable. These are two teams that have every reason not to like each other, and if the rest of the Metropolitan Division doesn't wake up soon, the Jackets could in fact find themselves hunting down the Penguins as the season progresses. As it stands now, though, nothing to see here, no rivalry, yet.
For more information on the disposition theory of sport spectatorship or the communication theory of rivalry please consider reading:
Zillmann, D., Bryant, J., & Sapolsky, B. S. (1989). Enjoyment from sports spectatorship. In J. H. Goldstein (Ed.), Sports games and play: Social and psychological viewpoints (2nd ed., pp. 241-278). Hillsdale, NJ: Erlbaum.
Raney, A. A., & Kinnally, W. (2009). Examining perceived violence in and enjoyment of televised rivalry sports contests. Mass Communication and Society, 12, 311-331. doi:10.1080/15205430802468744
Yes both are academic in nature, but they read well.
Andrew is a professional student earning his Masters at WVU. He enjoys craft beer and watching open wheel racing. Find him on Twitter: @andrewroman.