In honour of his 25th birthday and fourth All-Star Game appearance, we wanted to re-publish this great piece about Tyler Seguin and what he's brought to Dallas and the state of Texas. Oh, and he's done pretty well for the Dallas Stars too.
Written by former THW contributor Jordan Dix and originally published Feb. 23, 2016.
---
---
Party boy. Distraction. Disappointment.
Tyler Seguin was called a great many things during the end of his time in Boston. The Bruins traded away a budding superstar, so a character assassination had to take place in order to justify the move to the fans. It was ugly.
The things said about him could not be any more false since he arrived in Dallas. Not only has Seguin excelled on the ice (only Jamie Benn and Sidney Crosby have more points since Seguin's trade to Dallas), he has been an incredible human-being off of the ice. He does a ton of charitable work in Dallas and is always been a treat for fans.
I can't speak to his time in Boston, but Seguin has been an absolute delight for the Stars.
Seguin's Stars
In December 2012, one of Seguin's best friends Derrek Moseychuk was left paralyzed after an automobile accident. After arriving in Dallas in the summer of 2013, Seguin began a foundation in honor of his friend. They called it "Seguin's Stars" and it has had a tremendous impact on the community in Dallas.
For every Dallas home game, Seguin donates a luxury box for individuals with spinal cord injuries. After every game, win or lose, Seguin meets them afterwards for autographs and pictures. The joy he brings to those fans goes well beyond the game itself.
On Seguin's website, he sells hats with his own personal logo on them. $5 of each hat sale goes directly to the Dallas Stars Foundation and Seguin's Stars.
Just seeing Seguin talk about "Seguin's Stars" shows how much it means to him.
Always Makes Time
One thing you'll notice if you follow the Dallas Stars in any capacity is that Seguin always seems to make time for fans. Whether it is an event on an off-day, before a big game or after a tough loss, Seguin is there to sign hats and take pictures with his biggest fans.
He takes a selfie with one lucky fan before every home game. Whether it is the first game of the season or a game that has potential playoff implications, he's there smiling away with a lucky fan.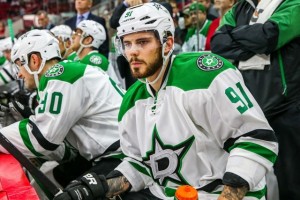 You can see it even more this season but Seguin has been ultra-competitive in his time with the Stars. He can't stand losing. Last season was the first in his young career in which his team failed to qualify for the playoffs. He, along with the rest of the team, has taken that personally and has gone about this season with a lot of professionalism.
What you'll notice in Dallas this season is a lot of players not celebrating a good chunk of the goals they score. It's a minor, seemingly unimportant detail of what has gone on in Dallas this season but it is worth mentioning. Last season was a failure in the Stars' eyes. They aren't celebrating a ton of goals this season because they know what their ultimate goal is.
That professional competitiveness you see on the ice from Seguin and the rest of the Stars only adds to what they do for the fans. The fact that Seguin can just switch that off after a game and go have a laugh with a fan is what makes him an outstanding professional.
Only Getting Better
As things move forward in Dallas, it is only getting better for Seguin and the Stars. He spends a lot of time with his fans and that is only drawing more and more people to Stars games in hopes they get to meet one of their favorite players.
The energy and enthusiasm he has brought to the Stars organization is palpable. You see it on his face every single night. What he has brought to the city of Dallas just cannot be measured in simple goals and assists. He has brought hope to the hockey community in Texas.