The NHL is a numbers game. In addition to making game plans and structuring practices, teams also need to manage their finances properly. The clubs that allocate their resources the most appropriately are often the ones that have the most success in the long-run.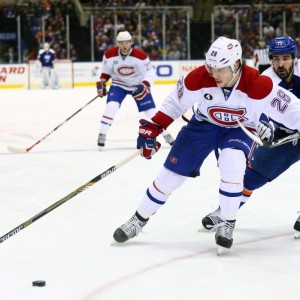 Appropriate spending often means bargain contracts. These are deals with players who could be paid more but end up earning less than their NHL market-value. Contracts like these occur when players either: 1) sign for less to allow their team to sign other high-caliber players; 2) sign longer-term deals before breaking out as high-value players in the NHL; or 3) sign bridge deals between rookie contracts and long-term, high-paying contracts.
Some teams are currently looking to free up cap space in order to trade by the upcoming deadline. For a team that will be active on deadline day, like the Montreal Canadiens, having that extra cap-room due to bargain contracts is valuable. That extra financial wiggle room could be the difference between making a big acquisition that pushes the team to the top or not.
With the importance of these contracts emphasized at this crucial time of year, here are the top-3 bargain contracts on the Montreal Canadiens' roster this season.
Honourable Mentions:
Brendan Gallagher (2016-17 Cap-Hit: $3.75 million)
Nathan Beaulieu (2016-17 Cap-Hit: $1 million)
Phillip Danault (2016-17 Cap-Hit: $912,500)
3: Paul Byron (2016-17 Cap-Hit: $1.17 million)
Byron has received lots of praise through the first half of the 2016-17 season. The Ottawa-native has taken opportunities presented to him due to injuries and has excelled. While his speed is his strongest weapon, his versatility makes him equally valuable. Byron is able to play anywhere in the Canadiens' lineup and look comfortable. He has scored 28 points through 49 games, which puts him on pace for 46 points this year. Scoring at that pace would more than double his previous career high of 21 points.
Paying just over $1 million for upwards of 40 points is a good deal for any team, which is why Byron is one of the Habs' steals. What sweetens the deal further is that Byron is signed through 2018-19, which means the Habs still have a few seasons to take advantage of this bargain contract.
2: Max Pacioretty (2016-17 Cap-Hit: $4.5 million)
The Canadiens' captain continues to prove that he is one of the league's most consistent performers. Pacioretty is on pace to equal his point total from last season with 64. This would mark his fifth NHL season with more than 60 points in the last six years. The only exception was in 2012-2013 when the NHL season was condensed. The winger brings his natural goal-scoring ability and leadership to the Habs, and as a result is important to the team. A player of Pacioretty's caliber usually fetches much more money on the average contract, which is why the Habs got lucky with his current deal.
The American-born player signed a six-year contract extension back in 2012, which means the Habs will have the winger's services at a very reasonable price for the next two seasons. That said, Habs fans should expect Pacioretty to get a hefty raise when his contract expires.
1: Alex Galchenyuk (2016-17 Cap-Hit: $2.8 million)
A former third overall pick, Galchenyuk has solidified himself as one of the team's top offensive threats. He has shown the skill that made him a top pick after only playing two games in his pre-draft season in Juniors. Though a knee injury has kept him out of action for 20 games, the centre is still fifth overall on the Canadiens in points. His 30-goal, 56-point 2015-16 season was a breakout year, and he is looking to build on that as the years pass. Had the forward played in all of the Habs' 82 games this season, his scoring pace would suggest 73 points. At only 22-years-old, Galchenyuk still has his best years ahead of him.
Considering his importance to the Canadiens' offence and his low cap-hit this season, Galchenyuk is quite the steal. Unfortunately, the centre's bridge contract is set to expire after this season. He is set to become a restricted free agent this summer, where he will likely get a big pay raise on a new, longer-term deal. The team should enjoy the discounted price on their talented forward while they can.
The Canadiens have done a good job securing a few of their key players for reasonable prices. If the team hopes to make a deep playoff run this season, the extra wiggle room from these bargains could prove to be very valuable. With the trade deadline a month away, look for the Habs to be very active. That said, don't expect the team to overpay. The Canadiens will look to bolster their lineup without sacrificing their future.