This weekend, UND entertains the Colorado College in an important two-game conference series. UND looks to scratch out a couple of wins against the Tigers. This weekend's series ends a six-game homestand for UND.
Series History
All-time, UND leads the series against Colorado College 145-80-10 (.638). In Grand Forks, ND, UND leads the Tigers 87-21-6 (.789). In Colorado Springs, CO, UND trails 50-57-4 (.468). At neutral sites, UND leads 8-2-0 (.800). Under head coach Dave Hakstol, UND leads the series 22-13-1 (.625). In the last 10 games against the Tigers, UND leads 7-3-0 (.700).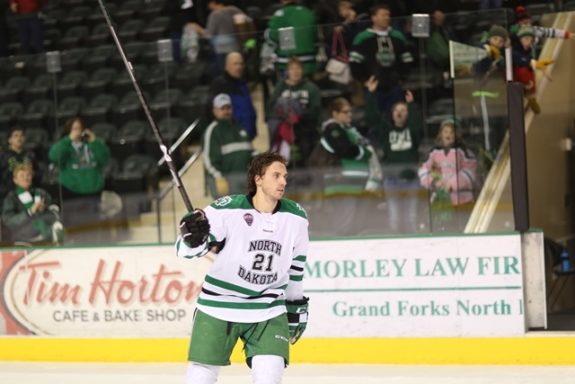 Tale of the tape
#2 North Dakota (16-5-2, 7-4-1 NCHC) vs. Colorado College (5-14-1, 1-9-1 NCHC).
Date: January 23-24, 2015
Game Time: Friday 7:07 p.m. CT, Saturday 7:07 p.m. CT
Location: Ralph Engelstad Arena, Grand Forks, ND
Last time out: C.C. split with Nebraska-Omaha (4-3W, 1-4 L)
Last time out: North Dakota swept Niagara University (7-1 W, 5-0 W).
C.C. Offense: 45th Nationally
C.C. Defense: 56th Nationally
C.C. PWR: 42nd
C.C. Last 10 games: 2-7-1 (.250)
UND Offense: 6th Nationally
UND Defense: 8th Nationally
UND PWR: 4th
UND Last 10 games: 7-2-1 (.750)
TV: Friday: CBS Sports Network, DirecTV (221), DISH Network (158)
Live Streaming: None
TV: Saturday:  Midco Sports Network, FOX College Sports Pacific, DirecTV (608), DISH Network (452)
Live Streaming: NCHC.TV
Key Players to watch
North Dakota – Forwards: Drake Caggiula (9g-15a—24pts), Michael Parks (8g-15a—23pts), Mark MacMillan (11g-8a—19pts), Nick Schmaltz (3g-14a—17pts), Brendan O'Donnell (9g-4a—13pts), Luke Johnson (4g-7a—11pts), Defense: Jordan Schmaltz (3g-17a—20pts), Paul LaDue (3g-8a—11pts), Tucker Poolman (6g-4a—10pts), Gage Ausmus (2g-2a—4pts). Goalies: Zane McIntyre (16-5-2, 1.87 GAA, .933 SV%), Cam Johnson (0-0-0, 5.54 GAA, .765SV%).
UND Injuries: Troy Stecher (lower body injury) out indefinitely, Colton St. Clair (upper-body injury) questionable.
Colorado College Tigers: Forwards: Cody Bradley (8g-10a—19pts), Hunter Fejes (5g-9a—14pts), Scott Wamsqanz (5g-6a—11pts), Sam Rothstein (4g-7a—11pts). Defense: Jacob Slavin (2g-8a—10pts), Teemu Kivihalme (4g-2a—6pts), Aaron Harstad (3g-2a—5pts). Goalies: Chase Perry (1-7-1, 3.64 GAA, .884 SV%), Tyler Marble (4-7-0, 3.95 GAA, .880 SV%).
Special teams
Colorado College – The Tigers penalty kill is ranked 40th in the nation (67/83, 80.7%). The Tigers power play is ranked 26th in the nation (15/82%).
North Dakota – UND's penalty kill is ranked 7th in the nation (86/98, 87.8%). UND's power play is ranked 15th in the nation (20/96, 20.8%).
Coach Hakstol's impressions of the Tigers
UND swept the Tigers back in October and according to coach Hakstol that series will have no impact on this weekend's series.
"We had two wins back then," Hakstol said. "I haven't looked at any of that tape. So, it doesn't have much impact on this series. They're a much different team. We're a different team."
Coach Hakstol on preparing for the Tigers
"I see a lot of team speed right now," Hakstol said. "They're playing fast. They're playing a real team game, and they're playing with a lot of confidence."
Series Prediction
This is a trap series and a Pairwise Ranking's killer. Lose a game or two this weekend and UND drops in the Pairwise Rankings.
If UND wants to stay in the conference race, they need a sweep this weekend. Looking at the statistics, the Tigers aren't a very good hockey team. The Tigers are scoring 2.25 goals per game and giving up 4.00 goals per game.  The Tigers didn't win their first NCHC game until January 16, 2015.
Finally, the Tigers beating Nebraska-Omaha last weekend should've served UND notice. This weekend, I am predicting a series sweep for UND.