The 2017 World Junior Championship is just around the corner. National teams are gathering for selection camps to whittle down rosters one last time before the tournament starts in earnest on Dec. 26.
The U.S. announced a 27-man roster headed to selection camp. Here's a look at a few things we can discern from the initial camp roster.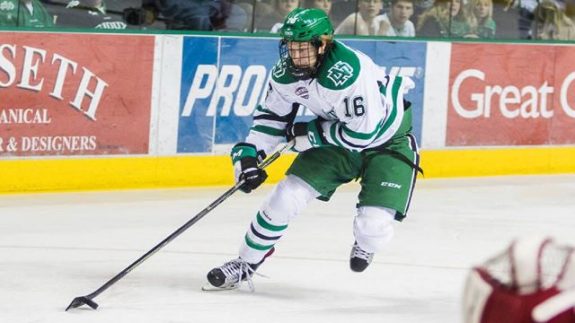 1. Returnees
The U.S. is returning five players who laced up in last year's tournament. Forwards Brock Boeser (VAN), Alex DeBrincat (CHI) and Colin White (OTT) are all coming back, along with defensemen Chad Krys (CHI) and Charlie McAvoy (BOS).
Only White had a big impact last year, scoring four goals with seven points and serving as an alternate captain. DeBrincat was expected to be an offensive force, but he was ejected for spearing in the first game of the tournament and after missing a game, never found his stride until late in the tournament. Even then, he was not a standout for the U.S.
But DeBrincat is having a good season in Erie and was one of the nation's top players during Evaluation Camp in August.
All five should play a significant role both in terms of leadership and creating offense.
2. Keller's Health
18-year-old NTDP standout and current BU forward Clayton Keller (ARI) is dealing with a lower-body injury but is on the camp roster nonetheless. He missed a month of play and was listed as "week-to-week" when the camp roster was announced. However, he returned to the ice for the Terriers on Friday, registering an assist and four shots.
A healthy Keller is a big deal for the U.S. He brings great offensive touch, but he's also positionally important. The U.S. forward group is one of the best they've run out (even in the absence of Auston Matthews), but they aren't overloaded with natural centers. Keller's presence is important.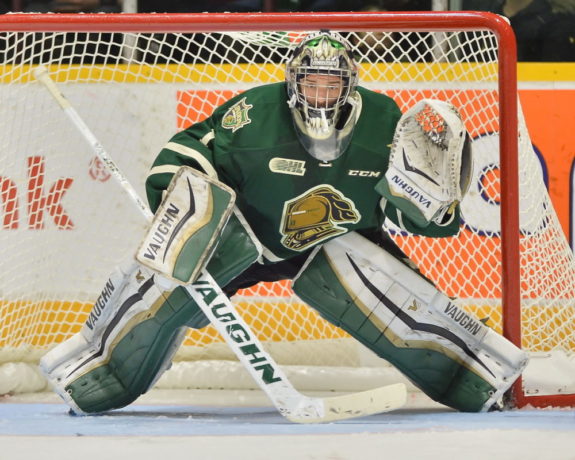 3. Net Battle
Unlike Canada, the U.S. will likely bring all three netminders to the tournament. London goaltender Tyler Parsons (CGY) is entering camp as the team's assumed starter, according to many, including SB Nation's Chris Dilks and ESPN's Corey Pronman. He's expected to be followed by BC's Joseph Woll (TOR) and then Boston University freshman and former NTDP goaltender Jake Oettinger (2017 eligible) as the team's third.
The U.S. goaltending might not be a pillar they can lean too hard on, but it's solid and could be next year as well. Woll is just 18 and Oettinger is 17.
4. X-Factors
Kieffer Bellows (NYI) could be a surprising piece of the puzzle. He was incredible for the NTDP last season and hasn't been able to get his offense going in the same way in his freshman season with BU. He's put up four goals and five points in his first 15 games. Nonetheless, it's easy to see how he gets hot and becomes an x-factor for the U.S.
Tage Thompson (STL) belongs here as well, but for a different reason. He didn't make the team last year and scouts were split on him at the 2016 Draft. Many believed he was a first-round talent with tons of upside, others believed the 6-foot-5 forward didn't possess enough offensive upside to go that high.
But when he hit Evaluation Camp this summer, he was an incredible offensive force. He was quite possibly the best player for the U.S. That summer momentum kept flowing right into the NCAA season. Just 18 games into, the UConn standout has 12 goals. That's two shy of last season's total of 14 in 36 games.
.@TThompson_97 with the power AND finesse to give @UConnMHOC the 2-0 lead with 15:00 left in the 2nd period. @hockey_east #UMASSvsUCONN pic.twitter.com/Nwpq8eOpcm

— American Sports Network // ASN (@LiveOnASN) December 10, 2016
5. Missing Players
There's no massive snub like last year (though let's keep the back-patting to a minimum until we see the final roster).
Max Jones is notably absent from the camp roster. He took a shot to the wrist just prior to Thanksgiving and hasn't suited up for London since. He seemed like a good bet to be on the U.S. roster if he was healthy just based on the gritty style of game he plays and his size. He's the exact kind of player you expect on a U.S. roster.
Also absent is one of the top prospects for the 2017 draft, Casey Mittelstadt. He thrived with the Green Bay Gamblers in the USHL before heading back to high school in Eden Prairie. The Gopher commit registered eight goals and 21 points in 16 games for Green Bay.
Also not present among players who had a shot are Kailer Yamamoto and Trent Frederic, who have dealt with injuries.
6. Calling in the Reserves
Like with the Canadian team, there probably aren't many reserves coming in from the NHL ranks. One who could be there is Arizona's Christian Fischer. He has been playing in the AHL exclusively, even though he recently had a brief a call-up to the NHL. With just eight points in 16 AHL games, he's not lighting the American League on fire. Heading to World Juniors and regaining some confidence could be good for him.
However, Coyotes GM John Chayka said he's not interested in loaning either Jakob Chychrun or Lawson Crouse to the Canadian team. Whether that's a philosophy that extends to Fischer is unknown.
It should be noted that Winnipeg has already loaned Jack Roslovic, who is in a similar situation to Fischer, having been in the AHL all season.