For those of you who have ever imagined throwing on the USA hockey sweater and representing your country, did you ever envision being deaf while doing it? There are many deaf individuals out there playing hockey in silence or near silence. That's exactly what a committed group of hockey players representing the United States did over a week ago at the second World Deaf Ice Hockey Championship in Finland.
Any hockey player or coach will tell you, since hockey is the fastest played game in the world, communication is an integral part of a hockey team's success. Imagine playing a hockey game and not being able to hear a teammate call your name for a pass. It's almost hard to fathom. Being able to perform under these circumstances shows how skilled and talented the deaf hockey players on team USA proved to be while representing their country.
The American Hearing Impaired Hockey Association selected 23 players to represent the USA in competition based off of a tryout and summer camp. The roster includes players ranging from ages 18-47 hailing from 13 different states. The squad was coached by legendary NCAA hockey coach Jeff Sauer who led the University of Wisconsin Badgers to a pair of national championships during his tenure.
Coach Sauer communicates to the players through an interpreter and an assistant coach who also knows sign language. Many players are adept at reading the lips of their coaches and teammates. Players also use their hands and sticks to communicate when the situation allows. When a whistle blows during the game, referees raise their arms or shine lasers on the ice to inform the players that there has been a stoppage in play.
Not every player is completely deaf. Eligibility requires that a player must have at least a 55 decibel loss in their better hearing ear. To participate in World Deaf Ice Hockey Championship games, all players are required to remove devices used to improve a players' hearing such as hearing aids or cochlear implants.
"Our deafness is a challenge and it's a challenge we've learned to embrace," said Team USA defenseman Ryan Krajewski. "Opportunities to make friends and play on teams with others experiencing the same challenge is special and it's helped all of us and our families to grow through the experience."
All the USA Deaf Hockey Team wanted was the opportunity to play the game that so many of us cherish. The players on this team weren't looking for special treatment because they are deaf. They don't want fans to feel bad for them because they carry a disability. They wanted an equal opportunity to achieve greatness like all other athletes.
"It's about a lot more than hockey. It's about bringing people together from across our country and the world who happen to have the common bonds of deafness and a love for the game," said Krajewski.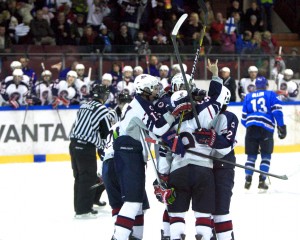 This team did USA Hockey and all deaf athletes around the globe proud. They were led by Robert "Bo" Ruef and Peter Gintoli. This pair led the team in scoring with 11 points in five tournament games.
The team lost in a shootout in the bronze medal game against Team Finland, 6-4. Trailing 5-4 in the closing minutes of the game, Finland scored an empty net goal to clinch the bronze. USA was one good bounce away from taking the game into overtime, but their effort as a team was much more important than the outcome of the game.
They achieved greatness and are role models to us all. Each player has their own chilling story that can inspire millions of deaf individuals all across the world to succeed in whatever he or she truly loves to do.
Goaltender Joe Lingle was initially cut by his college hockey team but never quit. Due to his determination and work ethic, Joe was eventually called back and awarded a spot on his college roster. Check out Grant Isenbarger's story and his commitment to overcome adversity to get to where he is today. There's also the way that the AHIHA has helped Tyler Devore, since the age of seven, develop into a sensational hockey player.
If you encountered one of these players walking down the street, you may not notice they possess a disability. Being deaf is not as visible as other disabilities. In many cases, this is why these players do not receive as much attention as they deserve. The players on Team USA live difficult lives. Their days are more challenging than someone who has full hearing in both ears. They've shown will power to hurdle every obstacle in their way to make a difference and inspire the hockey community.
The USA Deaf Hockey Team is another example of the many inspirational hockey players making a difference in the shadows of the NHL limelight. We need to unite as a hockey community and grant the recognition that these savvy and talented players deserve. Despite a hearing disability, the USA Deaf Hockey Team proved anything can be accomplished if a group of individuals are dedicated to one another and one united cause.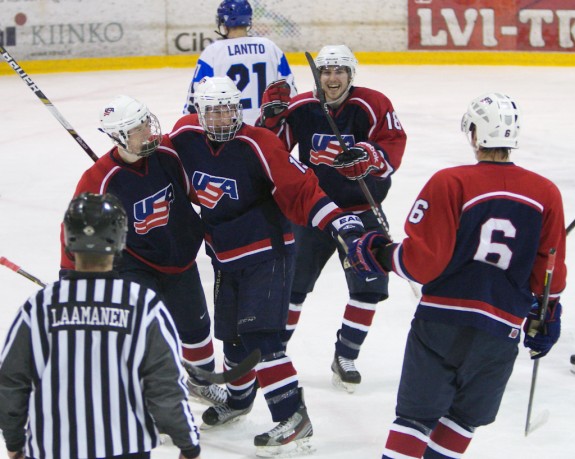 The AHIHA is a non-profit organization helping deaf hockey players of all ages write their own inspiring stories. If you would like to donate to help this motivating cause please make a donation to:
The American Hearing Impaired Hockey Association
4214 W. 77th Place
Chicago, IL  60652
The World Deaf Ice Hockey Championship took place from March 30th-April 6th, 2013. Five countries participated in the tournament:  Russia, Canada, Sweden, Finland and the USA. Team Canada faced off against Team Russia in the finals. Team Russia beat Team Canada 5-4 to hoist the championship trophy.