No one in the circles of North American hockey wants to be known as the next Alexander Radulov.
The Nashville Predators selected Radulov fifteenth overall in the 2004 NHL Entry Draft. Since then, the Predators have smashed into speed bumps with the Russian winger, and after playing parts of two-and-a-half seasons with Nashville, he probably isn't coming back.
Considering the situation the National Hockey League has gone through with Radulov, it's hard for many to avoid being skeptical when it comes to drafting a dynamic Russian prospect.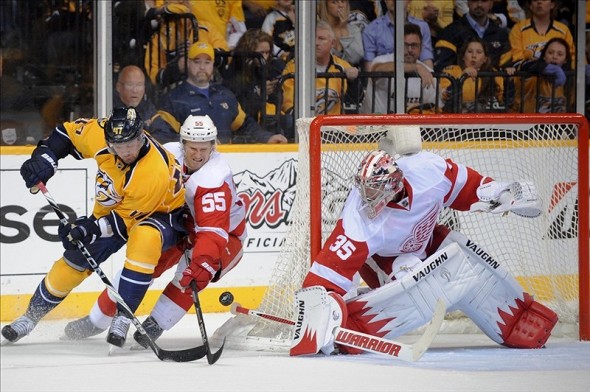 Some like to call it the Russian Factor. Others prefer to call it a factor that doesn't exist.
"The Russian Factor is nothing," Edmonton Oilers head amateur scout Stu MacGregor has said. "If a player is a good player, he's a good player. Players are in the Czech league that remain in the Czech league, so you have to ask that question of anyone [in their draft year]. There are also times when players here in North American will wind up in the KHL. I think this whole Russian Factor is not a factor at all."
Valeri Nichushkin is probably glad to hear that.
The 18-year-old Nichushkin, a native of Chelyabinsk, is the second player ranked in NHL Central Scouting's final list of draft-eligibles. Many figure that should make him a lock to go in the first ten picks of the upcoming NHL draft. But that lock is a little loose right now.
In April, Nichushkin spoke of his views on North America and the potential of joining the Canadian Hockey League if he doesn't make the NHL next season. Not everyone came away with a positive reaction.
"If I go to North America, I'll go only to NHL," Nichushkin said at the World Under-18 Championship. "I played in KHL, why [do] I need to go to CHL or AHL?"
Red flags could be spotted waving everywhere. But consider the possibility that the only reason Nichushkin sounds egotistic is because of the language barrier. Really, Nichushkin probably speaks better English than most of us do Russian.
But then came his trade from Traktor Chelyabinsk, his hometown team, to Dynamo Moscow. All of sudden, words changed.
"I had already decided to leave for the NHL," said Nichushkin, who added both the Tampa Bay Lightning and Nashville Predators have expressed interest in drafting him. "[Dynamo] calmly reacted to this. I was told that I could leave if I want. No legal problems there. My deal with Dynamo is terminated and I am leaving a free agent."
If all is true here, Nichushkin instantly finds himself with a very interesting draft stock. Does his commitment to the NHL turn him into a top five pick?
The Tampa Bay Lightning pick third overall. Assuming Seth Jones and Nate MacKinnon are off the board, do they take a Canadian in Halifax Mooseheads forward Jonathan Drouin (or MacKinnon, if he's still there), or do they look to Europe?
Damian Cristodero, a staff writer with the Tampa Bay Times, feels Nichushkin could be a perfect fit for the Lightning.
"All things being equal, Nichushkin, 18, is exactly what the Lightning needs, a supremely talented right-wing who at 6 feet 3, 196 pounds still has room to grow, is a terrific skater and who one day might complement center Steven Stamkos," Cristodero wrote.
Al Murray, the Lightning's head scout, said Nichushkin's upside is fantastic.
"Huge, with all kinds of talent," said Murray. "He's big. He's a tremendous skater. He's got individual one-on-one skills with the puck."
And Corey Pronman of Hockey Prospectus sees Nichushkin as the best player available from Europe.
"Nichushkin is an impressive power forward who has a ton of natural gifts," Pronman wrote in his final draft rankings. "He could be a potential star, if not an elite power winger in the NHL. His best skill is his skating ability, as he is a true plus-plus skater that defensemen need to respect when he's barreling down the wing. If a gap gets too tight, Nichushkin will likely be behind the defender in no time. He is also a strong, 6'4" pillar who loves to drive to the net. Combining that with his speed and skill, he draws a lot of penalties.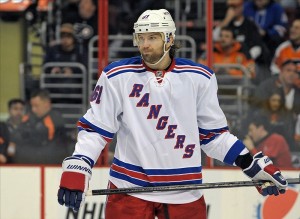 "Nichushkin's north-south game is his strength, but he has a high level of ability with the puck, with the capability to make players miss. He can make plays to his teammates, and he has good offensive instincts, although his hockey sense is an area of division among scouts. Some question his vision, feeling he can be a little selfish. Others think his hockey sense is above average. He has the ability to skate through an entire team, so it cannot be considered surprising that he tries to do a lot. One area of concern: he needs to improve his defensive play."
So how much of a concern is there with Nichushkin?
Well, one can make a respectable assumption that if Nashville has the ability to pick him fourth overall, they probably won't. But Carolina? They just might. Given that Hurricanes general manager Jim Rutherford hasn't picked a European in the first round in twelve years, it may be a longshot, but it's not out of the picture.
The only thing weighing Nichushkin down is where he's from. If he was from Lethbridge, Alberta and his name was Val Nicholson, he'd probably be guaranteed to go top five. That's just reality. But it doesn't mean his draft stock has to take a massive hit.
"We did a check of all the top Russian prospects since the last lockout in 2004-05, and with the exception of one player, anyone drafted within the top three rounds has come over to North America to pursue the NHL," Murray said earlier this season.
"When these players tell us they want to come and play in the NHL, for the most part they do. In this case, the top Russian players will always come over; we are never worried about that."
Does that mean Tampa Bay will take Nichushkin third overall? Of course not. But that doesn't mean they haven't taken a serious interest in his potential.
There are always going to be issues. Until Nichushkin comes over to the NHL, sticks, and shows he belongs, critics will be doing their best to degrade his accomplishments on a regular basis. Nichushkin's case is no different from other Russians' who have gone through the draft process in recent years. Nichushkin clearly has top ten talent, but until he establishes himself as a committed North American-style player, nothing will really change.
The Russian Factor may not technically exist. However, while managers and scouts may not all believe in it, there are plenty who do.
It's all about finding the best fit for a hockey club. Where the player is from may not matter as much as people think.
___________________________________________