The Chicago Blackhawks decided to revert back to their old winning ways on Saturday with a revamped effort that lead to a 4-1 victory on home ice. The rejuvenated Hawks seemed to correct all of their errors from Games 2-4, in what was a much stronger effort we haven't seen since Game 1.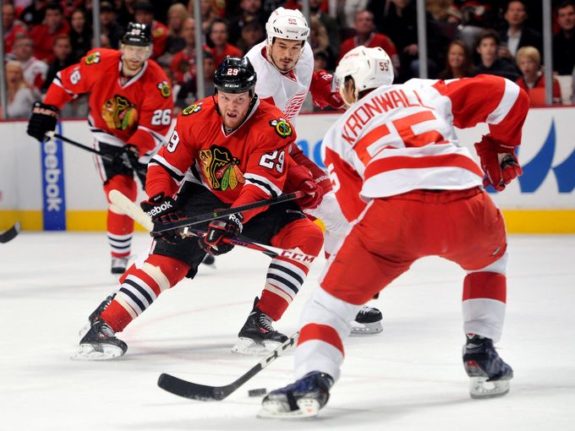 The Hawks Controlled Momentum; Controlled the Game
Like many people, I've always been a proponent of getting on the board first. Bryan Bickell's goal 14:08 into the first period was exactly what the Hawks, and their fans needed. Michal Handzus' pass lead to Bickell's great initial effort getting the puck to the net, followed by a scramble and a Patrick Kane wrist shot off Jimmy Howard's shoulder, ultimately leaving a fat rebound for Bickell's rip to the back of the net. After that first goal, the Hawks controlled the game.
The Power Play is Back
After going just 2 for 13 through Game 4, the Hawks power play came alive in Game 5 by netting power play goals in 2 of their 3 chances while playing with the one man advantage, bringing their series power play to 4/16, or 25%. What was an obvious sore point for the Hawks, it was no surprise it was a talking point during team meetings and practices. They got the puck to the net, controlled the zone, and had bodies in front of the net (Shaw's especially) until they finally managed to get the puck behind Jimmy Howard.
Andrew Shaw's Grinding Pays Off
Saturday's first star of the game changed some popular opinions of him. Andrew Shaw found the back of the net twice on 4 shots and 12:25 of ice time. With Shaw's play in the series prior to Game 5, we were beginning to hear many fans hoping to see Shaw watching from a suite as a healthy scratch. Instead, the 21 year old center shushed critics by delivering the game winning goal and forcing a Game 6 back in Detroit.
Oh Captain, My Captain
What was the biggest question coming into Game 5 became what could be the turning point the Hawks need to get this series back on the right track. Jonathan Toews took advantage of the power play by scoring his first goal of not only the series, but of the 2013 Stanley Cup Playoffs.
I mentioned it, as did just about everyone else, but Toews scoring that crucial first goal gets the monkey off his back that he's been carrying this entire series. Frustrated Toews turned into Captain Toews: leader and goal scorer. The Hawks and their fans finally have the captain they all know and love back.
Not only Toews, but we saw an entire team effort from the Hawks. Andrew Shaw summed up not only Game 5 perfectly, but what the Hawks need to do to continue their quest for the Cup, stating:
"It was a great effort by everyone," Shaw said. "It's a team win. Everyone competed and everyone battled and we played desperate hockey and that's what we need to do from here on out."
Tonight's Game 6 will be another battle. The Hawks return to enemy territory at Joe Louis Arena. As Shaw mentioned, it will need to be another entire team effort in order to force a Game 7 back in Chicago. I don't see the Hawks going down tonight. After their performance on Saturday, it looks like they're back on the game we've become familiar with this season.