Looking at the Vancouver Canucks' plethora of young talent, you can't help but applaud the work done by general manager Jim Benning and his predecessor, Mike Gillis. It hasn't all been smooth sailing, though — there's been a fair share of blemishes on draft days.
Regardless of mistakes that were made, the Canucks future is undeniably and exceptionally bright — five Canucks prospects made it into Craig Button's 'Top-50 Prospects List'. They hold one of the best prospect pools in the whole NHL and, my goodness, is it ever a welcomed sight by Canucks fan.
The last handful of draft days has really opened the door for the Canucks' future and in the next few seasons to come, their true potential will be unveiled to the hockey world and, mark my words, it will be one hell of a sight.
Anyways, let's take a look at what the Canucks have notably done at the draft, dating back to 2012.
Canucks Draft Misfires
Let's get all the nastiness out of the way, shall we?
The Canucks have had some really bad misfires at the draft and please brace yourself because, for a Canucks fan, reading this will be like listening to an 80-year-old man eating a nectarine — or at least attempting to.
Colton Parayko
Back on the blue line, the Canucks missed out on Colton Parayko, who went late in the third round of the 2012 draft. Instead, the Canucks went with Brendan Gaunce in the first round and Alexandre Mallet in the second. Of course, it's easy to make judgement in hindsight but imagine if the Canucks had Parayko on the back end…
Parayko – 18 goals, 78 assists, plus-38 in 215 games — did I mention that he's 6-foot-6 and 230 pounds?
Gaunce – 5 goals, 6 assists, minus-11 in 111 games.
Mallet – 0 goals, 0 assists, no rating in 0 games — wait, who?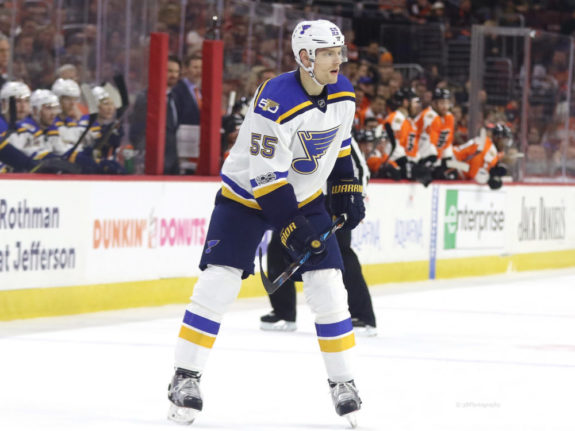 William Nylander
Yes, the Canucks missed out on the Maple Leafs' second-best scorer by one draft spot. Instead, the Canucks elected to pick Jake Virtanen sixth overall in 2014 — not a terrible selection, but Virtanen is no Nylander.
Nylander – 40 goals, 75 assists, plus-17 in 158 games.
Virtanen – 13 goals, 13 assists, minus-8 in 112 games.
David Pastrnak
2014 was a rough one for the Canucks and that nectarine scenario is starting to sound pretty good, isn't it? One spot before David Pastrnak, the Canucks picked Jared McCann who was traded in a deal that saw the Canucks receive Erik Gudbranson.
Pastrnak – 80 goals, 93 assists, plus-34 in 223 games — notably, Pastrnak notched 34 goals and 36 assists in 75 games last season.
McCann – 15 goals, 23 assists, minus-5 in 136 games.
You made it! Great, now let's get that taste out of our mouths with things the Canucks have done right at the draft dating back to 2012.
2012 Canucks Draft
The 2012 NHL entry draft was a really quiet year in terms of produced talent — to paint the picture, Nail Yakupov went first overall. The Canucks' selections were no exception and they took away a pretty average bag of prospects, headlined by the previously mentioned Gaunce and Ben Hutton, who has been involved in quite a few trade talks as of late.
Gaunce has spent a considerable amount of time in the AHL and is only now just starting to punch his way into a Canucks' bottom-six roster spot. He's having his career-best season of four goals and one assist in 34 games. He does little things right but his battle for a roster spot is an uphill one, considering the amount of prospect talent he's competing with.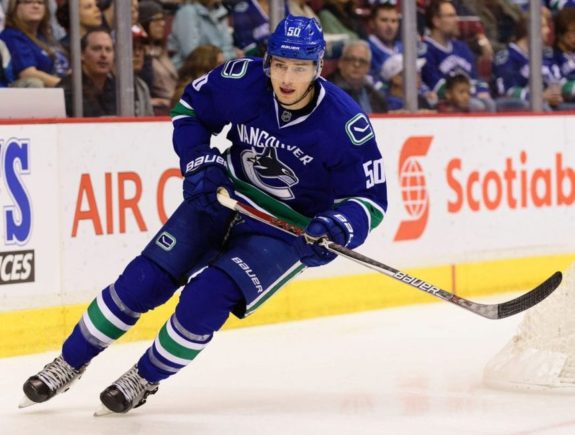 Hutton, on the other hand, really made an impression in his first season on the Canucks blue line, putting up a reasonably impressive 25 points in 75 games. Unfortunately, new coach Travis Green isn't exactly confident in Hutton's play and has subjected the 24-year-old defender to a decent amount of healthy scratches.
2013 Canucks Draft
2013 was a year that saw much more talent on draft day — names like Nathan MacKinnon, Aleksander Barkov and Seth Jones headlined the bunch. The Canucks had two first-round picks and went with Bo Horvat and Hunter Shinkaruk.
Horvat went from being the ninth overall pick to the Canucks' top-line center very quickly. The 22-year-old is arguably the Canucks best player (overall) and is undoubtedly the team's future captain. Horvat is leading the way for the Canucks' and I strongly believe he will be the first captain with an orca on his chest to hoist the all-elusive Stanley Cup.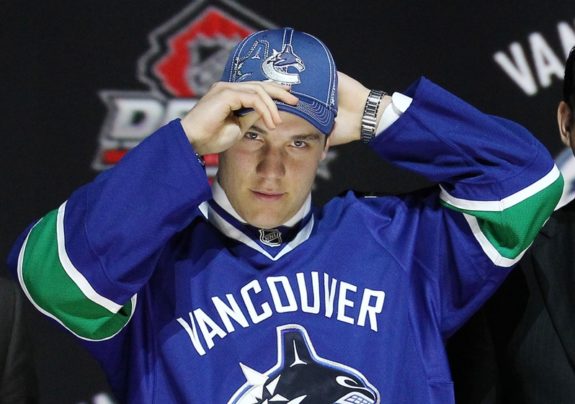 Shinkaruk was picked up 24th overall and has only gone on to play 15 NHL games, chalking up two goals and an additional two helpers. In early 2016, he was traded to the Calgary Flames for Markus Granlund — Shinkaruk continues to develop in the AHL for the Flames.
2014 Canucks Draft
Leon Draisaitl along with the aforementioned Pastrnak and Nylander are the front-runners of talent from the 2014 draft. The Canucks had a strong showing with two first rounders, a second-round pick and a third round addition who turned out to be the previously mentioned Virtanen and McCann in the first round, Thatcher Demko in the second and Nikita Tryamkin in the third.
Virtanen's statistics were noted above and his development hasn't exactly gone as expected. However, he has shown shades of promise at times — his speed and physicality are his two biggest assets that he needs to utilize more often. His future with the Canucks will likely be holding down a third-line position and, if he improves his offensive output, possibly a second-line spot.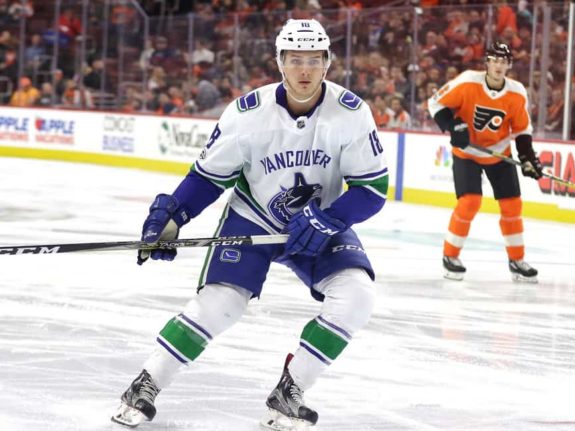 McCann's time with the Canucks was short-lived, but his production wasn't exactly terrible — in 69 games as a Canuck, he managed to contribute nine goals and nine assists. He was shipped off to clearer skies in May of 2016, landing a roster spot with the up-and-coming Florida Panthers.
Thatcher Demko is easily the most exciting 2014 selection the Canucks made, despite going 36th overall. Demko is the future of goal-tending for the Canucks and easily one of the best goalies in the AHL. The 22-year-old boasts a 17-7-3 record this season for the Utica Comets, tagging on a .929 SV% and GAA of 2.27. It won't be long before Demko makes his way into an NHL position between the pipes.
Nikita Tryamkin was a very promising Russian defender that stood at a monstrous 6-foot-7 and 265 pounds. His shutdown style and towering size earned him comparisons to Boston Bruins' captain, Zdeno Chara. Unfortunately, the big man hopped on a plane and headed for colder pastures in the motherland back in April of 2017 and currently plays in the KHL.
2015 Canucks Draft
2015 was a great year for the NHL draft — stars like Connor McDavid, Jack Eichel, Mitch Marner and Mathew Barzal were in the mix. Oh, I almost forgot to mention Brock Boeser! The Canucks had one first round pick, selecting Boeser, and the rest of their picks were fairly late and they only managed to salvage one more notable name, Adam Gaudette.
Boeser is a name that you're surely familiar with, Canucks fan or not. He's in contention for the Calder Trophy with fellow draft-mate Barzal of the New York Islanders. In 59 NHL games, the Burnsville, Minnesota product has racked up 29 goals and 22 apples. His offensive gifts are something that haven't been seen on the Canucks in far too long and he's going to be a consistent 30-40 goal-scorer for many years to come.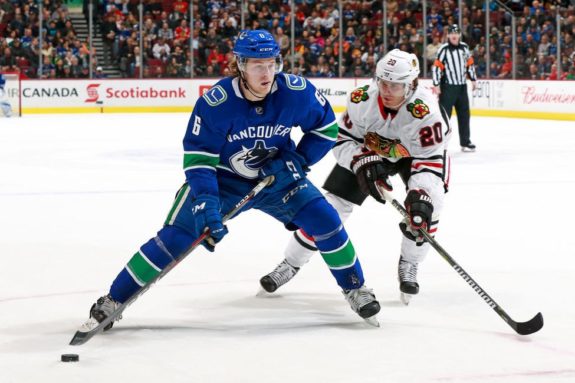 Gaudette, like Boeser, was a selection out of the USHL — unlike Boeser, Gaudette is still competing at the college level and impressing as he does. Gaudette has had a terrific season with the Northeastern Huskies, chalking up 20 goals and 22 assists in 28 games. In fact, he's leading his league in scoring — not bad for a fifth round selection.
2016 Canucks Draft
Auston Matthews and Patrik Laine were the big guns in 2016 and the centerpiece of almost every draft conversation that year. Back at fifth overall, though, Olli Juolevi was the top defender in the draft and the Canucks took him. Beyond Juolevi, the Canucks picked up a mixed-bag of late picks that likely won't see NHL action.
Juolevi is a smooth-skating and incredibly promising defender out of Helsinki, Finland. He's largely regarded as one of the best defensive prospects out there and will surely blossom into a top-pairing d-man for the Canucks. His development has slowed down to a certain degree and it's got a few scouts slightly skeptical about his future in the NHL. It's important to note, though, that he's only 19 and has plenty of growth to undergo.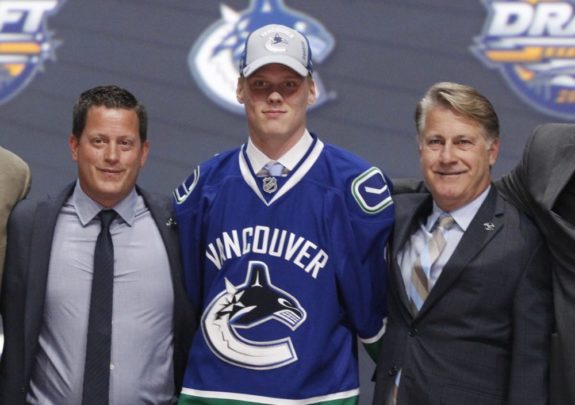 Juolevi currently plays for TPS Turku in Finland and has had a slightly slow season, resulting in healthy scratches and more skepticism. Regardless of his talent, he is definitely a year or two away from being ready to jump to the show.
William Lockwood and Brett McKenzie are two other slightly notable names the Canucks drafted in 2016. Lockwood played for the USA in the 2018 World Junior Championship but was unfortunately injured early in the tournament — his average size and point production, paired with his injury troubles make him an unlikely candidate to jump to the NHL.
McKenzie is a solid OHL player that chalks up solid numbers and is largely regarded as a defensive forward with great hockey sense. Based on his competition, I wouldn't imagine he'd make the Canucks roster but he has a chance at landing a fourth line spot if the cards fall into place.
2017 Canucks Draft
Now for the grand finale — the 2017 NHL Entry Draft. Oh man, was this year ever special for the Canucks. The Canucks cleaned up from top-to-bottom of their selections, headlined by Elias Pettersson, Kole Lind and Jonah Gadjovich.
Elias Pettersson… where do I even begin?
Selected fifth overall in 2017, you just knew he was a special player. Pettersson is currently three points out of the lead in scoring for the Swedish Hockey League (SHL) and has played five fewer games than the leader. Did I mention that he's only 19? The only player to show such prowess in the SHL at his age is none other than NHL legend, Peter Forsberg.
Pettersson's 45 points in 35 games this season, along with his stellar play at the 2018 WJC have him seated as the number-one prospect on Craig Button's aforementioned list. He is currently stacking on some much-needed weight and, after that, will definitely be a top-line forward and offensive dynamo for the Canucks in the near future.
Kole Lind is another young stud in the Canucks' system. He currently plays for the Kelowna Rockets of the Western Hockey League and has an impressive 27 goals and 45 assists in 43 games, which has him sitting 10th in WHL scoring. Lind was surprisingly snubbed of a roster spot for Canada at the 2018 WJC but he hasn't let that stop him. He improves more and more, season by season and will be getting an NHL shot in the next couple of seasons — he'd be a solid second line fixture for the Canucks.
Jonah Gadjovich, contrary to Lind, played for Canada at the 2018 WJC and showcased an impressive game. His addition to Canada's lineup was an easy decision — Gadjovich is equipped with good size, physicality, offensive gifts and an uncommonly simplistic approach to the game. Last season, for the Owen Sound Attack, he chalked up an amazing 46 goals in 60 games. This season, he currently carries 30 points in 27 games. I'd expect to see him holding down a bottom-six roster position with the Canucks in the next handful of years.
Beyond those three, Michael DiPietro and Matt Brassard came into the fold late in the draft. DiPietro is another promising goalie prospect and will start to hit more people's radars as he develops further. Brassard is a talented d-man that is having a phenomenal year for the Oshawa Generals of the OHL, boasting 13 goals and 24 assists in 51 games.
Well, that just about does it. As you can see, the future is bright for the Canucks and sunglasses sales in Vancouver have skyrocketed, despite the never-ending downpour of rain on the city.
Thanks for reading, folks!
Matt is a longtime fan, player and student of the game of hockey. Broadcast and Online Journalism student at the British Columbia Institute of Technology.