Do you remember the names Dean Portman and Fulton Reed? If not, you probably haven't seen the second or third Mighty Ducks films.
Still can't recall who these two were? They were known as the team's Bash Brothers. They added a physical edge to the underdog American Team in D2: The Mighty Ducks, while Reed was able to chip in on the offensive side as well.
So, in honour of Portman and Reed, we decided to list the top NHL duos who play a role on their respective teams today. These duos include players that have the trust of their coaches, respect of their teammates and understand that they have to chip in both physically and offensively.
While the NHL has drifted from the, once, fight-first mentality, these players include those atop the hits list who have also contributed in their team's scoring. With that, here's the NHL's top Bash Brother duos.
1. Tom Wilson and Brooks Orpik (Washington Capitals)
Once known as the tough guy on the Washington Capitals, Tom Wilson has flexed his offensive muscles in recent years to maintain a significant role with the club. With 10 points in his rookie season in 2013-14, Wilson hasn't seen a total that low since – with 17, 23, and 19 over the past three seasons.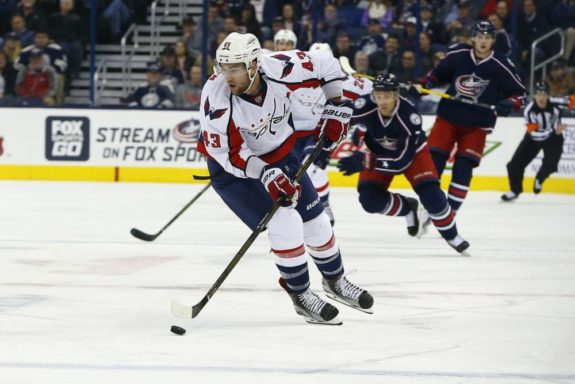 Still, the six-foot-four, 218-pound bruiser isn't afraid to play a physical game either. Consider him the Reed of the Capitals, he has 89 points over 358 career regular season games. That said, he's racked up 131 hits this season (an average of 2.9 per game) which is good for 16th in the NHL. On top of that he's second in the league in penalty minutes (118) and second in fighting majors – behind Micheal Haley in both categories.
His brother-in-arms is Brooks Orpik. While Orpik isn't exactly the offensively catalyst of the Caps blue line, the six-foot-three defenceman does have eight assists in 49 games this season. He's more of the physical side of this brotherhood having notched 146 hits (an average of 3.0 per game) and 45 penalty minutes.
2. Milan Lucic and Patrick Maroon (Edmonton Oilers)
In Edmonton, the Oilers have their own set of Bash Brothers in Milan Lucic and Patrick Maroon. Lucic stands at six-foot-three and just over 230 pounds and usually doesn't have any issue getting to where he wants to on the ice. While he is certainly known for his physical play, Lucic has shown some good spurts of offensive prowess as well.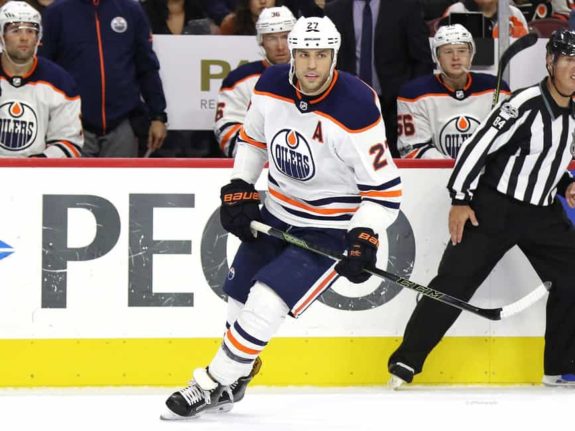 He has 477 points in 779 career regular season games – spending time with the Bruins, Kings and Oilers. That includes a career-high 62 points in 2010-11. While he's been a physical fixture shadowing his captain – Connor McDavid – in Edmonton, he's still provided the team with some offence. This season, for example, he has nine goals and 30 points in just 50 games. Not bad for a guy known for his rough stuff.
That said, his battle mate is much the same. With 26 points in 48 games this season, the big 29-year-old fits the description of the modern-day power forward. While Maroon's 161 career points aren't top of the line material, he does provide the team with something else useful.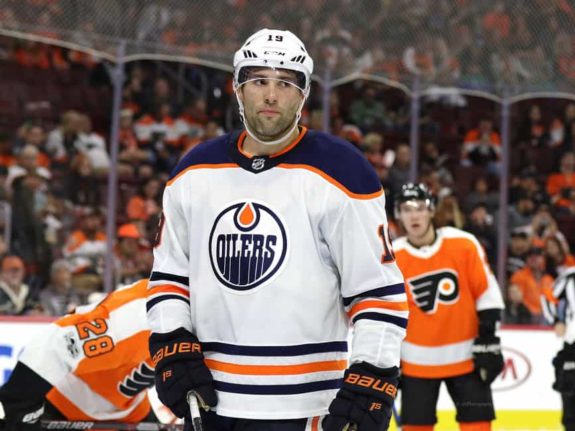 He has 105 hits already this season – good enough for 44th in the NHL – but he's also not afraid to drop the gloves when the situation arises. He has three fighting majors this season and sits 20th in the league in penalty minutes with 55. While it's not the most impressive stat, it does let others in the league know that he's not to be taken lightly.
3. Nick Foligno and Boone Jenner (Columbus Blue Jackets)
Like the Oilers, the Blue Jackets have their own pair of offensive threats that don't shy away from the physical play. One half of their brotherhood is captain Nick Foligno. At 30, Foligno has accumulated 389 points in 749 games over 11 seasons. He also has 617 penalty minutes to his name. That's an average of 0.82 minutes per game. It's safe to say that he has spent his fair share of time in the box.
But it's not all bad. So far this season, Foligno has 22 points in 53 games for the Jackets and just 36 minutes in penalties. He's 17th in the hits department with 137 and isn't afraid to throw his body around to help his team out.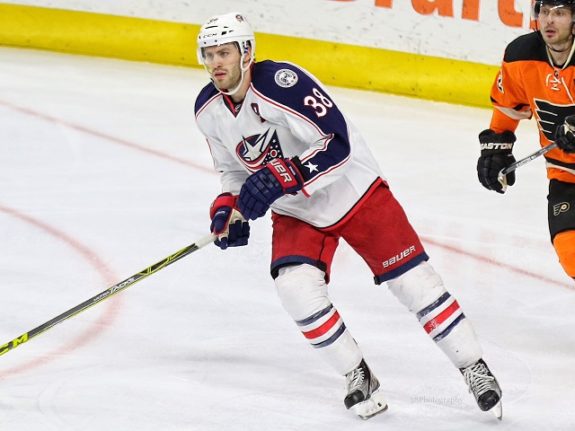 Alongside him, the Jackets have Boone Jenner. Jenner sits just five spots lower than Foligno when it comes to hits – with 128 this season – and has 33 penalty minutes through 46 games. While he has just 13 points this year, he has shown an offensive touch in his short career, collecting a career-high 49 points in 82 games back in 2015-16.
4. Dustin Byfuglien and Jacob Trouba (Winnipeg Jets)
When it comes to the True North Strong and Free, strong only begins to describe two Winnipeg Jets' defensemen. The first is an obvious one – standing at six-foot-five and 260 pounds – in Dustin Byfuglien. Originally an eighth-round pick of the Blackhawks in 2003, Big Buff has epitomized the role of a Bash Brother over his entire career.
He has 472 points in 800 career games. He's tallied 976 penalty minutes and his fair share of fisticuffs over the years. Still he's a major impact player for the Jets. This season, he has just 23 points in 42 games, he's tallied 63 penalty minutes which is 13th in the league, but he's only dropped the mitts once this year. Oh, and don't forget his 103 hits this season either.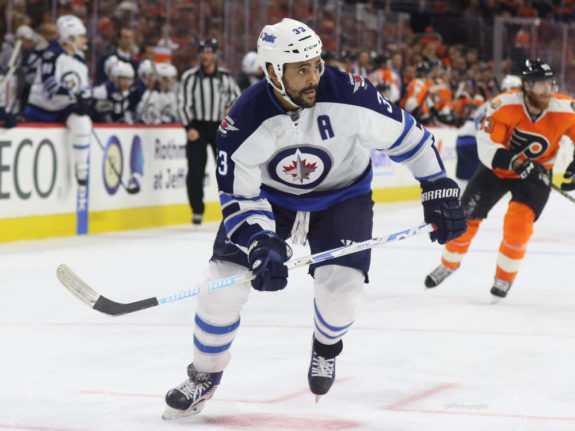 Manning the blue line in Winnipeg with Byfuglien is Jacob Trouba. At just 23, Trouba carries a big frame at six-foot-three and just over 200 pounds. Over his short career, he's tallied 125 points in just 321 games for the Jets to go along with his 237 penalty minutes.
This season, he has 20 points in 50 games. He's also been called for 32 minutes worth of penalties. While he hasn't dropped the gloves at all, it is worth noting that his physical play has had an impact for his team. His 77 hits aren't near the top of the league, but they have made him an all-around weapon on the ice.
Heck, if these two don't cut it for you, the Jets have Brandon Tanev who doesn't have the same kind of offensive upside, but sits 15th in the league in hits – with 142.
5. Wayne Simmonds and Radko Gudas (Philadelphia Flyers)
The Broad Street Bullies, aren't the same bullies they once were. However, that hasn't changed the way some of them play the game – Wayne Simmonds and Radko Gudas, in particular.
Simmonds has upgrades his offensive play since joining the Flyers in 2011-12 – including a career-high 60 points in both 2013-14 and 2015-16. While he's notched 220 goals and 431 points in 740 career games, the Flyers' forward has also racked up 949 penalty minutes.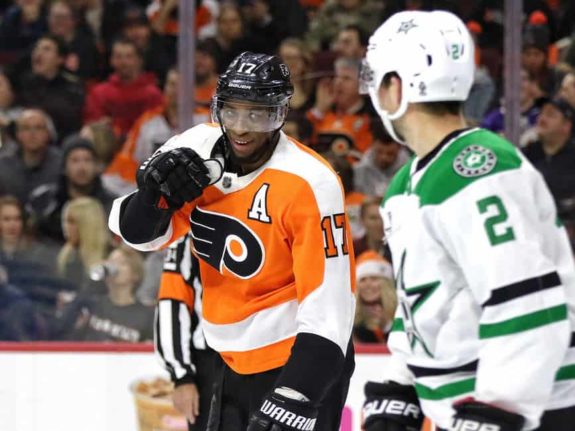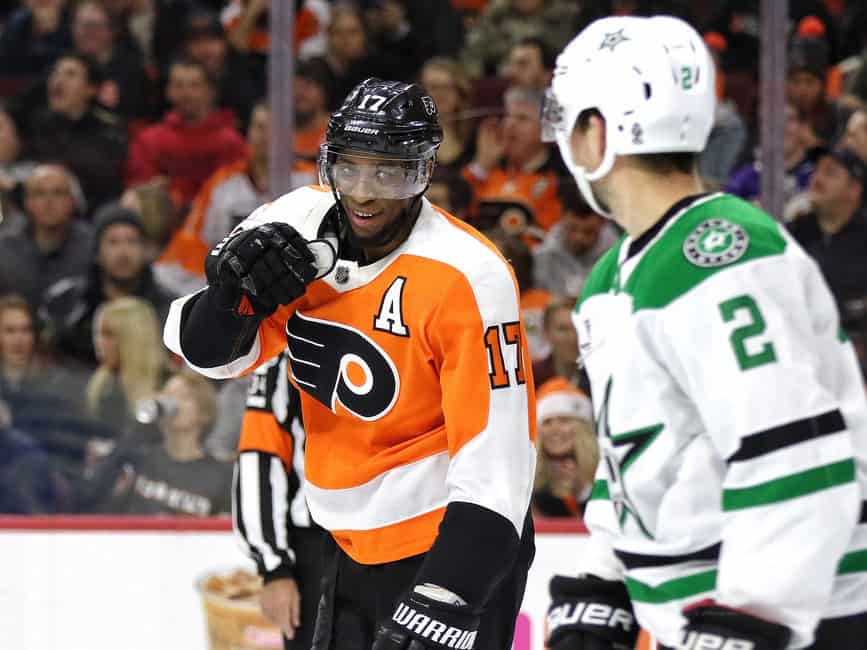 This season, he's having another decent season with 33 points in 53 games and just 48 penalty minutes. While he's been able to keep himself on the ice this season, he's still recorded two fights and has 87 hits to go along with it. Consider him the Reed of this brotherhood.
In Gudas, you get a physical specimen that sometimes doesn't even focus on where the puck is on the ice. Year after year he's brought before the Department of Player Safety (DoPS) to discuss questionable hits and still it happens again.
That said, the 27-year-old is a six-foot, 200 pound bruiser who loves to involve himself physically and doesn't add too much on the offensive end. In fact, he only averages 0.25 points per game and just over 1.6 penalty minutes per game played over his career. This season seems to be no different.
In 41 regular season games, Gudas has seven assists and 66 penalty minutes. He's 12th in the league in that category and has two fights making up for 10 of those minutes. He also has 86 hits this season.
And if you don't think either of these two fit, there's a third player in town that fits right in. The 22-year-old, Robert Hagg has six points in 53 games this season for Philadelphia. At six-foot-two and just over 200 pounds, the defenceman has collected 182 hits this year which is good enough for second in the league. Oh, and he doesn't often make the trip to the sin bin, another favourable stat for the young blueliner.
6. Leo Komarov, Matt Martin and Andreas Borgman (Toronto Maple Leafs)
In Toronto, it's more of a Bash Brother trifecta. First, you've got Leo Komarov, who has spent most of the season on a line with Nazem Kadri and either Patrick Marleau or Connor Brown. The 31-year-old is just five-foot-eleven and 210 pounds, but he plays as if he had a much bigger frame.
He only has 14 points this season in 55 games, but his 117 career points does show that he has a little offence in his stick. That said, he sits third in the NHL in hits with 162 and has only been called for 25 minutes in penalties this season.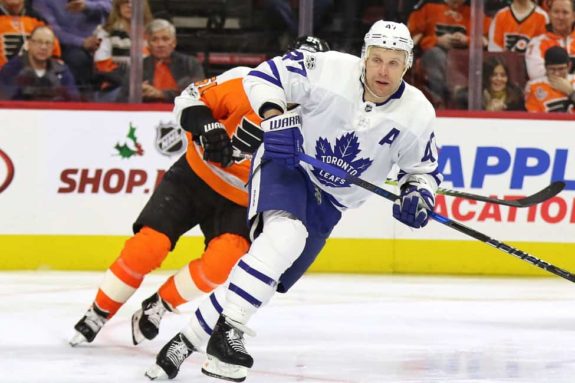 With him are Matt Martin and Andreas Borgman. While Martin has seen the press box at times this season, he's still managed 11 points in 47 games for the Leafs – his highest total since signing with the team in 2016-17. However, he's better known for his rough stuff.
This season, Martin has accumulated 45 penalty minutes in limited ice-time. He's had five fights this season and sits 19th in the league in hits with 135.
Finally, the newest addition to the team is Borgman. While he was recently loaned to the AHL's Toronto Marlies, Borgman played a role in the Leafs lineup until that point. In 48 games with the Leafs, the 22-year-old had three goals and 11 points to go along with 28 penalty minutes. Maybe more impressive though is that the rookie blueliner had 121 hits – good enough for 31st in the NHL.
7. Josh Manson, Chris Wagner and Kevin Bieksa (Anaheim Ducks)
Another triple threat exists in Anaheim where the Ducks have Josh Manson, complimented by Chris Wagner and Kevin Bieksa.
Manson is six-foot-three and 213 pounds. He's provided 25 points for the Ducks this season in 55 games. But he also plays a role when it comes to the physicality of the game. He's dropped the mitts four times this season and has 50 penalty minutes to show for it. He sits 29th in PIMs this season and 40th in hits (112), averaging just over two per game.
Wagner sits atop the hits list with 183 – roughly 3.3 per game. While he isn't the most offensive threat in the Ducks lineup, he has added 15 points in 55 games maintaining his spot on the team's roster.
Finally, there's Bieksa. At 36, Bieksa still loves to throw his body around. He has just five assists in 49 games this season, but has four fights and 74 penalty minutes to go along with that. He's added a flying punch to his fighting repertoire, which often catches his opponents off guard, and because of it sits seventh in the league in penalty minutes.
On top of that, he's added 91 hits making him a physical presence on the Ducks blue line.
8. Patric Hornqvist and Ryan Reaves (Pittsburgh Penguins)
Over in Pittsburgh, where they're known for their talent up front, the Penguins have two interesting candidates for the list of Bash Brothers. While Jamie Oleksiak was considered, Patric Hornqvist and Ryan Reaves were the two to make the cut.
In Hornqvist, the Pens have a modern-day Holmstrom. He's a guy that stands in front of the net and pounces on the garbage opportunities. The 31-year-old has 393 career points in 628 games which includes hitting the 50-point mark in four seasons.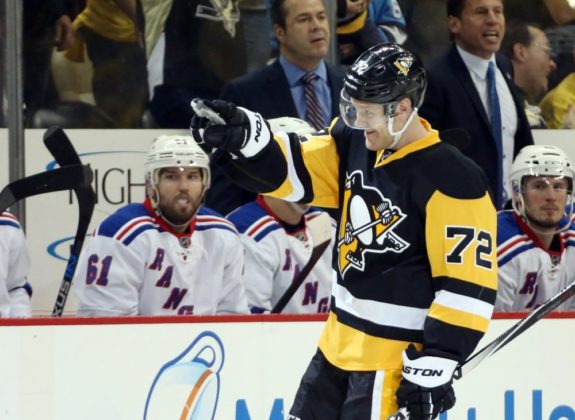 This year, he has 31 points in 49 games with the Pens. He's also added 34 penalty minutes over that span. While he doesn't have a tendency of throwing down the mitts, he does get involved in the physical play – as can be seen by his 96 hits this season.
In the protector's role, the Penguins added Reaves to the mix. Reaves has just six points in 52 games this season, but is best known for what he adds on the physical end. He has collected 80 penalty minutes so far this season – sixth most in the NHL – and that includes six fights in defence of his teammates. He also averages 2.8 hits per game and sits 11th in the league in that category with 148.
9. Antoine Roussel and Stephen Johns (Dallas Stars)
The Stars also have their own set of physical talents in Antoine Roussel and Stephen Johns. Roussel is just five-foot-eleven and just under 200 pounds, but that doesn't keep him from playing with an edge. He's collected 14 points in 46 games this season, to go along with his 89 penalty minutes. He ranks third in PIMs and five tilts this season, but only has 46 hits.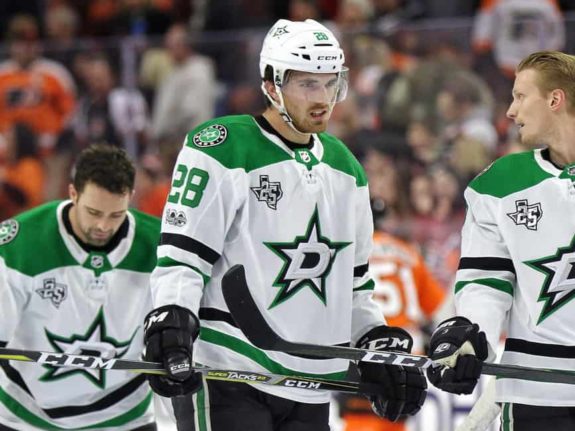 That's where Johns comes in. Johns is 23rd in the NHL in hits with 126 – averaging 2.5 per game. While the 25-year-old doesn't shy away from the physical play, he manages to play within the rules, accumulating just 29 PIMs this season.
On top of that, the six-foot-four, 220-pound blueliner has added 11 points in his 51 games played this season.
10. Austin Watson and Alexei Emelin (Nashville Predators)
Finally, there's the Bash Brothers of the Nashville Predators – Austin Watson and Alexei Emelin. Like Gudas for the Flyers, Emelin has often played on the edge. The 31-year-old sits at six-foot-two and 218 pounds, but uses all his frame in the way he plays the game.
In 50 games this season, Emelin has a goal and eight points to go along with his 26 penalty minutes. He's averaged 2.7 hits per game this year and sits 20th in the league with 134.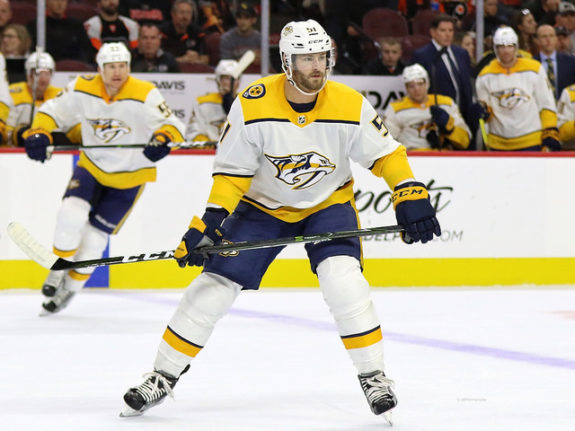 In Watson, the Preds have a feisty winger with a six-foot-four frame. With only 35 points in his first 189 games with the Preds, it's safe to say that he won't be remembered for his offensive prowess.
That said, he has 89 penalty minutes this season to go along with his seven points in 49 games played. He's tied with Stars' forward Roussel for third in PIMs and averages 2.6 hits per game – ranking him 23rd in the league with 126.
With that, who would you have on your list of top Bash Brother duos in today's game? Would it be one of the duos above, or do you have another couple in mind? Be sure to add you input in the comments section below and if you don't know who Fulton Reed and Dean Portman are, it's time for you to sit down and watch the second Mighty Ducks film.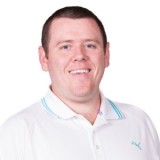 Andrew is in his 8th year reporting for The Hockey Writers covering the Toronto Maple Leafs. He began his broadcasting with CBC's Hockey Night in Canada team as well as being part of their coverage of the 2014 Winter Olympic Games in Sochi. He's the former play-by-play voice of the London Jr. Knights for Rogers TV and currently hosts the Sticks in the 6ix podcast. You can follow him on Twitter at @AndrewGForbes.