Drafted sixth overall in the 2014 NHL draft by his hometown Vancouver Canucks, Jake Virtanen is living out a childhood dream. The organization has shown patience with the 21-year-old, and the Canucks' faithful have been anxious to see what he's got.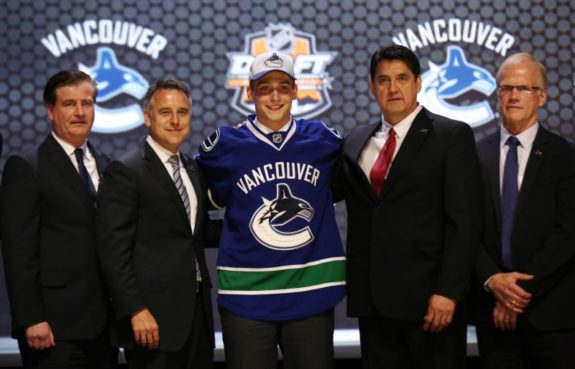 Virtanen is coming off of a very impressive preseason showcase that had him finish tied for first on the team in goals with four and second in total points with six. So far this regular season, Virtanen has played in seven of eight Canucks games and contributed one goal and an additional helper.
He potted his first of the campaign against the Detroit Red Wings on October 22nd and displayed the potential that fans have been waiting to see. Virtanen skated alongside Daniel and Henrik Sedin whom he has gelled quite nicely with.
Related: Lots to Like About Canucks Young Forwards
Shooters Shoot
Looking back to Virtanen's WHL days, he was a sniper that notched 45 goals in the 2013-14 season with the Calgary Hitmen. At the age of 17, he was the Hitmen's greatest offensive asset but that was definitely at least partly due to his counterparts. He generally flanked either Brady Brassart or Greg Chase — two great playmakers that finished with identical stats of 35 goals and 50 helpers.
Jump back to present day and Virtanen hasn't been shooting the puck or rippling the mesh, largely due to his role and ice time. Last game, he played with the playmaking gods in the Sedin twins, and, shocker, he had eight shots on net, a handful of scoring chances, and scored his first goal of the season.
https://twitter.com/CoreyHirsch/status/922264533158256640
With the twins, Virtanen got just over four minutes of additional ice time from his last game (14:24) and in turn, quadrupled his previous high of shots on goal this season. The Sedins' playmaking ability paired with Virtanen's physicality and shoot-first-ask-questions-later mentality, looked impressive and I'd expect Travis Green to go back to that combination for the Oct. 24 game against the Minnesota Wild.
Role Adjustment
If Green chooses to leave Virtanen with the twins, the youngster will have to adjust his mentality accordingly. He will be making quite a drastic leap from a grinding role to a producing role. That being said, Virtanen needs to maintain his level of physicality in order to be successful — standing at six-foot-one and around 230 pounds, he can do damage when he needs to. Just ask Niklas Kronwall, a notorious bone-crusher who got absolutely trucked by Virtanen in the Red Wings – Canucks showdown previously mentioned.
Virtanen is no rookie when it comes to playing with an edge. He was second on the aforementioned 2013-14 Hitmen squad with 100 PIMS and physically outmatched most players who opposed him, even at the youthful age of 17.
First of the season. All smiles. 😊 #VANvsDET pic.twitter.com/XAQuqiTIeB

— NHL (@NHL) October 23, 2017
I think this is a great fit for Virtanen after what I saw initially against the Buffalo Sabres and especially what I saw in Detroit. They gelled nicely and we saw some Sedin magic that we haven't quite seen so far this season — beautiful passing and established zone time. The twins seemed to have a spring in their step and looked comfortable at around 14 minutes of ice time. The old men and the youngster buzzed offensively all game and generally dictated the flow of the game when they were on the ice.
In this current state of rebuild, giving a sixth-overall selection an actual offensive look with some talented veterans is a great move for the present and also the future as the young Virtanen furthers his growth and development. I predict that green will, in fact, keep Virtanen with the Sedins and I also predict Virtanen continuing to mark up score sheets with shots and goals.
Matt is a longtime fan, player and student of the game of hockey. Broadcast and Online Journalism student at the British Columbia Institute of Technology.