As much as the Edmonton Oilers slow start irked Todd McLellan, chances are the way his team was losing games is what bothered him most. Though they still give up their share of chances, last night's overtime loss to the Pittsburgh Penguins was the club's third consecutive 2-1 outcome. Despite the loss, the head coach is likely pleased with their progression but man is it a drag to watch.
Connor McDavid scores in regulation but Phil Kessel wins it in OT as Penguins beat Oilers 2-1. Crosby 0 pts. #NHL https://t.co/Mb3kFrKWfS pic.twitter.com/rBoE0p3wDR

— SportsCentre (@SportsCentre) October 25, 2017
Luckily, two of the three have come against the Pens and Chicago Blackhawks, who are traditionally two of the more entertaining sides to watch on a given night. However, that wasn't the case against the Philadelphia Flyers but it is easy to understand why the Oilers have gone this route. Simply put, they are incapable of scoring goals and there is no reason to believe that trend will turn anytime soon.
Oilers Simply Can't Score
As of this morning, there are only three teams who have yet to reach 20-goal plateau this season. The Carolina Hurricanes have 18 goals in seven games. The Montreal Canadiens have been even worse, averaging exactly two goals a night over their first nine outings in 2017-18. Whereas the Oilers have played eight times and lit the lamp a grand total of 15 times. Hard to believe but that is not a typo
Other than Connor McDavid's four goals, three of which game against the Calgary Flames on opening night, this team has three players with more than one goal this season. That's right, the trio of Mark Letestu, Patrick Maroon, and Ryan Nugent-Hopkins have managed to score two apiece but that is it. Think about that for a minute. The lineup which has the most explosive player in the game today can't score.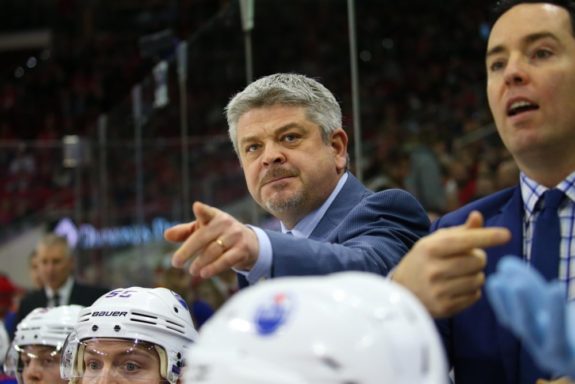 Hard to imagine but that is the predicament this group finds itself in and because of it, the Oilers should be thrilled with their 1-1-1 road trip and taking three of a possible six points. In fact, they are probably downright ecstatic. Make no mistake, the sky is not falling but at this stage of the equation, it's all about small wins. This explains why McLellan continues to preach about being defensively responsible and playing mistake-free hockey to the media.
McLellan Preaching Defence First Hockey
Funny thing is, it was his absurd decision to start Milan Lucic in last night's overtime session against the Penguins and it cost his team a shot at earning that elusive bonus point. Not surprisingly, it took Phil Kessel all of 42 seconds to make McLellan look the fool and leave hockey fans everywhere wondering what on earth was running through his head but the answer is obvious.
Instead of going out and trying to win, the mindset has now shifted towards survival. How else does one explain starting the extra frame with the league's most dynamic player on the bench in a 3-on-3 setting? It can't be done. Simply put, the Oilers bench boss decided to outsmart himself and it is something he has done on more than one occasion. Instead of going with the obvious choice of using McDavid and Nugent-Hopkins together as a tandem, this staff decided to put Lucic in an awful spot and it cost them.
Lucic out there 3 on 3. I'll need someone to explain that one to me.

— Dustin Nielson (@nielsonTSN1260) October 25, 2017
Clearly, the initial thought was to retreat and hope for the best but against a team like the Pens, it is a risk not worth taking. Again, the notion of playing it safe when a team can't score carries some merit but common sense must prevail. McLellan can talk all he wants about a defensively responsible and mistake-free game but may want to take some of his own advice and keep this stretch as simple as possible. Things are tough enough as is, why make it that much tougher by trying to reinvent the wheel.
Give the best players on the team an opportunity to do their thing and get out-of-the-way. Seems simple enough and yet we here we sit, going down a familiar path of making iffy decisions…both in game and prior to. Unfortunate to be sure but what's done is done and dwelling on it serves no purpose. With that said, this sort of thing can't continue to happen. It is early but at this stage of the season, all that matters are wins and loser points and at least the Edmonton Oilers were able to come up with the latter in Pittsburgh.