If you look at the scoring leaders for the Vancouver Canucks so far this season, you are going to see some unfamiliar names. Derek Dorsett is the biggest surprise of them all. Not many expected him to crack the starting lineup, never mind lead the Canucks in scoring. After Dorsett, three of the Canucks most promising players find themselves leading the team:
Brock Boeser, Bo Horvat, and Sven Baertschi.
This is exactly what management and fans could have hoped for entering the season. The Sedins showed last year that although they have gas left in the tank, they're no longer capable of leading a good team offensively. Horvat, Boeser, and Baertschi all needed to step up in order for the Canucks to have any kind of success, and that's exactly what they've done thus far.
The Canucks Top Trio
Travis Green has had a quick trigger finger with his lines early in the season. Whenever the team is underperforming, Green is diligent in shaking up his line combinations. After a terrible first period against the Boston Bruins last Thursday, Green threw his lines back into the blender, and finally put Horvat, Boeser, and Baertschi together on a line.
Suffice to say that the line everyone wanted to see together has hit the ground running. Baertschi and Boeser set up a goal by Horvat against the Bruins that mildly got the Canucks back into that game. Over the next two games, that line has a Fenwick percentage of 60%.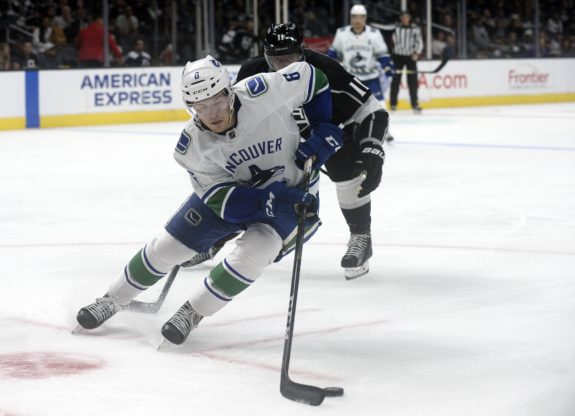 After being scratched for the first two games, Boeser has gone on to put up six points in his first six games. He is showing signs of being an elite offensive player, and he's working his way up the lineup after starting in a bottom six role.
Horvat was called out publicly by his coach, but he responded with a huge game against the Detroit Red Wings. One area where Horvat needed to improve was in his own zone and with his passing. He's two for two there over the weekend, with that line being above water in shot attempts. Horvat also set up two goals against the Red Wings.
The Canucks did play against two mediocre teams in the Buffalo Sabres and the Red Wings over the weekend. Then again, the Canucks were also supposed to be mediocre. They dominated both of those teams on the road, and the Horvat line was a huge part of it.
Related: Brock Boeser Won't Keep up Current Pace
Jake Virtanen
He might not be Nikolaj Ehlers or William Nylander, but Jake Virtanen is already a fan favourite in Vancouver. Despite not having a great year in the AHL last year, it sure looks like Green has lit a fire under Virtanen. He looks composed on the ice with a good blend of physicality and defensive responsibility. When the Canucks are within a goal (either leading or trailing) Virtanen has a scoring chance differential of 57.1%.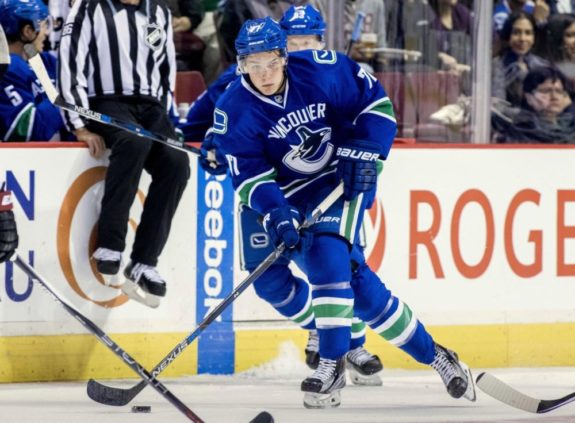 As of late, Virtanen has been paired on a line with the Sedin twins. Although it seemed like a strange alignment at first, the newly-formed line has been dominant through their first two games together.
Against the Sabres, Virtanen set up the winning goal from Daniel Sedin, on a pass that looked like it came from Henrik. Against the Red Wings, Virtanen scored his first goal of the season, had eight shots, and had one huge, memorable hit on Niklas Kronwall. He even earned some power play time before the game ended.
Virtanen is faring well in all areas of the game. If he keeps it up, look for his role to increase.
Related: The Canucks Power Play Will Improve
Mixed Bag from Granlund and Burmistrov
There is a lot to like about the young Canucks forwards, but the performances from Markus Granlund and Alex Burmistrov have been a mixed bag. Granlund has been stapled to the Canucks shutdown line with Brandon Sutter and Derek Dorsett. If that keeps up, it's going to be hard for Granlund to replicate his 19 goals from last year.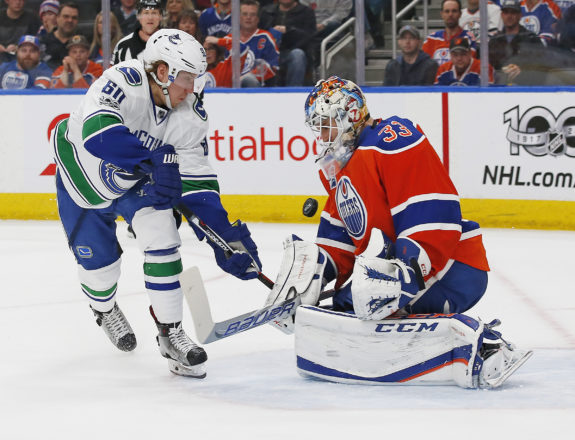 He did register his first couple of points on this road trip, and he now has a goal and an assist through eight games. If the other young guys ahead of him keep performing offensively, it's going to be hard for Granlund to work his way into an offensive role. On the flip side, he's going to be a useful player who gets a lot of ice time if he keeps forming chemistry on this shutdown line.
Burmistrov has been an interesting and tantalizing figure. He's not as terrible as he was last season with the Winnipeg Jets. He only had two assists in 23 games for the team that drafted him, and he has four points in seven games for the Canucks. He has the offensive tools, but he still has lapses in his own end. On this road trip, he also took two terrible third-period penalties against the Bruins and Sabres. That penalty against the Sabres effectively killed the Canucks comeback hopes.
It might be hard to call Burmistrov a young guy at 26-years-old, but the Russian does represent new offensive hope for the club. He still has some work to do, but there have been positives in his early performance.
KPU Journalism Graduate. Trevor has been writing for The Hockey Writers since October 2014. He has contributed articles related to the Ottawa Senators, Vancouver Canucks, and other issues/stories regarding the game of hockey. Trevor currently lives in White Rock, B.C.