The Vancouver Canucks have faced a lot of questions stemming from the 2014 NHL Entry Draft when they selected Jake Virtanen sixth overall in the first round. Since then, players chosen after Virtanen like the Toronto Maple Leafs' William Nylander, the Winnipeg Jets' Nikolaj Ehlers and the Detroit Red Wings' Dylan Larkin have established themselves as quality top-line NHL players.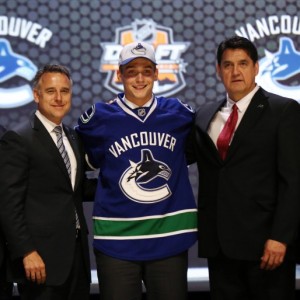 He is the first British Columbian selected by the Canucks in the first round since Cam Neely in 1983 – no pressure kid. And now just three years later, some question if Virtanen has a future with the Canucks.
Virtanen spent the majority of the 2016-17 season in the American Hockey League with the Utica Comets after making the Canucks as a 19-year-old in 2015-16. In my roster prediction prior to training camp, I had Virtanen as a candidate for the Canucks 14th forward, and that was before the team signed unrestricted free agent Thomas Vanek. The addition of another veteran forward, albeit one who plays the opposite wing, didn't bode well for Virtanen's chances on cracking the Canucks opening night roster.
That said, the 21-year-old from Abbotsford may have the inside track on claiming a regular roster spot on the Canucks.
The Benefits of NHL experience
Although Virtanen spent most of last season in the minors, he already has one NHL regular season under his belt. He endeared himself big time to Canucks fans in his rookie year, scoring some highlight reel goals and throwing some big checks.
After putting up seven goals and leading the team in Corsi-for percentage, it looked like he had arrived and was ready to take the mantle as the next star power forward for the Canucks like Trevor Linden, Todd Bertuzzi and others before him. The year of NHL experience in 2015-16 was invaluable for Virtanen, despite not getting plum ice time assignments for a player with his combination of speed, size and skill.
Anything that could go wrong did at the start of last season – whether the missteps were Virtanen's doing or not. He showed up at training camp at a hulking 231 pounds, got hurt during the pre-season and only played ten games with the Canucks before being sent to the AHL. With a new coaching staff for the Canucks, Virtanen has a bit of a chance to start with a clean slate.
Familiar with New Coaching Staff
One thing attractive to the Canucks in promoting Travis Green from the Comets was the fact that he was familiar with a number of players coming up through the team's prospect pool — Virtanen is one of those prize prospects. He had a disappointing season in 2016-17 with the Comets, only putting up 19 points in 65 games and finishing minus-11.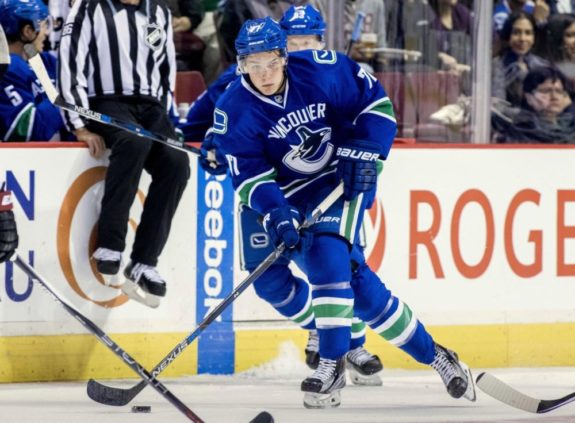 However, for Virtanen to be encouraged about his career path thus far, he only needs to look at Green's playing career. Green was a 51 goal scorer in the Western Hockey League during his draft year, but ended up carving out a 14-year NHL career as a versatile, defensively-responsible forward. He also had a career high of 70 points in 1995-96 with the New York Islanders.
Green and new Canucks assistant coach Nolan Baumgartner were very positive influences on Virtanen last season. They helped show him the little things a player needs to do to be a successful everyday NHL player. Green and Baumgartner's familiarity with Virtanen should benefit him, but so should his familiarity with them.
At times in the past, it seemed that now-former Canucks coach Willie Desjardins wasn't sure how to handle Virtanen's development. He was a healthy scratch for stretches at a time and didn't get the opportunity to skate with players that complemented Virtanen's skill set.
When he did play with complementary players, he showed the flashes that made him such a high draft pick. The line of Virtanen, Bo Horvat and Sven Baertschi was excellent at times during in the 2015-16 season and looked ready to terrorize the opposition. It's up to Green to find a similar fit for Virtanen now that he's promoted to Canucks bench boss. It's also up to Virtanen to show that his play last season was an anomaly.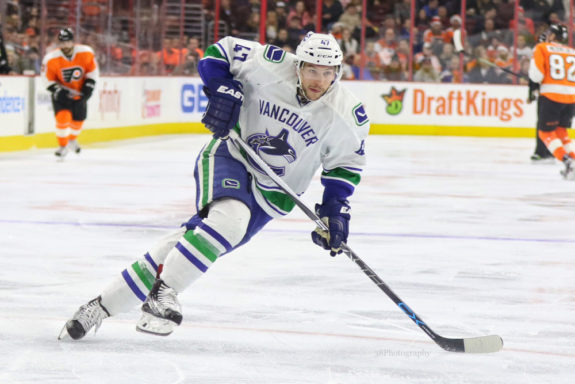 Virtanen Simply Looks Ready
It's early, sure, but through training camp and into the first two games of the pre-season, Virtanen looks ready to shove his way onto the Canucks roster. He kept fans updated on social media during the summer that he spent the off-season focussed on eating right and working out in preparation for 2017-18. Virtanen showed up 16 pounds lighter than last year and talked about wanting to be a game changer for the Canucks.
In the Canucks two pre-season games thus far, Virtanen has definitely been noticeable. In the first game against the Kings on Saturday, he led the team with five hits and scored a goal in the second period as the Canucks won 4-3 in overtime. His solid play was rewarded by Green as Virtanen was tapped to start overtime on Horvat's wing.
Sunday's 9-4 loss to the Golden Knights was no masterpiece by any stretch of the imagination, but Virtanen managed to make his mark once again. He had a role in two of the Canucks four goals, creating havoc in front of the Golden Knights net on Boeser's second marker of the game and screened VGK goalie Dylan Ferguson on Philip Holm's goal. Virtanen had an assist, his four shots was second only to Boeser and his two takeaways tied with Anton Rodin for the most on the team.
My colleague Trevor Beggs has Virtanen as a candidate for the Canucks fourth line. It's possible, and if his play continues like it has so far this preseason, he may force the Canucks into making room for him higher in the lineup.
Boeser has shown that he's the top of the Canucks prospect's crop, but Virtanen is definitely knocking on the door. If they both push out some veteran players and are on the roster opening night, it's proof the Canucks rebuild is on course – and the fan base will take a sigh of relief.
I'm a faculty member in the BCIT Radio Arts and Entertainment Program and Operations Manager for Evolution 107.9 FM. Also Assistant GM/Director of Media and Communications for the Port Moody Panthers, Media Relations Director for BC Superweek, and Podcast Host for the BC Intercollegiate Hockey League.