When the New York Islanders acquired Thomas Vanek from the Buffalo Sabres in late October, things were looking up. The Islanders were coming off of a playoff season last year.  They were near the top of the Metropolitan Division at the time of the trade, and it was believed that acquiring Vanek would only improve an already-playoff caliber team.
At the time, it didn't matter that they had to give Buffalo a first round pick in 2014 or 2015, a second-round pick in 2015, and Matt Moulson.  "Who cares about the draft picks? The future is now," was probably the thought going through the minds of many Islander fans. After five straight non-playoff seasons, the time had finally arrived for the Islanders to not only be playing meaningful hockey in April again; but to maybe make a deep run in the playoffs.  It seemed as if the Islanders had finally arrived as a regular force in the Eastern Conference.
Things soon went downhill for the Islanders. They slumped and fell out of playoff contention.  They received an even bigger dagger to the chest, when John Tavares was injured in the Sochi Olympics while playing for Canada, and the Islanders soon learned they'd be without their best player for the rest of the season.  After Vanek declined an extension with the Islanders, GM Garth Snow had no choice but to trade Vanek at the deadline to Montreal , getting back only a second-round pick and prospect Sebastian Collberg.
Snow's inability to get back anything close to what he gave up for Vanek is still haunting the Islanders.  They still have to surrender a first-round pick to Buffalo either this year or next year, and next year's second-round pick for a player that only ended up playing 44 games for the franchise.
After last night's Draft Lottery, the Islanders will have the 5th overall pick in this year's draft, which leaves us with the question: Should they give up that pick this year, and hope to get a lottery pick next year or do they keep the pick and take their chances next year? There's a solid case to be made for both sides, so let's examine both sides.
Should they keep this year's draft pick?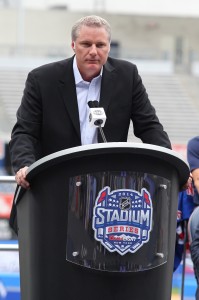 If the Islanders decide to go the path of keeping their 2014 pick and giving Buffalo their first-rounder next year, there are a couple of things to consider. The Islanders would have the 5th overall pick in the draft, which means they'll likely get a pretty good prospect at that position. Anytime you have a top-five pick in the draft, you're in a very good position to build your team's future.
It's no guarantee that the Islanders will have a pick this high next year.  You have to remember: This team was just in the playoffs last season, and with Tavares likely back in time for next season, how far away from going back can they really be? A few tweaks here and there, and who knows what can happen.
People may look at the Islanders and think that being in the lottery again next season is a foregone conclusion. That isn't necessarily true.  The Islanders know what's available in this year's draft, and they know where they're picking. Sure, next season's draft is expected to be much better and deeper, but who knows what they'll be saying about it come this time next year?  There's never any certainty in terms of the level of prospects in any draft, in any sport.  If the Islanders see some prospects that they really like at the No.5 position this year and decide to keep the pick, it'd be hard to argue with that decision.
Give up this year's draft pick?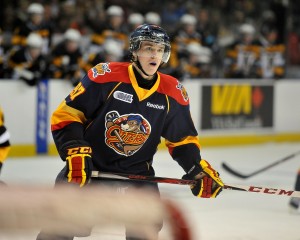 The Islanders could give Buffalo their 2014 first-rounder, in hopes of getting one of the big-time prospects that are expected to be available in 2015, such as Connor McDavid or Jack Eichel.
The 2015 draft is expected to be much better than this year's, with McDavid and Eichel headlining it. It would be a big gamble for the Islanders to surrender this year's pick in hopes of getting a great prospect next year, but if they're able to get McDavid or Eichel (who are regarded as possible "franchise-changers"), wouldn't it be worth it?  If they get one of those players, they could potentially have what Pittsburgh has: Two "star" players, like Pittsburgh having Sidney Crosby and Evgeni Malkin. The Islanders could have John Tavares and one of the big 2015 prospects (if they pan out) as a nice core of two young, elite-type players to build around.
Even if the Islanders don't get lucky with a lottery pick, with how highly-regarded the 2015 draft class is, they'll have to weigh the question as to whether they can get someone in next year's draft, no matter where they're picking, that would be better than what they'd get at the No.5 pick this year.
Another option, if they don't get a lottery pick, at least they'd have a first round pick next year that they could potentially use to trade up in the first round to maybe snag one of those big prospects.
It's going to be a tough decision for Garth Snow, either way. On one hand, you have the 5th pick this year, and on the other hand, you can give that up and potentially have a No.1 or No.2 pick next year if the Islanders have a bad year.
The Islanders have until June 1st to notify the Sabres of their decision.