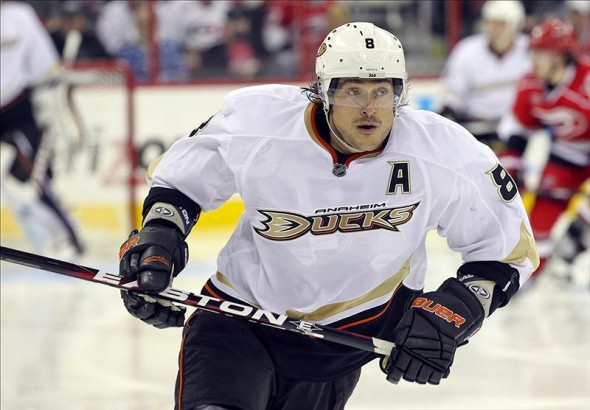 Welcome to the greatest part of the year in the greatest sport in the world. Two months of grueling, physical hockey featuring the most gutsy plays made by guys who are probably hiding injuries. If you're a Ducks fan, you have even more to be excited about, as Anaheim enters the first round tops in the West and finishing just one point back of a Presidents' Trophy. After facing some tough competition to end the year, the Ducks will try to build on their momentum and face a Stars team that squeezed themselves into the playoffs thanks to a Coyotes squad that faltered down the stretch. However, we all know what happened last time the Ducks fared after having a masterful season and facing a team that barely made the playoffs. With that in mind, here's a by the numbers preview of the Western Conference's number one seed Anaheim Ducks vs. the number eight seed Dallas Stars.
Regular Season
Record: 54 – 20 – 8. Last 10: 7 – 2 – 1.
Home: 29 – 8 – 4. Away: 25 – 12 – 4
Goals for: 263 (1st). Goals Against: 203 (9th).
Powerplay: 16.0 (22nd). Penalty Kill: 82.2 (13th)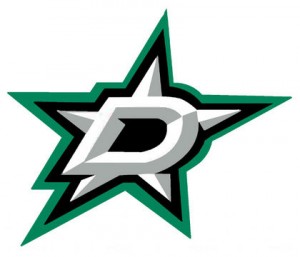 Record: 40 – 31 – 11. Last 10: 6 – 4 – 0.
Home: 23 – 11 – 7. Away: 17 – 20 – 4
Goals for: 231 (10th). Goals Against: 223 (17th).
Powerplay: 15.9 (23rd). Penalty Kill: 81.4 (21st)
Both teams have excellent records at home, but Anaheim doesn't seem to mind where they play. If this series is to go to seven games, Anaheim's home-ice in game seven will be a distinct advantage as the Stars are middling on the road. Special teams will most likely not be a deciding factor in this series as neither team ranks anywhere near the top ten in either powerplay or penalty kill. With that being said, if one of these squads manages to click on the mad-advantage, it could mean a sweep for Anaheim or an upset for Dallas. Where the difference will most likely be made is five-on-five, in which Anaheim has 192 goals-for (1st) and a 1.39 ratio (2nd). Dallas isn't too shabby at even strength either, potting the seventh most goals with 159, but boast a meager 1.04 ratio (13th). Also, check this out: http://www.extraskater.com/players/standard?type=rate&sit=ev
Offence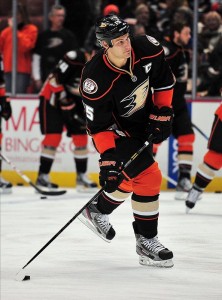 Heavyweights
Ryan Getzlaf: 31 – 56 – 87 (2nd overall in points).
Corey Perry: 43 – 39 – 82 (5th overall in points).
X-factor
Nick Bonino: 22 – 27 – 49
Sleeper
Saku Koivu: 11 – 18 – 29
Veteran
Teemu Selanne: 9 – 18 – 27
Heavyweights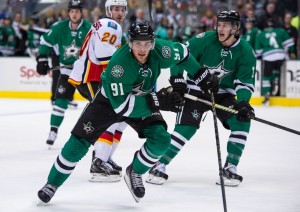 Tyler Seguin: 37 – 47 – 84 (4th overall in points).
Jamie Benn: 34 – 45 – 79 (10th overall in points).
X-factor
Alex Chiasson: 16 – 13 – 29
Sleeper
Erik Cole: 9 – 18 – 27
Veteran
Ray Whitney: 9 – 23 – 32
This series features four of the top ten scorers in the league. If you like goals, action, or just genuine fun, watch this matchup, because there will be plenty of it. Anaheim is a grinding/cycling team who will put up goal after goal simply by tiring you out. Dallas is a team full of Barry Allens, who will score three times before you saw the first one go in. Anaheim's best approach is board play, something Dallas will try to avoid in their own end at all costs. If the series finds itself grinding back and forth toward a draw, Bonino or Chiasson could be the ones who tilt the seesaw in their favour. Both young players have provided a measure of consistency and secondary scoring that will be especially important to any team hoping to go deep. The sleepers in this case are players who have had a ton of experience in their career, but have both declined this season to the tune of 29 points each. If either of them get hot (especially Koivu with his 58 points in 67 playoff games) they could bolster secondary scoring and really put the final nail in the coffin. In terms of veterans, what more needs to be said about these two? With 3002 games between them (regular season and playoffs), Selanne and Whitney own the veteran leader role. The young guys will look up to the seasoned, grizzled forwards who have braved the battlefronts (before some of them were even born) for assurance when times are tough.
Defence
Neither team has any defensive superstars, and both will struggle to maintain any sort of stability in this series. Bruce Boudreau and Lindy Ruff will be spreading the ice time fairly evenly so as not to exhaust all stores of energy against Anaheim's grinding and Dallas' speed. Cam Fowler and Alex Goligoski lead their teams with 36 and 42 points respectively and have been sturdy all season. Hampus Lindholm has been a great story this year in Anaheim, registering 29 points in his rookie season and playing some tough minutes. Trevor Daly is the only player who was on the Stars the last time they were in the playoffs. He scored the game winner in the Stars' final game of the season and added an assist to help boost them past the Coyotes. Daly will need to build on that to create a stronger defensive corps against a sturdy Ducks roster.
Goalies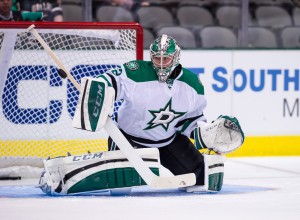 Kari Lehtonen went 33 – 20 – 10 over the course of the regular season, playing more games than any other goalie this year without even passing his personal record (69 games). His .919 SV% and 2.41 GAA are the second best numbers he's posted in his career and he will be heavily relied upon in the playoffs. Lehtonen played more minutes than anybody, faced the second most shots (and has the second most saves), and finished in a tie for first in assists among netminders with four.
This is where things get interesting. Jonas Hiller, who was Anaheim's number one for the bulk of the season, and holds an impressive record of 29 – 13 – 12, will be sitting out the first game. Due to a loss of confidence in the final stretch of the season, rookie keeper Frederik Andersen will be donning his pads in game one tonight. Andersen could potentially make a case for rookie of the year, blowing every other rookie goalie out of the water and surpassing many veterans. Andersen finished 20 – 5, with a sleek 2.29 GAA (10th overall) and .923 SV% (8th overall). The rookie Dane will make his first playoff appearance in his first season and will try to lead the Ducks past the first round for the first time since 2008-09.
Season Series
October 20: ANA (6) – DAL (3)
November 26: DAL (6) – ANA (3)
February 1: DAL (2) – (0)
The Stars shocked the Ducks by taking two of three this season. They were also one of only two teams to shut out the offensively gifted squad. Though Dallas managed to best Anaheim twice, journalists, athletes and pundits still pick Anaheim almost unanimously. Here's a compilation of
predictions: http://www.anaheimcalling.com/2014/4/16/5614006/anaheim-dallas-expert-predictions
Dates
Ducks-Stars schedule: GM 1 Wed, GM 2 Fri, Game 3 Mon, Game 4 4/23, Game 5 4/25 (TBA), Game 6 4/27 (TBA), Game 7 4/29 (TBA).

— Eric Stephens (@icemancometh) April 13, 2014
Eric Stephens has you covered.
Now go on. Get out of here. You should all ready be on your couch with beer in your left hand and the converter in your right. Enjoy!