After months of speculation, coveted college free agent Jimmy Vesey has signed with the New York Rangers.
OFFICIAL: #NYR have agreed to terms with free agent forward Jimmy Vesey. #JVtoNYR pic.twitter.com/ZlMEKTtRII

— New York Rangers (@NYRangers) August 19, 2016
For the Blueshirts, not only will the 23-year-old Vesey add another dimension to their forward corps, but the acquisition puts them in a better position to address their glaring weakness: their defensemen.
Where Vesey Fits
There has been a lot of hype around Vesey, and the aggressive courtship that came from multiple teams throughout the past week did nothing to reduce that. Vesey, however, is not the second coming of Wayne Gretzky. The reason for the hype is that he is a young forward who can probably contribute in a top-nine, and perhaps top-six, role for an NHL team right now, at a low cost. In the age of the salary cap, having a solid player on an entry-level contract is a big deal.
As far as where he fits with the Rangers, he helps give them a very deep set of forwards. New York boasts Mats Zuccarello, Rick Nash, Derek Stepan, Chris Kreider, Mika Zibanejad, J.T. Miller, Kevin Hayes, and Pavel Buchnevich up front. Add Vesey to the mix, likely on the third line but perhaps in the top six eventually if he proves himself, and they have what appears to be a very promising top nine. If head coach Alain Vigneualt can show trust in his youngsters, it's possible that the Rangers could at some point form a third line of Hayes centering Vesey and Buchnevich. That could prove to be one of the more dynamic third lines in the entire league.
Welcome to the @NYRangers @19Vesey. Childhood teammates to playing at MSG. Fans get used 2 this saying #thatwasvesey pic.twitter.com/eM2gKKGmC9

— Kevin Hayes (@KevinPHayes12) August 19, 2016
Vesey gives the Rangers more depth and more options and helps the team create matchup nightmares for opponents.
As I wrote last week, though, could his signing lead to further moves?
Trade Options
In addition to how Vesey himself can help the Rangers on the ice, his acquisition is also key in that it puts the club in a better position to address it's mediocre (to put it kindly) group of defensemen.
The team's forward depth is now exceptional. For the fourth line, the Rangers have a slew of capable players who will be battling to round out the roster (Tanner Glass is not included in this list): Jesper Fast, Michael Grabner, Josh Jooris, Nathan Gerbe, Nicklas Jensen, Marek Hrivik, and Oscar Lindberg once he fully recovers from his hip surgery. Fast is a lock, and could even still play in the top nine like he did last year. The story is similar for Grabner.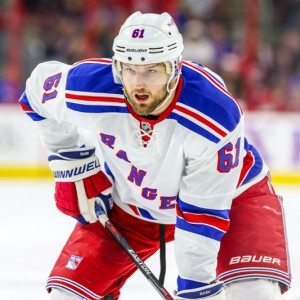 With a glut of forwards who cannot all play on a regular basis, the Rangers not only have the flexibility to trade one or more of them, but it actually seems logical that they would. Since they are weak on defense, with Marc Staal and Dan Girardi still bringing the group down, and without the puck-moving capabilities of the departed Keith Yandle and Dan Boyle, they should look to deal from a position of strength to improve their one glaring deficiency.
With Vesey now in the fold, perhaps trading a top forward like Rick Nash, and/or a depth player like Lindberg would be easier subtractions to absorb. If they want a quality defenseman (Kevin Shattenkirk, anyone?), they will have to pay a price. The presence of Vesey makes that price more palatable.
It is, of course, possible that the Rangers are content to give things a shot with this strong forward group and of course the elite goaltending of Henrik Lundqvist, with the unrealistic hope that Girardi and Staal bounce back. But since they now have more options for ways to potentially round out their team and fill their gaps, it would be foolish for them not to explore doing so.