Jimmy Howard wasn't the Jimmy Howard Detroit Red Wings fans got used to seeing last year. It doesn't help that Howard has lost Nicklas Lidstrom, Brian Rafalski and Brad Stuart in recent years, but he also hasn't been the same since his 2.13 GAA, .920 save percentage marks he put up in 2011-12.
Howard came into the beginning of the 2014-15 season with confidence and ready to prove to the NHL he belongs in the discussion of top goaltenders. He worked on his technique in the offseason and came to training camp with a slimmed-down physique.
Numbers Speak for Themselves
He surrendered just two goals to the Boston Bruins last night in a 3-2 shootout loss. In three games this season, Howard has 1-1-1 record, 1.95 GAA and a .927 save percentage. If not for a controversial no call on Anaheim's Ryan Getzlaf in a 3-2 loss, Howard easily could be undefeated in regulation.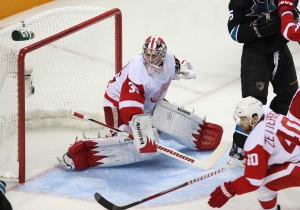 Obviously, those numbers are inflated because he has played in just three games, but if Howard can sustain production similar to what he has done through the first three games, then he will be in talks for Vezina Trophy consideration near the end of the season.
Two of Howard's games have come against the Bruins, who are ranked 28th in the league in scoring. However, the New York Islanders put up six goals on Henrik Lundqvist — believed to be one of the top goaltenders in the league — and the New York Rangers just two nights ago, so any team is capable of busting out of a scoring slump.
Howard made 37 saves against the Bruins on Wednesday, many of which came on second-chance opportunities, including these saves near the end of the game that kept the score tied.
Howard nearly stole the game and definitely stole one point for the Red Wings against the Bruins, and defenseman Niklas Kronwall agrees, telling MLive.com's Brendan Savage:
"Howie won us a point tonight. A performance like that you feel bad for not getting two points. Howie came up huge and kept us in the game after two periods, gave us a chance.
"And again in the third he saved us a couple of times, if not more, so we owe this point to Howie."
In addition to being solid at even strength, Howard has been the Red Wings' best penalty killer, stopping all 13 shots he has seen on the PK in helping Detroit remain perfect (10 for 10) on the man disadvantage. Thirteen shots on 10 opportunities is a ratio the Red Wings would like to sustain. The penalty killers in front of Howard have been solid, but Howard has come up big when his team needs it.
It's too early to proclaim Howard the favorite to win the Vezina Trophy. A lot can happen between now and the beginning of April.
However, in three games this season, Howard has put last year's forgettable season behind him and looks better than ever. Should Howard continue to produce like he has been, his name will definitely pop up in Vezina Trophy talks down the line.