The Nashville Predators appeared poised Wednesday to be tapped for the 2016 NHL all-star game. The NHL is expected to announce the selection at a Friday press conference. City and team officials appeared reluctant to make significant statements prior to the official announcement, but their words often seemed barely constrained.
"I don't think it's any secret that we've been chasing it pretty hard with the Predators and mayor's office," Nashville Sports Council CEO Scott Ramsey told the Tennessean.
Gerry Helper, the Predators head of communications and public relations, was even more to the point, saying, "We look forward to Friday's announcement."
The expected announcement will serve as a twin capstone of sorts for Nashville as an emerging hockey market and as a more general tourist draw. Establishing hockey in Nashville has been a prime goal of the current Predators ownership collective, which took control of the team in 2008 after a tumultuous period that nearly lead to the Predators leaving town. To that end, data suggests the all-star game is well timed to coincide with an uptick in Predators interest.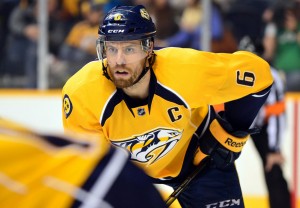 Despite disappointing seasons in 2013 and 2013-14, attendance has remained well above numbers from an earlier era, when Nashville was chosen to host the NHL entry draft. Attendance in the lockout-shortened 2013 season averaged 16,974 in the 17,113-seat Bridgestone Arena, which marked a 99-percent capacity rate. In 2013-14, over a full 41-game home schedule, attendance was off only slightly, averaging 16,600, or a 97-percent capacity, yet paid attendance increased. By comparison, in the 2002-03 season, just prior to hosting the 2003 draft, the Predators averaged just 13,228 fans a game.
More generally, the Predators have been reaching out to the community by increasing the availability of ice in the city. The team helped to open the Ford Ice Center in September, a two-sheet rink with all the hockey amenities on the eastern outskirts of Metro Nashville. More rinks are planned.
Another boost for the all-star game locally is the very high likelihood that the Predators will be well represented in the game. Shea Weber has emerged as a perineal all-star, and Pekka Rinne, particularly after a strong showing in this year's IIHF world championship, has proven an elite goaltender. Craig Smith, who last year posted 24 goals and 52 points, may be ready to emerge on to that level. All three men are Predators drafted and developed. James Neal, this summer's prime acquisition from Pittsburgh, may also be a strong contender.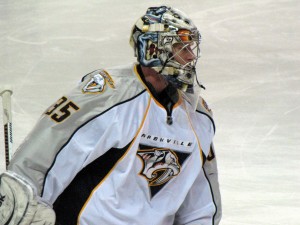 The city is no stranger to hosting major sporting events. In 2013, the city announced a long-term agreement to host nine Southeastern Conference men's basketball tournaments and three women's tournaments through 2026. The city also regularly hosts several college-football games at its NFL stadium, LP Field.
A new convention center with associated hotel space just opened, which will reportedly be used in all-star festivities, and there are more hotels planned. The downtown district is still experiencing a revival and restoration now going on 20 years, and the city is labeled one of the fastest growing cities and economies in the U.S., drawing the attention of national media such as the New York Times.
It is a perfect storm in which the NHL all-star game may now have the chance to play a part.
Alex is a native of Nashville, Tennessee. He has four years of reporting experience, both sports and news, mostly in newspapers. He holds a M.S. from the Columbia University Graduate School of Journalism, in New York City, and a B.S. in journalism from Middle Tennessee State University. He is a former news and sports editor at the MTSU student paper, Sidelines, and interned at the Tennessean. Raised in a football family, he left the reservation and found an obsession in hockey.