Toronto Maple Leafs Turning Back to Jonathan Bernier?
Despite the recent strong play of James Reimer, it appears the Toronto Maple Leafs will be returning to Jonathan Bernier in net when they visit the Detroit Red Wings on Friday.
Jonathan Bernier was the first goalie off the ice at practice, suggesting that he could start Friday with James Reimer to follow Saturday.

— Jonas Siegel (@jonasTSN1050) October 16, 2014
Bernier got the first two starts of the new season for the Leafs, but they weren't exactly highlight-reel quality performances from him. He opened the season for the Leafs by allowing a questionable goal to Montreal Canadiens forward Max Pacioretty, then promptly piloted the team to two straight loses.
The poor showings – Bernier conceded nine goals across the two games – caused immediate panic in Toronto and opened the door for Reimer to start against the New York Rangers last Sunday.
The proverbial ball (puck?) was back in Reimer's court.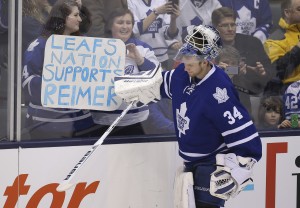 Reimer survived a flurry of shots to open the game before Toronto's offence finally woke up and hit perennial all-star Henrik Lundqvist for six goals. He was rewarded for the 6-3 win with a second straight start – this time against the Colorado Avalanche.
Once again, Reimer was solid to open the game, turning aside 11 shots in the first period and helping the Leafs win their second game in a row.
The decision to start Bernier on Friday, however, shouldn't be read as a slight against Reimer. Toronto plays in back-to-back contests this weekend, so Reimer should still see a start on Saturday.
What are your thoughts on the move? Do you support it? Is it another example of head coach Randy Carlyle mishandling James Reimer?
Let us know what you think in the comments section below.
---
Follow me on Twitter for regular posts about sports (especially the Toronto Maple Leafs and the Toronto Blue Jays), politics and other news topics: @williamefwilson