Part of what was frustrating for many Ranger fans during the John Tortorella era in New York, among other things, was his seldom willingness to allow line mates to settle in, jell, and build chemistry with one-another. The arrival of Alain Vigneault as head coach was a breath of fresh air for hockey fans in Manhattan in the sense that Vigneault, on the opposite end of the spectrum from Tortorella, was all about keeping line mates together, even if it took them a few games to figure things out in order to find chemistry.
However, given the current state of the Rangers defense, Vigneault was forced during Monday's game against the St. Louis Blues to channel his inner Torts, and put on a hockey version of the Ringling Brothers Circus by mixing, matching, and juggling his defensive pairings in nearly every way possible.
A Skeleton of What Once Was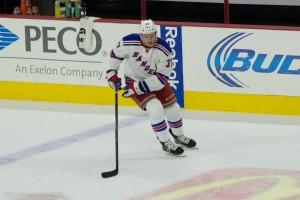 With the absences of Boyle, Moore, McDonagh, and Klein at the blue line, the Rangers were playing without four of their top-six defenseman. This resulted in Matt Hunwick and Mike Kostka playing top-four defensive minutes, while Dylan McIlrath and Conor Allen (combined five NHL games experience prior to last night), rounded out the Rangers' top-six.
Do you really need to know anything else?
Lucky for the Rangers, Hunwick and Kostka really rose to the occasion Monday night, as did the entire group of Ranger forwards, as their collective relentless forecheck, coupled with the big defensive effort and 31 saves from Cam Talbot, helped the Blueshirts earn one point as they eventually fell to St. Louis in a shootout.
Hunwick even earned the primary assist on Chris Kreider's first period power play goal, as Kreider deflected his shot from the point past Blues goaltender Brian Elliot.
However, it didn't change the fact that Alain Vigneault still had to be very diligent in order to not to have the wrong defensive pair out at the wrong time. He also had to, in a sense, shelter the recent call-ups in Dylan McIlrath and Conor Allen.
While Allen played just fine in his 13:03 of ice time, McIlrath was less-than stellar. The former first round draft pick of the Rangers had just over eight minutes of ice time Monday, but spent nine minutes in the penalty box. He also fought St. Louis forward Ryan Reaves during the first period, a fight which Vigneault later commented on, saying that he isn't sure "how much room is left in the game for that now."
AV applauds Dylan McIlrath's "courage" for fighting Reaves. But "I don't know how much room is left in the game for that now."

— Andrew Gross (@AGrossRecord) November 4, 2014
Bottom line? It was a useless fight, and McIlrath didn't make a very strong case for himself to stay with the big club.
For Vigneault though, this all still resulted in him needing to mix and match the defensive pairings all night long.
Organized Chaos
The Rangers started the evening with Staal being paired with Kostka, Girardi with Allen, and Hunwick with McIlrath. McIlrath went on to play with Allen, Staal, and Kostka. Hunwick, who started with McIlrath, went on the play with Girardi, Staal and Kostka. Allen, who started with Girardi, proceeded to play with McIlrath. Eventually, even Staal and Girardi got a chance to play with each other.
Making your head spin yet?
Vigneault didn't really have a choice, though. With his penalties, McIlrath essentially put the Rangers down to five defenseman for a large portion of the evening, so it took a "Tortorellian" type effort from the Ranger head coach to patch up all the holes.
And as spot on as Vigneault was for the majority of the night, he did have one lapse in judgment which cost the Rangers. When Vladimir Tarasenko tied the game at one on the power play during the second period, Mike Kostka and Dylan McIlrath, not exactly your shutdown duo, both wound up on the penalty kill at the same time. How that happened is beyond me, and probably beyond almost every Ranger fan on the planet, but it happened, and the Blues made the Rangers pay.
I suppose when you aren't John Tortorella, some can just slip through the cracks.
Reunited and Looking Forward
It should've come as a surprise to nobody that when Staal and Girardi did finally get the chance to play alongside one another, albeit for a short time, the two blue liners arguably played their best hockey of the night, as they helped the Rangers kill off a big penalty during the third period of the game (Why they weren't also on during Tarasenko's second period goal is questionable). Due to the circumstances, though, that was not commonplace during Monday's game, and probably won't be moving forward into Wednesday's game against the Red Wings.
In a night where the focus was in large part on the Rangers blue line, two parts of the Rangers offensive game that should not go unmentioned were, one, the play and chemistry of Rick Nash and Martin St. Louis. St. Louis score twice last night in the losing effort, with one of his goals coming off of a gorgeous cross-ice feed from Rick Nash.
And two, was the play of the newly established Kreider-Hayes-Stempniak line. On a couple of occasions during the third period, those three were absolutely electrifying, including one net-mouth scramble where there seemed to be a force field around Brian Elliot which somehow kept the puck out of the net. If Vigneault decides that it is a line worth holding onto, that could without a doubt be a trio to be reckoned with in future games.
As of this moment, it's very unlikely that Kevin Klein will return to the Rangers lineup on Wednesday against Detroit. Chances are pretty good that Vigneault will again need to put forth his best Tortorella impression in order to go back to work with the depleted defensive core of the New York Rangers.
Jake Gittler is now in his second season as a contributing member of The Hockey Writers. After spending the 2014-15 season working in Communications for Adirondack Flames of the AHL and covering the New York Rangers here for The Hockey Writers, Jake's coverage has been switched over to the Colorado Avalanche for the 2015-16 season. Jake can be reached via email at Jakegittler@gmail.com, or on Twitter @Jgittler_hockey.