Two years ago, the Tampa Bay Lightning bought out a contract of one of their best players in franchise history. Vincent Lecavalier was just four years into a massive 11-year/$85 million contract that carried an annual cap hit of $7.727 million. His last season with Tampa was in 2012-13 and it was an injury plagued campaign where he only played 39 of 48 games. However, he was still very productive while on the ice as he scored 10 goals, assisted on 22 more and was a -5 skater.
On paper, the year was perfectly acceptable for the cap hit of his contract, but Tampa noticed a problem. Lecavalier was beginning to slow down and was more prone to injuries as he aged. In his last three seasons with Tampa, Lecavalier played in 168 games out of 212 total. They saw the decline in production, his age and injury problems and used one of their compliance buyouts on his contract.
Lecavalier's Tenure with the Philadelphia Flyers
The Philadelphia Flyers saw this as a gold opportunity. Former general manager Paul Holmgren gave Lecavalier a five-year/$22.5 million contract with an annual cap hit of $4.5 million. On paper, the contract was more than reasonable for both sides and frankly, it's still better than some recent contract signings.
How to lose your GM job in 4 years:

Bryzgalov 2011 – 9yr, $51m
Lecavalier 2013 – 5yr, $22.5m
MacDonald 2014 – 6yr, $30m

— Ryan Bright (@philabright) October 5, 2015
There's a notion that Lecavalier is old, washed up and can't play hockey at a high level. This has followed him throughout the last two years. In his first year as a Flyer, Lecavalier scored 37 points in 69 games played, or .53 points-per-game. Then in 2014-15, he followed that up with 20 points in 57 games played, or .35 points-per-game.
And again, there certainly are far worse contracts in the NHL, but the decline in point production has not been all Lecavalier's fault. Since the 2010-11 season, his time on the power play has consistently fallen. In 2010-11, Lecavalier played 4.01 minutes per game with a man advantage, 2011-12 that fell to 3.47 minutes per game, in 2012-13 that was down to 2.99 minutes, 2013-14 that fell to 2.31 and last season it was down to 1.83 minutes per game.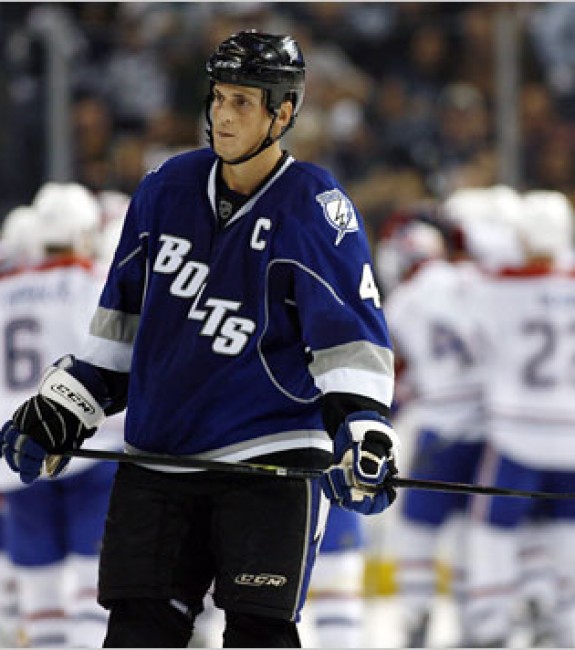 The power play has always been where Lecavalier has scored many of his points. In his career, he's scored 411 goals and 121 of them came on the power play. It's no surprise with a decline in time on the power play, his scoring has fallen. His overall time on ice has also been falling consistently since the 2011-12 season when it was 18:56 per game, to last season when he only played 12:39 per game.
Lecavalier is by no way a perfect player, and he never was. He's been considered a defensive liability for years and the advanced stats back up that analysis. At even strength, Lecavalier has not had a season with a positive (above 50%) corsi for percentage since his second year in the league when he posted a 53.01 corsi for.
He's not a shutdown forward and asking him to play like one is crazy, especially at this stage in his career. The fundamental problem with Lecavalier's time in Philadelphia has been improper usage and that is completely out of his hands.
There are some theories about how the Flyers can jump start his production and there aren't any revolutionary ideas. Lecavalier needs to play as a center, he will not thrive on the fourth line and he needs power play time.
He's frustrated by not playing and that's a fact. Lecavalier hates watching games from the press box and when you're not consistently playing it's hard to get into a rhythm.
It's tough There's no flow. You're just not warmed up. I try to go when there's whistles, just skate around. The last couple of years have been like that. You kind of have to battle through that. I never understood that before. But it's tough to play so little minutes and stay warm because you can't. I want to make a difference
With the injury to forward Pierre-Edouard Bellemare, Lecavalier has been given a chance. It's certainly not a great chance to make an impact, as they're deploying him on a checking fourth line. But in just two games played, Lecavalier has an assist and has looked impressive. It is just a small sample, but he's showing that he still has some gas left in his tank.
He's not the only Flyer proving he's still got value either, forward Sam Gagner has been doing the exact same. He was considered a throw in from the Arizona Coyotes, but Gagner has been excellent this season. Lecavalier needs a chance like Gagner was given. He needs a chance above the fourth line, he needs power play time and some decent linemates.
No, Lecavalier will not be a shutdown center for the Flyers, but he could lead an effective scoring third line if given the chance. A lot of people look at his decline and blame it on his age, but really he has never been used properly by the Flyers. Some others believe his contract, is outrageous, and given how he's been used it kind of is, but there is no doubt that Levavalier at $4.5 million is better spent than R. J. Umberger's $4.6 million.
Thanks for reading! Feel free to leave your comments below or tweet me anytime@MPityk
Michael Pityk is an analyst who has written for numerous sites since beginning his professional career. He's acted as a credentialed member of the media for the Philadelphia Phillies, Philadelphia Flyers, Pittsburgh Pirates and the Pittsburgh Penguins. His work has been featured in Sports Illustrated, The Sports Journal, MSN, PensLabyrinth, Montreal Hockey Talk, ESPN Pittsburgh, The Hockey Writers, Todays SlapShot and The Bleacher Report. He formerly was the editor of Pens Labyrinth and an analyst for The Sports Journal. Michael presently acts as an NHL Analyst for The Hockey Writers