A hockey arena in an intense playoff atmosphere is the last place I would ever expect to hear a cowbell, but lo and behold, there was one clanging every so often at the Verizon Center in Washington this afternoon when the hometown Capitals saw themselves lose to the New York Rangers 1-0, in an exciting nail-biter that saw the Rangers take an unexpected 2-0 series lead.
It's not often that I ever mock an opposing team's fan base because I have certain morals that include "never questioning a person's fandom". But after watching two games in the Capitals' home ba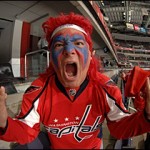 rn, I found myself not rooting against the Capitals, but rooting against their idiotic fans that never seemed to find an excuse to make noise. You would think that making noise is what you are supposed to do as a fan, and that is correct; but not to the point where it becomes obnoxious.
Every time a Capital player slammed into the boards, whether a Ranger was there or not, they would yell and scream as if they don't even know what a body check is, but hey if the glass moved I guess a Ranger just got plastered. They booed offsides and icings and when a puck was shot into the Rangers' bench, they screamed in shock and disbelief that a penalty wasn't called. I guess someone should inform them that it isn't a penalty unless the puck goes in the crowd. But then again, maybe they would expect an additional penalty if a fan got hit in the face with a frozen piece of rubber known as a puck.
This article is not meant to insult the fans of the Capitals that are actually die-hards because I know there are many that suffered through the dark ages of Caps' hockey and are thrilled to be rooting this team on now. But the amount of fans that have jumped on the bandwagon is just ridiculous. There is nothing wrong with cheering on a team, but to do it without a inkling of hockey knowledge is where the line should be drawn.
My friend has told me that last season, a friend of his who is a fan of the Capitals witnessed fans of his own team returning Capitals jerseys they had bought at the team store the night they were eliminated by the Philadelphia Flyers. These are probably the same fans who threw water bottles and pieces of plastic onto the ice after the Rangers won game one; not only showing their immaturity, but also putting the health of the players and on-ice officials at risk.
Fact of the matter is, the majority of these fans have only been fans of this team after the lockout, and maybe even later then that. They know their Ovechkin, and their Green, and Semin, and of course Jose Theodore, only because has been terrible. But I bet that they can't even name ten players outside of the own team. The Capitals fans like to think that their "Rock the Red" slogan is passionate, but I just find it noisy and obnoxious.
P.S: Try chanting "Let's Go Capitals" next time instead of "[Insert opposing team here] Sucks" because it might actually pump your team up. After all, you do know the name of the team you're rooting for, right?