The present state of the Flyers' salary cap has GM Ron Hextall shackled like a violent criminal. This isn't breaking information. And as every day that passes without a move to upgrade the overall team, the frustration over Vinny Lecavalier's five-year, $22.5 million contract grows larger and larger. But is forcing a Lecavalier trade the best course of action from an organizational standpoint?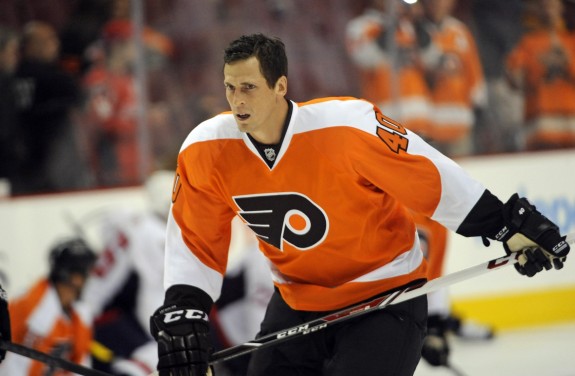 A Complicated Situation
It's a shame that Vinny Lecavalier's massive contract, which accounts for a $4.5 million yearly cap hit, has overshadowed what the 15-year veteran can bring to a team. It's also reasonable to sympathize with the former Stanley Cup champion since he signed with Philadelphia under the impression that he'd thrive in Peter Laviolette's offensive scheme. But after Laviolette was fired early last season, it appears that Lecavalier is the victim of the old bait and switch, even if it was completely unintentional.
Former GM Paul Holmgren wooed Lecavalier away from numerous suitors after missing the playoffs the season before. And despite a league-wide ninth ranking in goals per game, the Flyers moved to replace Daniel Briere, who was bought out with one of two compliance buyouts.
"Approximately 15 teams were confirmed to show interest in Lecavalier over the past weekend, with at least nine of them meeting personally with the star center at the NHL draft in NY/NJ." — Pierre LeBrun (July 2013)
With the scenario Lecavalier anticipated in Philly pulled out from under his feet, the four-time All-Star was shuffled through the lineup, bouncing between positions and lines, to find a fit. And despite amassing 37 points over the course of 69 games, Lecavalier just couldn't find a comfort zone outside of his natural center position.
In late March, Flyers coach Craig Berube opted to move Lecavalier back to the middle by demoting him to the fourth line. An obvious disappointing turn of events for the former number one overall draft selection.
"It wasn't working where it was, so I put him back in the middle, and it's where we're going to start right now," said Berube.
I feel bad at just how disrespectful the impending Lecavalier trade situation is to the guy. He's essentially being bought out twice.

— Baxter (@Landcross) July 4, 2014
When Flyers signed Lecavalier, an exec told me he'd be first player to be bought out twice. If Flyers dump him, pretty close.

— Nick Cotsonika (@cotsonika) July 3, 2014
While the shake up appeared to pay off, it's hard to consider paying a fourth line player the type of money Lecavalier is making. And after a disappointing post-season showing, which included a promotion to the second line, the overwhelming majority have come to a verdict that the Vinny Lecavalier era in Philadelphia just isn't working.
But at this point, a forced Lecavalier trade has a growing probability of counter-productivity.
Perception Of Value
No one is going to get away with running the faucet sink and claim it's raining in regards to Lecavalier's contract. It's not so much the $4.5 million yearly cap hit as much as it's the number of years it rests in the Flyers' books. And even though Lecavalier is a couple years past his prime, he unquestionably has a few dependable road trips left in the gas tank.
This is not an endorsement to bolster the aging forward to the top line. It's not even necessarily a call to the organization to retain him. But when matched up against this year's free agent market, Lecavalier's contract wouldn't be so terrifying if it were being dispensed by a team without salary cap issues. After all, Dave Bolland now carries the highest cap hit among all Florida Panther forwards after autographing a five-year, $27.5 million deal on July 1st. And as Bolland's 26 points over the past two seasons shows, Lecavalier's current contract is far from the worst in the league.
"I'm going to be there to be a leader," Bolland said after signing with Florida. "I've been to two Stanley Cup finals and I've been in those trenches. I want to be there to help some of these young guys up and get in the playoffs and show them what it's about, to go far and how much fun it is."
Bolland's post-season experience and fortune of being in the right place at the right time still doesn't pull him within the same area code of Lecavalier. Even with Lecavalier's past injuries, he's been astoundingly more durable, and indisputably serves as the better scoring threat; mobility issues and all.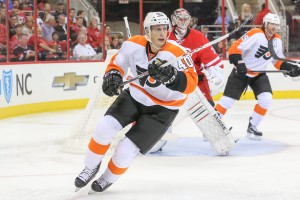 But the Panthers weren't showcasing Bolland as their prized signing. Panthers GM Dale Tallon was working against the antithesis of what Hextall finds himself up against in regard to the salary cap. Even after reeling in Bolland, Jussi Jokinen, and Shawn Thornton, Florida still stands as the 24th highest payroll in the league. Furthermore, Lecavalier's skating ability has dropped off, which doesn't quite match Hextall's vision for a team that represents the organization's name.
On the other hand, however, Lecavalier's skating issues can be attributed to injuries suffered last season. Bad wheels and all, Lecavalier still scored 20 goals last season, while adding eight power play points, and three game-winning goals. Should the Flyers hold onto their cherished free agent signing from a year ago, they'll have the "experience" that Bolland found to be marketable to supplement with a still very dangerous left handed slap shot.
What's a Lecavalier Trade Worth?
Speaking of Dave Bolland, the team that signed the overvalued forward previously gave the Flyers their chance to unload Lecavalier. Not only were they willing to take on his contract before his July 1st $2 million bonus kicked in, the trade that fell through would've landed the Flyers the top overall pick in last month's NHL Entry Draft.
"We were close," declared Tallon. "They made a legitimate attempt. We had a number of conversations with Ron. They teased me. It was not an easy decision. They were willing. It was enticing."
Without laying fault on Hextall, who apparently offered everyone on the roster outside of Claude Giroux and Sean Couturier, the Flyers were within a sniff of clearing up major cap space, while acquiring Aaron Ekblad and Erik Gudbranson. Lecavalier, of course, was offered in the assorted offers. But after lapsing on the potential blockbuster deal, it's back to reality for the Flyers. A reality that includes Lecavalier as of July 2nd or beyond.
Even when the Ottawa Senators came calling, the reported stipulations represented a prank rather than a negotiation. While it's understandable that Senators GM Bryan Murray comprehends the Flyers' desire to rid themselves of Lecavalier's contract, the art of the deal was ruined when the terms completely defeated the purpose in the first place.
"Sens GM Bryan Murray may be willing to take Lecavalier, but league sources say he wants the Flyers to pick up a hefty portion of the contract and he also wants something in return — most likely another player or draft pick." — Tim Panaccio, CSN Philly
Lecavalier to OTT? Sens want Flyers 2 pick up salary and want something else for taking him off their hands … #vinnysagacontinues

— Tim Panaccio (@tpanotchRET) July 3, 2014
Lecavalier has four years left at $4.5 million. #Sens don't want that whole contract and the Flyers don't want to eat $2 million.

— Bruce Garrioch (@SunGarrioch) July 3, 2014
In case of confusion, the biggest reason the Flyers are trying to move Lecavalier is his contract. And after losing both Jason Spezza and Ales Hemsky to free agency, Ottawa needs Lecavalier more than the Flyers need to trade him – even with their cap issues.
Apparently, Murray believes Ron Hextall forgot everything he knows about the business overnight. The Sens' rumored demand is so insulting, both Hextall and Flyers president Paul Holmgren will likely be laughing themselves to sleep for the next month.
Lecavalier could still end up in Ottawa, of course, should they make an offer that resembles anything fair. Don't forget, though, that Lecavalier does have a say in where he goes, mentioning before a desire to play in a warm weather market. In the meantime, it's more waiting. If he is eventually moved, the Flyers deserve value.
Come on, it's Vinny Lecavalier, not Nikolay Zherdev.