In less than a week, the Calgary Flames changed the look of their team.
Between the NHL Draft and the signing of free agents, the Flames have added size and talent at every position. It will be awhile before the team is competitive again but there's no denying it's on the right track.
Free Agency: Jonas Hiller
On the first day of free agency, General Manager Brad Treliving added goaltender Jonas Hiller, $9.0 million over two years, to firm up a soft spot in the lineup. Karri Ramo has yet to prove he can carry the Flames on a full-time basis so Hiller will help give the young team more reliable goaltending. Hiller allows the Flames time to develop their young goaltending prospects.
"We've made ourselves deeper at the position, said Treliving. "We've now got competition in the net. We've got a goaltender who finished the season strongly here in Karri and we've got a guy who has been a proven goaltender in the league."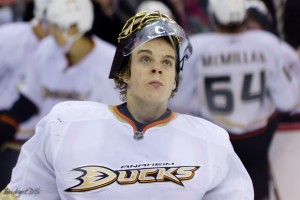 Free Agency: Mason Raymond and Deryl Engelland
Calgary also signed left winger Mason Raymond and defenseman Deryk Engelland to add depth as it inserts young players into the lineup. The signings were made with the Flames' rebuild in mind.
"The term was very important for us," Treliving said Tuesday. "We wanted to keep things three years and under, which we've done on all these contracts. Term in a cap system is what strangles you. You see a lot of long-term deals bought out."
Raymond was signed for $9.5 million over three years and he will help offset the loss of Mike Camallerri. Some fans might wonder why Engelland deserved $8.7 million over three years, a huge pay raise from the $575,000 he made with the Pittsburgh Penguins last season.
"The price tag on Deryk, obviously it's going to get talked about understandably," said Treliving. "We have work to do on the blue-line. We have work to do in terms adding to our reserve list on the blue-line."
The six foot two and 220 pounds defenseman will add size to a small blueline. "As much as we like what Deryk's going to bring to us, it's also buying time until we can go out and acquire those players, draft those players, procure those players in some manner," said Treliving.
"Ours was not the only call to Deryk Engelland. Based on our situation, based on the flexibility we had, we felt it's a very fair price and a price worth paying, knowing the type of person we're getting."
Entry Draft: Sam Bennett
The Flames picked Sam Bennett fourth overall in this year's entry draft, adding a top center with versatility. Bennett plays a similar style as Hall of Fame Doug Gilmour, who was instrumental in the team's Cup victory in 1989. Gilmour also happens to be his OHL coach in Kingston the past couple of years. Bennett and last year's first round pick Sean Monahan could be the one-two punch the Flames are looking for at the center position.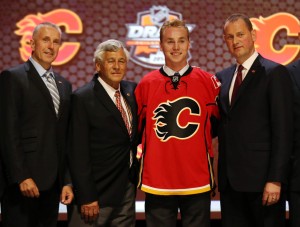 Besides Bennett and Monahan, the Flames also have Marcus Granlund, Max Reinhart, Bill Arnold, Corban Knight, and Mark Jankowski at center.
In the second round, the Flames picked a goaltender prospect in Mason McDonald, who played well for Canada at the 2014 Under-18 World Championship. He was named the tournament's top goaltender with a 1.90 goals-against average and .930 save percentage in six games. The Flames already have Joni Ortio in the AHL and Jon Gillies at Providence College as young goaltenders in the system.
Calgary doesn't have many prospects on the right wing so the team picked a big 6'6" right winger in Hunter Smith from the Oshawa Generals to go with previous draftees Emile Poirier and Tim Harrison. The Flames did not pick any left wingers in this year's draft, since it's the one position with plenty of solid prospects, including Sven Baertschi, Johnny Gaudreau, Morgan Klimchuk and Kenny Agostino.
The Flames also picked up a couple of defense prospects in the third and sixth round adding speedy Brandon Hickey and big Adam Ollas Mattsson. They join Tyler Wotherspoon, Patrick Sieloff, John Ramage, Ryan Culkin, Eric Roy, and Keegan Kanzig as blueline prospects for the Flames.
The Flames still need to officially sign six of their restricted free agents: goaltender Ortio, defencemen Chad Billins and Mark Cundari, centres Lance Bouma and Joe Colborne, and right-winger Ben Hanowski.
Treliving and his staff are rebuilding the Flames the right way, adding solid young prospects while trying to remain competitive and continue the hard working atmosphere created by Head Coach Bob Hartley. A plan is in place that will hopefully lead the Flames back into the playoffs.
Mario now covers the Los Angeles Kings and writes other hockey features. He is an experienced journalist who has covered sports and entertainment in daily and weekly newspapers, magazines and online, including thedigitalbits.com/columns/inside-cinema. He is also the co-creator of The Gaffoos, www.gaffoos.com