The NHL's free agent period began this past week with general managers scrambling to sign players to fit their individual needs. When the market opened on July 1, the signings were happening fast and furious, as social media as well as TV panels desperately tried to keep up with the chaotic pace. In total, over $500 million was spent on players on the first day alone. That broke the record set back in 2009, when $384 million was spent on free agents. And this wasn't supposed to be a strong class of free agents this season.
Questionable Contracts
Some of these deals were absolutely ridiculous. Dave Bolland signed a 5-year, $27.5 million deal with the Florida Panthers.
Bolland, who is still basking in the glory of his Stanley Cup winning goal while with the Chicago Blackhawks in 2013, was injured for most of last season, thanks to a severed tendon in his ankle due to a skate blade, is not worth $5.5 million per season. It is outrageous but Bolland will earn the same amount of money that John Tavares will make with the New York Islanders. Yes the Panthers had to spend money to make it to the cap floor, but Dale Tallon overpaid for a grinder.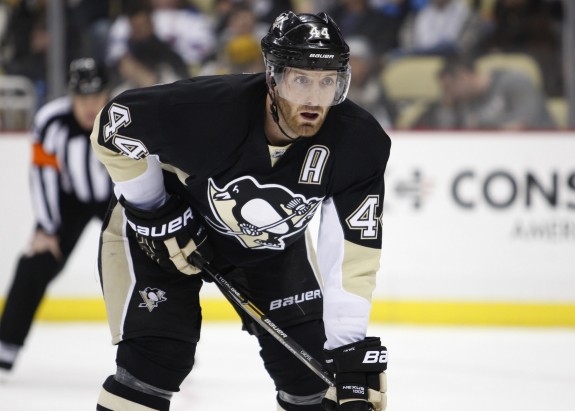 The Washington Capitals also spent money wildly on July 1. The Caps inked defenceman Brooks Orpik to a 5-year deal worth $5.5 million per season. General manager Brian MacLellan wasn't done there as he added blue liner Matt Niskanen for seven years worth $5.75 million per season.
I have no idea how Anton Stralman costs less than Brooks Orpik. It's unfathomable.

— mc79hockey (@mc79hockey) July 2, 2014
Oh my god the Brooks Orpik contract. It's like a car crash in slow motion. — Bruce Arthur (@bruce_arthur) July 1, 2014

Orpik is a defensive defenceman who's Corsi was at 46.2% during the 2013-14 season. That's not good if defensive hockey is your specialty. Niskanen does have upside, but the Caps overpaid for a player who isn't the second coming of Bobby Orr.
Lockout Looming
When the NHL locked out its players at the start of the 2012-13 season, the owners wanted to control spending by reducing the players share in hockey related revenue. The players earned 57% of all hockey related revenue prior to the 2012-13 season. The owners wanted to lower that number to 50%, splitting the revenues equally. It took a while, but they eventually reached that number.
The owners also wanted term limits on contracts, reducing maximum length to seven years if signed by another team, eight years if re-signed by their own club.
Owners also wanted to eliminate front-loaded contracts and set a uniform salary for each year, thus no more contracts such as the one Roberto Luongo signed with the Vancouver Canucks. These measures were to insure that costs of running a franchise, as well as player salaries wouldn't rise.
But general managers still found a way to overpay the players. Hockey revenue continues to rise, and the cap rose from $60 million in January 2013, to $69 million today. With players such as Bolland, Orpik and Niskanen getting huge raises, it begs the question how much more can teams spend on salaries?
The collective bargaining agreement expires in 2022, and the repercussions of free agent frenzy will be felt in eight years time. The owners aren't afraid to force a work stoppage on its players, having done so in 1994, 2004 and 2012. They even cancelled an entire season (2004-05) so they could implement the salary cap. Fans better be weary when the CBA is nearing its conclusion.
There is no guarantee that a lockout will happen. Things can change and perhaps the owners and the players learned a lesson from the last three work stoppages. But I'm fearful. The owners are greedy, and they may ask for players to take a further cut into the cap or in hockey related revenue. The players would fight back, not wanting to give up any less than 50% of the hockey related revenue. I'm scared to what might happen in 2022.
When we have another lockout in seven years, remember the Benoit Pouliott contract. And Matt Niskanen and..,

— Adrian Dater (@adater) July 2, 2014
The next time the NHL decides to have a lockout, I'd suggest looking back at the money thrown around today. My God.

— Josh Yohe (@JoshYohe_Trib) July 2, 2014