The Washington Capitals enter Thursday night with an abysmal 1-4-1 record. The team has yet to adjust to new head coach Adam Oates and his new system, struggling in special teams along with even strength play. There have been numerous defensive breakdowns at the start of the season, leaving young goalies Braden Holtby and Michal Neuvirth out to dry. Through six games, Washington has averaged 2.17 goals per game due to their lack of forward scoring depth and an embarrassing 3.67 goals against average. It's likely to be a long season in the nation's capital, but what can Capitals' fans expect this summer?
Under the new CBA, teams can buyout two players after this season and after the 2013-2014 season. Washington faces some crucial decisions this offseason, including the impending free agency of second line center Mike Riberio and defenseman Roman Hamrlik. The veteran defenseman is unlikely to be resigned due to his age and the former Dallas Stars playmaking center could flee if Washington continues to struggle. With the added cap space Washington could target high profile players to add to the blue line and top six forward group. To add more cap space, what players could the Capitals potentially buyout?
Mike Green's New Deal
Green, 27, signed a three year deal worth just over 18 million this offseason, following an injury riddled campaign last year where he only played in 32 regular season games. However this season, Green has been healthy, contributing one goal and two assists through Washington's first six games. He's also been of the few reliable defensemen on the Capitals blue line, holding a zero plus-minus rating, which is tops for a Washington defenseman. Green's 70 plus point seasons from 2008-2010 appear to be gone, but he's still a steady offensive presence on the Capitals blue line.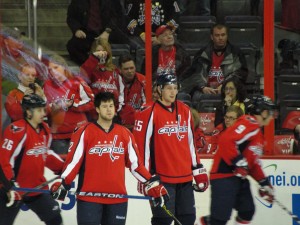 After this season, Green will have two years remaining on his contract. There aren't too many viable free agent options this offseason, leading me to believe he will be bought out after the 2013-2014 season. John Carlson could be ready to take over the Capitals blue line by then and defensive prospect Tomas Kundratek will hopefully figure out his defensive game to match his offensive prowess. Also, if the Capitals continue to struggle, Washington will likely select a defenseman with their potential top five pick, potentially Seth Jones if he is available. Green is the most likely Capital defenseman to be bought out and it wouldn't come at a high price.
Joel Ward       
The former Nashville Predator has been by far Washington's biggest offensive surprise this season. He potted two goals on opening night against the Tampa Bay Lightning and has stayed on course, recording five points through Washington's first six games. Washington inked Ward to a four year 12 million dollar contract prior to the 2011-2012 season, hoping the 32 year old forward would bring the same offensive game to Washington as he found during Nashville's postseason run a few years back. He posted a disappointing 18 points in 73 games in his first season with the Capitals, begging the question, was the signing a mistake?
The highest point total in the NHL in Ward's career is 35 which came during the 2008-2009 season with the Nashville Predators. That came playing in a more offensive type role, which Ward doesn't have with the Capitals. He never could find an offensive grove in first year with Washington, playing below forwards Alex Ovechkin, Alex Semin and Troy Brouwer.
Washington is in a holding pattern with Ward, and will likely make a decision on the veteran winger that is contingent on his play. The Capitals owe him 9 million after this season over the next three seasons including this season, making it not a large financial commitment to let him loose.
Alex Ovechkin?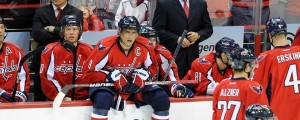 Ovechkin is Washington's "face of the franchise" if you will, but hasn't played up to that standard this year, but it's not completely his fault. New Capitals head coach Adam Oates has put him on a line with grinders Joey Crabb and Jay Beagle, limiting Ovechkin to a goal and an assist through six games. He's earned only 22.5 shifts per game, less than forwards Jay Beagle, Troy Brouwer and Nicklas Backstrom.
If he continues to struggle and disappoint, Capitals fans may be asking themselves, would Washington considering using a compliance buyout on Ovechkin? The answer is an overwhelming no. Capitals' owner Ted Leonsis told Washington radio station WTOP on Wednesday, Alex Ovechkin "needs to play better."
Ovechkin is set to become a free agent after the 2020-2021 season, the main reason why Capitals ownership wouldn't consider paying the Russian superstar to play against them. His trade clause kicks in prior to the 2014-2015 season, the only hope for moving Ovehckin. Washington would likely to eat at least half of Ovechkin's salary in a potential deal, and wouldn't receive top talent back, unless Ovechkin improves his play drastically.
You can view NBC Washington's thoughts on buying out Ovechkin, among other Capitals, here.
Either way, from a trade or buyout scenario, Ovechkin isn't going anywhere.
You can follow Matthew on twitter @m_speck and email him at mspeck21@yahoo.com with any questions or comments.