The Washington Capitals officially kick off training camp on Friday, where they will evaluate all of their pieces and see what they can make of their lineup.
As the team faced a lot of key departures this season, Washington enters the year with some holes and questions to answer, especially on the blue line. Nate Schmidt, perhaps the Capitals' top defensive prospect, was taken by the Golden Knights in the expansion draft, and Karl Alzner and Kevin Shattenkirk opted for free agency.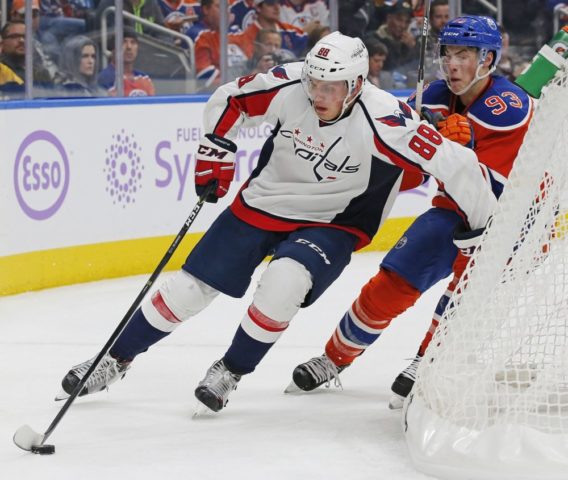 With those departures, the Capitals lost a wealth of defensive depth. Not only can all three of them be considered top-four defensemen, but Schmidt and Shattenkirk packed a lot of puck-moving promise, and Alzner was a reliable shot-blocker and penalty-killer.
Still, with these players moving on, there are plenty of opportunities and open spots on the Capitals' blue line, especially for the up-and-coming prospects in the system; many of the blueliners on the Capitals' training camp roster are young players hailing from the AHL and juniors. That said, here are the defensemen to watch at training camp.
Christian Djoos
Djoos shows tremendous upside and out of all of the Capitals' defensive candidates, he seems to be the most likely to win a full-time roster spot. A 2012 seventh-round pick, Djoos has added a lot to his game over the years, and of late has been more of an offensive force, which makes him even more valuable as he targets an NHL gig this season.
In 66 games with the Hershey Bears this past season, the 23-year-old registered an impressive 13 goals and 58 points and was a plus-9. His success during the regular season also translated to the playoffs, where he had two goals and eight points through 12 postseason games with Hershey.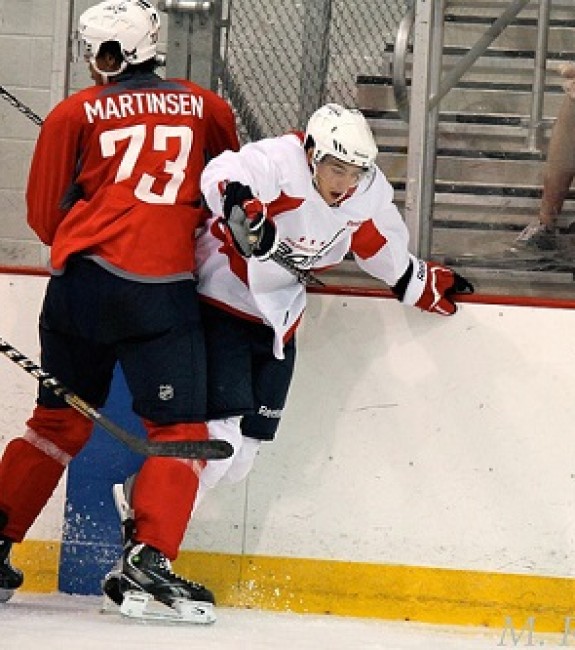 Where the Swede excels is with his skating and his two-way play. Though offense is not his strongest asset, he is more of a playmaker than a scorer and has shown the ability to put up points and move the puck up the ice. He is quick and has great balance, and he will likely end up being a very effective player on the Capitals' backend.
Still, he needs to add more force and physicality to his game if he wants to make the cut. He is on the smaller side, weighing in at 6-foot, 168 pounds. Djoos did tell the Washington Post that he gained about four pounds prior to camp, and could even put on more bulk before the year starts.
Madison Bowey
Another product of years of development in the system, Bowey is a right-handed shot who could come in and make an impact right from the get-go.
Washington's second-round pick in 2013 has had a long road to the NHL, which goes all the way back to his days with the WHL's Kelowna Rockets. During his time in juniors, he earned a three-year, entry-level deal with Washington, while also fine-tuning his offensive ability, physicality, aggression and overall skill-set. He wrapped up his WHL career with an impressive 17 goals and 60 points in 58 regular season games in 2014-15, putting him on the Capitals' radar as one of their rising defensive prospects to watch.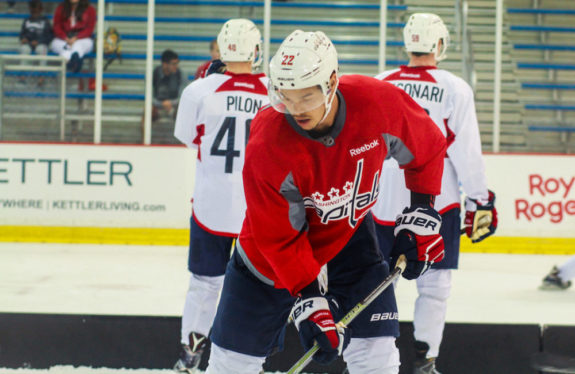 He has been with the Bears for the last two seasons, improving his production and making more of an impact on the forecheck. The 22-year-old is not only an outstanding skater but plays the game with a lot of physicality and confidence. He takes good care of the puck and also has a booming shot, as well as proven playmaking ability.
Though limited to just 34 games with Hershey this past season, the 6-foot-1, 195-pound blueliner made himself known whenever he was on the ice, using his size and skating ability to his advantage. He managed three goals and 14 points with the Bears during the regular season and was a plus-6.
Not only is he a big, fast defenseman, but Bowey is also the kind of player who can play top-four minutes and adapt quickly to his role on the ice. He may have to work on fine-tuning his game and improving his defensive play, but he is solid when it comes to getting the puck up the ice and creating offensive scoring chances. Because of this, he is another young prospect who could spend all 82 games at the NHL level this year.
Lucas Johansen
Ready to bust out of juniors and move on to the next level, Johansen is another possible candidate for the Capitals' main roster. He has been a force with Kelowna, showing leadership and offensive capability, as well as a sound defensive game.
Looking at his production last season, his totals were modest but still solid. He had six goals and 49 points through 68 regular season games with the Rockets in 2016-17. Of course, Johansen did not play as many minutes as he can usually handle, due to the fact that Kelowna was more generous when it came to spreading ice time across the blue line. Still, he showed a great two-way style balanced with playmaking ability, and still shined as a promising NHL defender.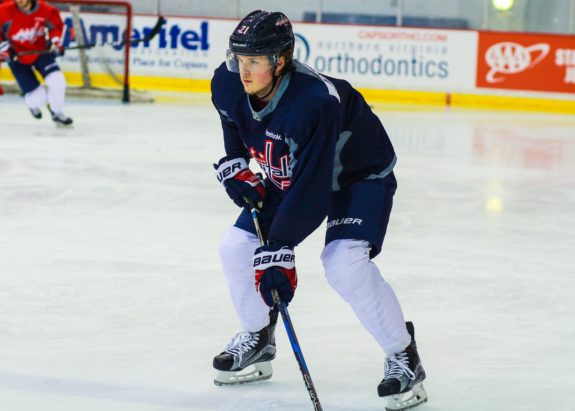 Coming into this year, he looks to join the top-four in Hershey, but could also be a contender for a roster spot if he works hard enough. He is a great skater with offensive acumen and great vision, and to increase his value heading into this year, the 6'1″ blueliner revealed to the media that he had put on 10 pounds over the summer, bulking up to 188 pounds.
Still, when it comes to the likelihood of him winning a roster spot, there is competition. Not only does he have to outshine fellow prospects like Djoos and Bowey, but he will have to make himself just as valuable as players like Brooks Orpik and Dmitry Orlov. Not only that, considering his experience, the Capitals may want him to get more time to transition and grow accustomed to the higher levels of professional hockey before throwing him straight into a full-time NHL role.
Dark Horse: Connor Hobbs
Another player in the Capitals' organization that is ready to move on from junior hockey, Hobbs busted onto the scene this year as one of the WHL's top defenders. Because of his remarkable campaign and the work he has put in during the offseason, including a strong showing at the development camp, he could be a dark horse that wins a jersey for opening night.
The 20-year-old led all WHL defensemen in scoring this past season, posting 31 goals and 85 points through 67 regular season games, as well as a plus-30 rating. Not only that, his success carried over into the playoffs, where he recorded six goals and 24 points through 23 postseason games to help the Regina Pats to the WHL championship final, where they ultimately fell to the Seattle Thunderbirds in six games.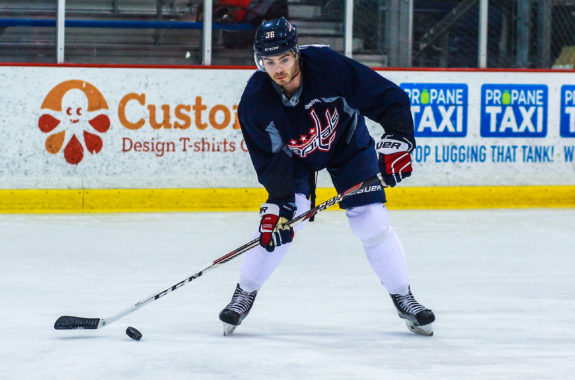 Coming into this season, the 6'1″, 199-pound blueliner has been taking all the steps necessary to prove his worth to the Capitals organization. Not only did he cut his body fat down to just seven percent this offseason, but he has been showcasing his offensive acumen and capitalizing on every opportunity he has received so far with Washington.
At development camp, he showcased his booming point shot and strong playmaking ability, and also showed great speed and strength on the ice. He made himself prominent and also displayed great physicality, and with solid skating to boot, he could outplay his fellow prospects to win a spot.
Sammi Silber covers the Capitals beat for The Hockey Writers and is an NHL contributor with Sporting News. She has also contributed to USA TODAY College, Huffington Post, FanSided and the Nation Network. Silber has written four books and recently worked on graphics for the film, The California Golden Seals Movie.